Vintage Jewelry p3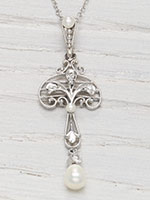 Edwardian Antique Necklace by Krementz
Pearls and diamonds flirt with an unfurled parasol in this Edwardian antique necklace. Like a summer parasol arching over a fair maiden, this Edwardian necklace has a mushrooming cupola design that is accented with a collection of old European cut diamonds. Set in platinum, this antique necklace's pendant features two natural button pearls. A larger drop Akoya pearl dangles below. The necklace bears the Krementz trademark. Details: Antique, Edwardian. Circa 1905. Platinum. Old European cut diamonds; 0.10 carats. Akoya and natural pearls. Krementz trademark.
Item
NK-3512

$1825.00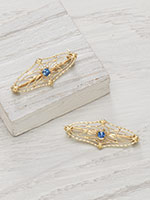 Turn of the Century Sapphire Filigree Pins
Two round natural blue sapphires accent these turn of the century antique filigree collar pins. The florally swirled filigree design is in 14k yellow gold and creates a golden lacey look for this antique pin pair. Antique filigree pins were popular over 100 years ago and are back in vogue for the stylish Twenty-First-Century woman. Dress up a shirt collar or suit lapel with these sapphire and filigree antique pins. Circa 1900s.
Item
PN-1385

$725.00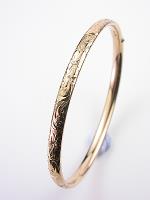 Child's Vintage Bracelet
Vintage bracelets like this one make charming, one-of-a-kind gifts for little girls. This vintage jewelry bracelet is made of 14k yellow gold. The top half is engraved with a romantic floral and feather motif. Circa 1930's or later.
Item
BR-584

$629.00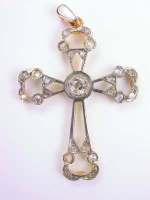 Vintage Cross with Old Cut Diamonds
A Victorian vintage jewelry cross features a lovely open design. A bezel set old European cut diamond is set at the center of this vintage jewelry piece. Bead set rose cut diamonds are artistically placed at the end of each arm. This vintage cross is hand wrought. Details: Victorian. Silver topped 18k yellow gold. Old European and Rose cut diamonds; 0.42 carats. Circa 1900.
Item
CR-3535

$1129.00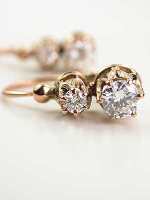 Rose Gold Vintage Earrings
Diamonds trickle down the lobe in this pair of vintage earrings. This classic pair of vintage earrings features four diamonds which are butterfly prong set in 14k rose gold. A smaller diamond drips from a larger one lending the illusion of dancing dewdrops. Details: Vintage. Circa 1930 or after. 14k rose gold. Round brilliant cut, 0.90 carats. Lever wire backs.
Item
EA-3506

$1929.00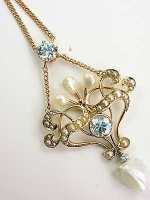 Victorian Pearl and Zircon Necklace
A glorious bouquet of pearls, diamonds and blue zircons accent a Victorian necklace's delicate swirling vase. A14k yellow gold pendant suspends from a round blue zircon in this vintage necklace. A larger matching zircon centerpieces the vase's cutwork. Three oval wing baroque pearls unfurl in between while a bigger heart-shaped pearl romantically dangles from below. Details: Antique, Victorian. Circa 1900. 14k yellow gold. Full cut diamonds, 0.025 carats. Two round zircons, 2.21 carats. 4 fresh water pearls.
Item
NK-3508

$2225.00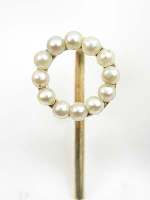 Vintage Pearl Stick Pin
Twelve seed pearls join together in a circle atop a 14k yellow gold stick pin. The round pearls in this vintage jewelry pin float delicately around the open sphere and are cream in color. A straight stick pin and stopper securely holds this pin in place. Circa 1930s or later.
Item
PN-3225

$129.00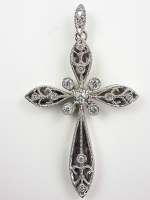 Filigree Vintage Cross
In this filigree vintage cross, a diamond pinwheel playfully spins in the center. Milgrain trim and smaller diamonds join together in delightful fleur de lis within this vintage cross's four arms. The backsides of these arms are set with dark grey shells that peek through between the cutwork. Details: Trademark RJ. 18k white gold. Full cut diamonds; 0.15 carats. Vintage, Circa 2005
Item
CR-3537

$889.00