Vintage Jewelry p3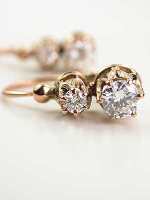 Rose Gold Vintage Earrings
Diamonds trickle down the lobe in this pair of vintage earrings. This classic pair of vintage earrings features four diamonds which are butterfly prong set in 14k rose gold. A smaller diamond drips from a larger one lending the illusion of dancing dewdrops. Details: Vintage. Circa 1930 or after. 14k rose gold. Round brilliant cut, 0.90 carats. Lever wire backs.
Item
EA-3506

$1929.00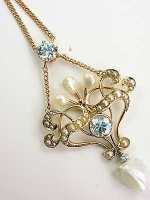 Victorian Pearl and Zircon Necklace
A glorious bouquet of pearls, diamonds and blue zircons accent a Victorian necklace's delicate swirling vase. A14k yellow gold pendant suspends from a round blue zircon in this vintage necklace. A larger matching zircon centerpieces the vase's cutwork. Three oval wing baroque pearls unfurl in between while a bigger heart-shaped pearl romantically dangles from below. Details: Antique, Victorian. Circa 1900. 14k yellow gold. Full cut diamonds, 0.025 carats. Two round zircons, 2.21 carats. 4 fresh water pearls.
Item
NK-3508

$2225.00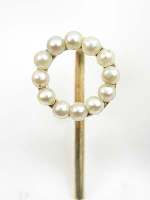 Vintage Pearl Stick Pin
Twelve seed pearls join together in a circle atop a 14k yellow gold stick pin. The round pearls in this vintage jewelry pin float delicately around the open sphere and are cream in color. A straight stick pin and stopper securely holds this pin in place. Circa 1930s or later.
Item
PN-3225

$129.00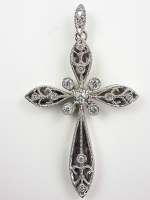 Filigree Vintage Cross
In this filigree vintage cross, a diamond pinwheel playfully spins in the center. Milgrain trim and smaller diamonds join together in delightful fleur de lis within this vintage cross's four arms. The backsides of these arms are set with dark grey shells that peek through between the cutwork. Details: Trademark RJ. 18k white gold. Full cut diamonds; 0.15 carats. Vintage, Circa 2005
Item
CR-3537

$889.00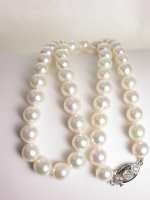 Vintage Pearl Necklace with Diamond Clasp
The diamond-accented clasp in this vintage pearl necklace is dainty and elegant. Strung with round Akoya saltwater peals, this vintage jewelry piece secures with a platinum and 14k white gold navette-shaped clasp. Old European cut diamonds are arranged in a flirty bowtie down the center of the clasp. Details: Platinum and 14k white gold. Old European cut diamonds; 0.51 carats. Akoya saltwater pearls. Vintage, Circa 1930s
Item
NK-3522

$2259.00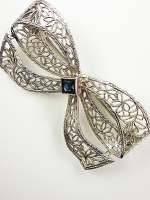 Vintage Bow Brooch
A square centerpiece of blue glass splashes this vintage brooch with a touch of unexpected color and whimsy. Made of 14k white gold, the ribbons of this vintage brooch are done in delicate lacework. Dainty open weave flowers are embedded within the streamers, allowing the fabric of your favorite outfit to peek through the jewerly piece. A dark blue glass accent is rhomboid set in the midst of this bouquet. Details: 14k white gold. Blue glass; 0.06 carats. Vintage, Circa 1950
Item
PN-3494

$199.00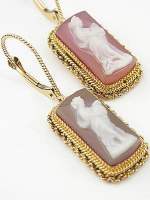 Vintage Cameo Earrings
Carved female Madonnas are backsplashed by coral-colored agate in these Victorian reproduction cameo earrings. Depicting a woman's profile, the centerpiece cameos of the earrings are cast in a virginal white that contrasts with the warmly hued agate. Their gemstone base is framed with a double tier of 14k yellow gold chain work. These vintage style earrings have hinged wires. Details: Vintage Style (New). 14k yellow gold. Agate cameo.
Item
EA-3464

$249.00
Vintage Style Moonstone Dangle Earrings
Sparkling multi-faceted moonstones hang suspended like glittering stars in the night sky. In these vintage style earring dangles, 14k white gold chains drip from pyramid triviums that are accented with smaller round moonstones. They culminate in a pair of larger briolette moonstones that dance and shimmer in the light. Oversized clutches secure these dazzling earrings to the lobe. Details: 14k white gold. Moonstones; 4.42 carats. Vintage style (New)
Item
EA-3498

$999.00