Vintage Jewelry p3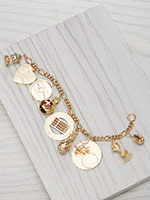 Vintage Charm Bracelet
Playful gold charms flutter from the links of this bracelet's figaro chain. In this vintage bracelet nine eyecatching charms dangle suspend from a yellow gold figaro link chain, adding whimsy to the wrist. A heart, a pineapple, two French sentiment discs, and a hinged fortune cookie are among the solid gold charms. The remaining four charms cast a further bewitching spell with their colorful accents: temple with blue glass beads; cowbell with red Swiss cross; duck with red enamel eyes; and Christmas disc with reindeer and bells featuring red and blue stones. Details: Vintage. Circa 1930s and later. 14k and 18k yellow gold. 63.42 grams.
Item
BR-2876

$2949.00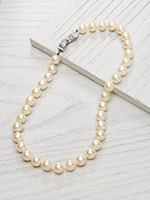 Vintage Pearl Necklace with Diamond Clasp
A wave of white gold and diamonds mesmerizingly undulates at the back of this vintage pearl necklace. This single strand of Akoya pearls adds classic sophistication to any outfit - day or night. It's the clasp, however, that takes this vintage necklace to a whole new level of elegance. Shaped like an ebbing and flowing wave, the 18k white gold clasp is engraved in a criss-crossing pattern. A trio of old style diamonds lend sparkle to the wave's crests and trough. Details: Vintage. Circa 1940. 18k white gold. Single cut diamonds; 0.10 carats. Akoya pearls.
Item
NK-1825

$1929.00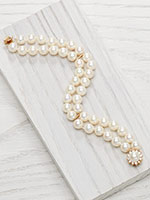 Vintage Pearl Bracelet
A shimmering star-orbited moon medallion secures a double string of Akoya pearls. This vintage bracelet surrounds the wrist in pearl sophistication. The saltwater Akoya pearls that string this bracelet are arranged in a double strand. They are joined with a 14k yellow gold and diamond box style clasp. This closure accent brings to mind a full moon encircled by a constellation of stars. Details: Vintage. Circa 1950 or later. 14k yellow gold. Full cut diamonds; 0.24 carats. Saltwater Akoya pearls.
Item
BR-3543

$1619.00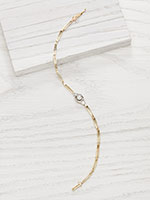 Vintage Hand Wrought Bracelet
Gold, silver, and diamonds meld beautifully together in this hand wrought vintage bracelet. The long, slim gold links of vintage bracelets like this one seductively slither around the wrist. A concealed box clasp ensures no interruption in the decorative appeal. A contrasting silver bowtie rests at the bracelet's center. Three diamonds are geometrically nestled inside this accenting centerpiece. Details: Vintage. Circa 1930. Silver on 14k yellow gold. Round brilliant and old style full cut diamonds; 0.27 carats.
Item
BR-3574

$999.00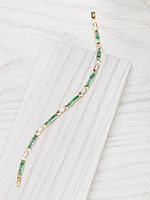 Vintage Diamond and Emerald Bracelet
Diamonds await at the end of the emerald rainbow in this vintage bracelet. Streamers of emeralds and gold-clutched diamonds alternate to kiss the wrist with springtime bliss. The diamonds are arranged three to a link in an elongated oval. They are flanked on each side by rows of six emeralds. A golden barrel clasp secures this vintage bracelet. Details: Vintage. Circa 1990. 18k yellow gold. Round brilliant cut diamonds; 0.20 carats. Square faceted step cut emeralds; 1.78 carats.
Item
BR-3599

$2549.00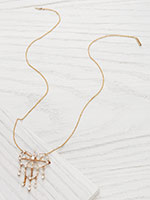 Victorian Style Pearl and Diamond Necklace
Drawing inspiration from the Victorian era, this antique style pearl and diamond necklace shimmers with understated elegance. The chandelier design of this Victorian style necklace flirtatiously drapes down the neckline. A ribbony bow forms the base of this necklace's open work pendant. A collection of pearls and diamonds are interspersed throughout the metal and suspend from the bow's base. A curb style chain threads through the pendant. Details: Antique style. 1890s reproduction. 14k yellow gold. Old mine cut diamonds; 0.52 carats. Round pearls.
Item
NK-3463

$1489.00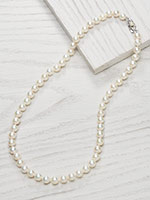 Vintage Necklace with Akoya Pearls
This Vintage necklace with Akoya pearls would have made Audrey Hepburn swoon. A floral engraved clasp gives this string of classic pearls a hint of dainty femininity. A small Akoya pearl is nestled in the center of the metallic flower. Fifty-eight larger Akoya saltwater pearls hug the neckline, giving a creamy luster to this necklace and the skin. Details: Vintage. Circa 1950 or later. 80% silver clasp. Akoya pearls.
Item
NK-3521

$599.00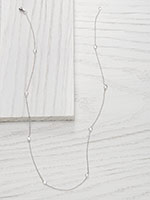 Delicate Diamond Necklace
The delicate balance of this necklace's diamond accents gives a polished finishing touch to any ensemble it is paired with. Eight full cut diamonds are strategically bead set around the circumference of this vintage style necklace, giving random touches of radiant shimmer. The white gold cable link chain throughout which the diamonds are interspersed is dainty and delicate. This diamond necklace secures at the nape of the neck with a lobster claw clasp. Details: Vintage style. New. 18k white gold. Full cut diamonds; 0.52 carats.
Item
NK-3578

$1499.00