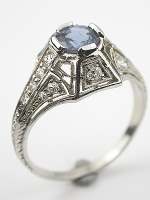 Sapphire Engagement Rings
Sapphire...the word sounds as magical as the images it conjures up...sapphire blue skies, sapphire blue waters, and sapphire blue flowers. The list is endless. Sapphire rings have been popular since the Middle Ages. Clergy favored blue sapphire rings because the color represented heaven. Magicians felt sapphire rings helped them command spirits. Many others felt a sapphire ring helped ward off evil and sicknessincluding the plague. Antique sapphire rings have been popular in many different cultures and for many centuries. The British have a long-running love affair with sapphires. We all remember the beautiful sapphire and diamond engagement ring that Prince Charles presented to Lady Diana. Sapphires also adorn the cross on the Imperial Crown. And several American museums have some famous sapphires on display.
Ever since Prince Charles asked for Princess Diana's hand in marriage, sapphire engagement rings have been associated with royalty, romance, and fairy tales. Blue is a popular color choice for an sapphire ring while fancy sapphires are also highly sought after in pink, purple and yellow hues. A padparadscha sapphire ring, with it's pinkish orange to orange-pink hue, will please even the most romantic bride-to-be. The Topazery sapphire engagement ring collection includes sapphire rings with exquisite touches like diamond accents, lacy filigree and fishtail designs. Round, cushion and emerald cut sapphire rings are all well represented. Delicate or bold, understated or stunning, simple or fancy.... at Topazery you'll find a spectacular sapphire ring to suit your personal style. We offer antique sapphire rings, as well as vintage and antique style (new) sapphire rings. The sapphire engagement ring you've been dreaming about is waiting for you here!

Orders & More

Edwardian Antique Sapphire Engagement Ring

Lovely flowers and leaves dapple the shoulders and shank of this antique Edwardian engagement ring.

Item
RG-3485
SOLD

Orders & More

Art Deco Antique Sapphire Engagement Ring

The domed spider web setting of this Art Deco sapphire antique engagement ring casts an alluring spell.

Item
RG-3068
$2999.00

Orders & More

Filigree Engagement Ring with White Sapphire

Paisley swirls of filigree flirt with diamonds in this engagement ring with white sapphire.

Item
RG-1747x
$1699.00

Orders & More

Romantic Pink Sapphire Engagement Ring

This romantic pink sapphire engagement ring is as beautiful as a blushing bride-to-be.

Item
RG-3085
$1359.00

Orders & More

Antique Style Green Sapphire Engagement Ring

Climbing vines and rose buds ascend to a bluish green sapphire in this antique style engagement ring.

Item
RG-3169d
$1599.00

Orders & More

Outstanding Blue Green Sapphire Engagement Ring

Green sapphire engagement rings like this one are cool and fresh thanks to a lovely blue green gemstone.

Item
RG-2955v
$2925.00

Orders & More

White Sapphire Filigree Engagement Ring

In this elegant engagement ring, Infinity symbols and filigree details create a romantic setting for a natural white sapphire.

Item
RG-2814ay
$1599.00

Orders & More

Blue Sapphire Engagement Ring

Dramatic color and unusual elegance come together in this blue sapphire engagement ring.

Item
RG-2817k
$3222.00

Orders & More

Antique Style Green Sapphire Engagement Ring

Inspiring eternal hope, this antique style green sapphire engagement ring is the perfect way to declare your love.

Item
RG-3121h
$2229.00

Orders & More

White Sapphire Filigree Engagement Ring

This distinctive vintage style filigree engagement is set with a round white sapphire.

Item
RG-2802aa
$1599.00

Orders & More

Antique Style Sapphire Engagement Ring

A timeless mounting lends classic sophistication to a stunning blue sapphire in this antique style engagement ring.

Item
RG-3306g
$2179.00

Orders & More

Antique Style Sapphire Engagement Ring

This regal antique style sapphire engagement ring blends breathtaking color with diamond shimmer.

Item
RG-3341a
$3299.00

Orders & More

Green Sapphire Engagement Ring

A green sapphire is set at the top of a delicate vine of diamonds in this unusual engagement ring.

Item
RG-2813w
$1429.00

Orders & More

Engagement Ring with Fancy Colored Diamonds

The glorious colors of fall accent this romantic Topazery Earth Collection green sapphire engagement ring.

Item
RG-2836b
$2459.00

Orders & More

Simply Elegant Green Sapphire Engagement Ring

A bluish green sapphire is surrounded by diamonds in this elegantly simple engagement ring from the Topazery Earth Collection.

Item
RG-3274d
SOLD

Orders & More

Yellow Sapphire Engagement Ring with Floral Design

A floral motif and a yellow sapphire create a cheerful antique style engagement ring.

Item
RG-1748ad
$1199.00

Orders & More

Pierced and Engraved Sapphire Engagement Ring

A bluish violet sapphire bursts forth from a pierced and engraved filigree mounting in this antique style sapphire engagement ring.

Item
RG-1747w
SALE PENDING

Orders & More

Cushion Cut Green Sapphire Engagement Ring

The hope and promise of spring's rebirth is captured in this green sapphire engagement ring.

Item
RG-2917q
$2219.00

Orders & More

Sapphire Engagement Ring with Pear Shaped Diamonds

The romance of a tropical island honeymoon is captured in antique style sapphire engagement rings like this one.

Item
RG-3090e
SALE PENDING

Orders & More

Green Sapphire Engagement Ring

In this elegantly simple antique style engagement ring, an earthy green sapphire demands attention.

Item
RG-3280a
$1599.00
---
---
©Copyright 2001 - 2014
Topazery, LLC
Atlanta, GA, USA
&reg Topazery is a Registered Trademark
Cart

WELCOME!
Home
Join Newsletter
New Listings
How To Order
FAQs
Contact Us
Testimonials
Hassle Free Returns

JEWELRY STORES
All Rings
All Jewelry
Gifts Under $500

ENGAGEMENT RINGS & MORE
Thumbnails
Vintage Engagement Rings
Antique Engagement Rings
Antique Style Engagement Rings
Champagne Diamond Rings
Aquamarine Engagement Rings
Sapphire Engagement Rings
Antique Rings
Filigree Rings

WEDDING RINGS
Thumbnails
Antique Wedding Rings
Antique Style Wedding Rings

PERIOD JEWELRY
Thumbnails
Vintage Jewelry and Rings
Victorian Jewelry
Edwardian Jewelry
Art Deco Jewelry

EDUCATION
Gemstone History
Jewelry Periods
Antique Diamond Cuts
Evaluating Stones
Jewelry Library

INFORMATION
In the News
Site Map
Jewelry Details
Privacy Policy
Legal Policy