New Listings
On this page, you'll find the latest additions to our extensive jewelry collection, including engagement rings, wedding rings, antique rings and other vintage jewelry. If you'd like to be notified whenever new jewelry becomes available, please sign up for our newsletter.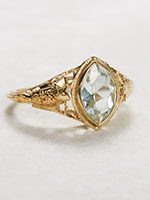 Antique Aquamarine Ring with Bird Motif Trim
Immortalized in gold, the birds that cry out from the shoulders of this aquamarine ring sing of love everlasting. According to legend, a bird call from the west is a harbinger of good luck while one from the east signifies the finding of true love. Beaks open wide in both directions, the avian motifs in this Edwardian ring bring the wearer prosperity and eternal endearment. An enchanting marquise cut aquamarine sits in the midst of their mating song. Details: Antique. Edwardian. Circa 1920. 14k yellow gold. Marquise cut aquamarine; 1.6 carats.
Item
RG-3671

$2299.00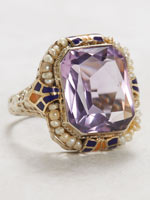 1930s Vintage Ring with Amethyst and Pearls
Bead pearls and blue and orange enameling add striking contrast to this vintage ring's amethyst. Delicate natural pearl threads capture this vintage ring's amethyst in their alluring web. The beaded pearl filament that trims the violet gemstone is accented at its cardinal points with unexpected bursts of colorful enamel. The filigree band of this ring is intricately pierced along the bezel and down its shoulders. Details: Vintage. Circa 1930 or later. 14k white gold. Emerald faceted mixed cut amethyst; 8.17 carats. Natural bead pearls.
Item
RG-3673

$2849.00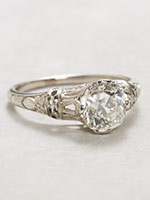 Orange Blossom Antique Engagement Ring
Delicate orange blossoms trail down the sides of this antique engagement ring, letting the EGL certified Old Mine cut diamond take full center stage. A kiss of the orange blossom's good fortune blesses the start of your life together in this antique ring by Traub. This late Edwardian engagement ring adds a romantic splash to the traditional diamond solitaire. Details: Antique, Edwardian. Circa 1920. Trademark: Traub, Orange Blossom. Platinum. Old mine cut diamond; 1.32 carats.
Item
RG-3678

$14229.00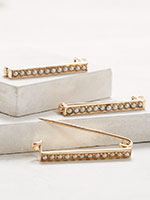 Victorian Antique Scatter Pin Set
Rich, creamy pearls are backplashed by 14k gold for the ultimate sophistication in wardrobe accenting. This set of three antique bar pins combines the elegance of natural Oriental pearls with the grace of gold. Shaped long and lean, this trio of goldenrod scatter pins can versatilely be worn either vertically or horizontally. Dating back to the late Victorian era, these pearl pins give an instant touch of class to any outfit. Details: Antique. Victorian. Circa late 1890s. 14k yellow gold. Natural Oriental pearls.
Item
PN-1384

$885.00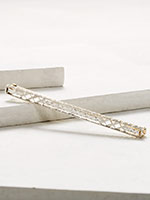 Antique Bar Pin by Krementz
The delicate lattice work in this Edwardian pin's design brings to mind summer gardens fragrant with climbing roses. Curlicues, crossbows, scrolls and leaves wind their way down the center of this antique pin like a romantic garden trellis. 14k yellow gold and rhodium combine for a bewitching two-tone effect. A Krementz trademark attests to this pierced and engraved pin's antique lineage. Details: Antique. Edwardian. Circa 1910. 14k yellow gold. Krementz trademark.
Item
PN-1689

$319.00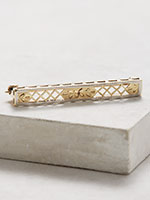 Antique Occasional Pin by Krementz
Dainty petals flirtatiously peek out of this antique pin's lattice work. Morning glory vines climb up the lattice of this antique occasional pin. The Xs they playfully dart in and out of do double duty as "kiss" symbols. Rhodium edging provides striking visual contrast to the 14k yellow gold setting. This Edwardian pin is trademarked Krementz as evidence of its historical background. Details: Antique. Edwardian. Circa 1900. 14k yellow gold. Krementz trademark.
Item
PN-1690

$95.00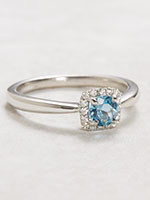 Aquamarine Engagement Ring with Diamond Halo
The hypnotic glow of the azure seas radiates from this aquamarine engagement ring. Bluer than the bluest seas, this vintage style ring's aquamarine captivates from every angle. A cushion style diamond halo surrounds the gemstone in dewy radiance. The 18k white gold band of this aquamarine engagement ring is polished to a flawless sheen. Details: Vintage style. New. 18k white gold. Round brilliant cut diamonds; 0.09 carats. Round aquamarine; 0.33 carats.
Item
RG-3274g

$1495.00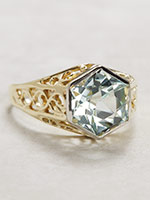 Edwardian Aquamarine Antique Ring
Figure eights skate down this antique ring's shoulders, softening the edges of its alluringly angular aquamarine. The pierced setting of this Edwardian aquamarine ring contrasts the geometric bluntness of the centerpiece gemstone. The scroll motif that meanders throughout the gold band blissfully juxtaposes with the coolness and sharp corners of the hexagonal aquamarine. Details: Antique. Edwardian. Circa 1920. 14k yellow gold. Hexagonal aquamarine; 2.43 carats. Moore and Son hallmark.
Item
RG-3668

$1629.00