New Listings
On this page, you'll find the latest additions to our extensive jewelry collection, including engagement rings, wedding rings, antique rings and other vintage jewelry. If you'd like to be notified whenever new jewelry becomes available, please sign up for our newsletter.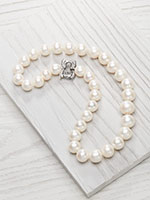 South Sea Pearl Necklace with Vintage Clasp
This vintage pearl necklace with diamond clasp is destined to become one you reach for time and time again. The substantial South Sea pearls of which this necklace is composed add sophisticated drama to any jewelry wardrobe. The uniquely styled vintage clasp, however, ensures they earn their rightful place among your most coveted pieces. Shaped like an hourglass with wings hugging its curves, the 18k white gold claps is accented with a dozen diamonds. Details: Vintage. Circa 1940. 18k white gold. Single cut diamonds; 0.14 carats. South Sea pearls.
Item
NK-3520

$3975.00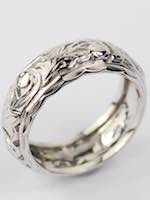 Vintage Wedding Ring with Flowers and Leaves
This vintage wedding ring with flowers and leaves is reminiscent of Hollywood's 1940s glamour gals. It is made of 14k white gold and combines the romantic elements of floral rose buds and velvety leaves into one attention-grabbing wedding band. The pierced floral pattern extends around the band and allows for a tiny peek of skin. The scalloped edging of this vintage wedding ring adds a feminine touch. Details: Vintage. Circa 1940s. 14k white gold.
Item
RG-958

$1250.00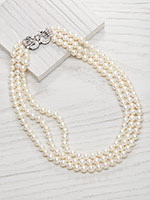 Three Strand Vintage Pearl Necklace with Diamond Clasp
A platinum and diamond bowtie clasp ramps up the sophistication of this triple strand pearl necklace. The 165 Akoya pearls that make up the three strands of this vintage necklace offer the ultimate in elegance. The classic pearl look gets the black tie treatment with a platinum and diamond clasp. Shaped like a bowtie, this box-style closure is accented with a collection of round brilliant and single cut diamonds. Wear the clasp in the back for a sophisticated, polished daytime look; then slide it around to the front at night to bring on the glamour. Details: Vintage. Circa 1940. Platinum and 18k white gold. Round brilliant and single cut diamonds; 0.96 carats. Akoya pearls.
Item
NK-1527

$10800.00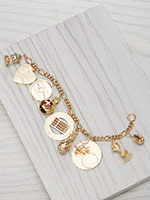 Vintage Charm Bracelet
Playful gold charms flutter from the links of this bracelet's figaro chain. In this vintage bracelet nine eyecatching charms dangle suspend from a yellow gold figaro link chain, adding whimsy to the wrist. A heart, a pineapple, two French sentiment discs, and a hinged fortune cookie are among the solid gold charms. The remaining four charms cast a further bewitching spell with their colorful accents: temple with blue glass beads; cowbell with red Swiss cross; duck with red enamel eyes; and Christmas disc with reindeer and bells featuring red and blue stones. Details: Vintage. Circa 1930s and later. 14k and 18k yellow gold. 63.42 grams.
Item
BR-2876

$2949.00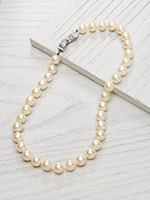 Vintage Pearl Necklace with Diamond Clasp
A wave of white gold and diamonds mesmerizingly undulates at the back of this vintage pearl necklace. This single strand of Akoya pearls adds classic sophistication to any outfit - day or night. It's the clasp, however, that takes this vintage necklace to a whole new level of elegance. Shaped like an ebbing and flowing wave, the 18k white gold clasp is engraved in a criss-crossing pattern. A trio of old style diamonds lend sparkle to the wave's crests and trough. Details: Vintage. Circa 1940. 18k white gold. Single cut diamonds; 0.10 carats. Akoya pearls.
Item
NK-1825

$1929.00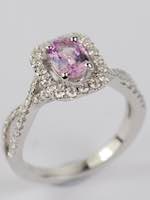 Pink Sapphire Engagement Ring with Swirling Band
Diamonds swirl around this engagement ring's lovely pink sapphire like blizzard ice crystals whirling through the winter air. Femininity and sparkle reign in this antique style engagement ring. The delicate blush of its focal point pink sapphire is soft and graceful. A collection of diamonds swirl around the sapphire, forming a hexagonal frame and then playfully criss-crossing down the shoulders. A shimmering 18k white gold setting adds to the ice crystal effect. Details: Antique Style. New. 18k white gold. Full cut diamonds; 0.46 carats. Pink sapphire; 0.86 carats.
Item
RG-3545

$2419.00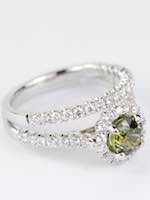 Green Sapphire Engagement Ring Set
The sensual thrill of a gorgeous spring day comes to life in this stunning engagement ring set. A pool of diamonds eddies around the centerpiece green sapphire, which glows with verdant intensity. Additional diamonds cascade down the shoulders of the 18k white gold band. The matching wedding ring features a stream of diamonds halfway around its circumference. Details: Antique Style. New. 18k white gold. Full cut diamonds; 0.77 carats. Green sapphire; 1.16 carats.
Item
RG-3547

SOLD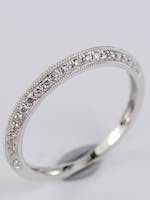 Wedding Ring with Knife Edge Design
Precision milgrain trim adds texture to this bewitching diamond wedding ring. A double tier of diamonds serpentines its way across the front half of the ring. The diamonds are trimmed and separated by delicate mille grain that features a crisp knife edge design. The tone-on-tone 18k white gold band is polished to a high sheen along the back half of the ring. Details: Antique Style. New. 18k white gold. Full cut diamonds; 0.37 carats.
Item
RG-3580

$1299.00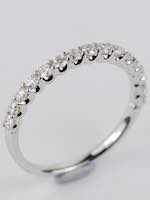 Vintage Inspired Wedding Ring
A waterfall of diamonds captivatingly tumbles down the band of this vintage inspired wedding ring. The highly polished 18k white gold band hugs a brilliant matching assortment of diamonds in its architecture. The fifteen full cut diamonds that cascade across the front side of the band radiate enviable sparkle. This diamond wedding ring draws inspiration from the 1940s and 1950s. Details: Vintage Style. New. 18k white gold. Full cut diamonds; 0.53 carats.
Item
RG-3581

$1399.00