New Listings
Welcome to our New Listings page at Topazery.com. When we add antique, vintage, and antique style jewelry to our online jewelry boutique, we also update this New Listings page. If you want to be notified, please join our email list. The signup link "Join Newsletter" is on every website page at the top of the navigation bar in the WELCOME section. We are always searching for elegant jewelry -- spectacular engagement rings, romantic wedding rings, and fabulous one-of-a-kind crosses, earrings, bracelets, necklaces, pendants, lockets, pins, and brooches. We hope you'll visit again soon to see what's new at Topazery!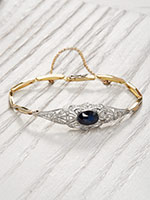 Vintage Style Sapphire Bracelet
This sapphire and diamond vintage style bracelet is a stunning blend of lacey filigree accented by a sapphire gemstone. Dual precious metals join forces in this Edwardian inspired design. The back is 18k yellow gold with a platinum front. The 50 rose cut diamonds accenting the filigree design weigh a total of 0.33 carats. The focal point sapphire is a 2.37 carat oval mixed cut. Antique style bracelets like this one encircle the wrist in classic style. Circa 1950s
Item
BR-1032

$1395.00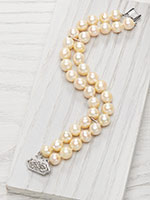 Double Strand Vintage Pearl Bracelet
This double strand pearl bracelet has 36 baroque pearls measuring from 8-8.5mm. The pearls have a light yellow hue with good luster and are joined by a filigree clasp in 14k white gold. This pretty vintage pearl bracelet is perfect for a lady with small wrists -- the bracelet measures a mere 16cm [6.29 inches] in length.
Item
BR-568

$379.00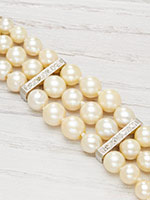 Antique Three Strand Pearl and Diamond Bracelet
Three is definitely a charm with this antique triple strand pearl and diamond bracelet. Set in platinum, this antique bracelet with three strands of pearls wraps the wrist in 84 dark cream colored freshwater pearls. Six platinum bars, each accented with four round single cut diamonds, are interspersed along the length of this antique bracelet. In total, these diamonds weigh approximately .0.50 carats. Celebrate the sophisticated glamor of yesteryear with this antique pearl and diamond bracelet. Circa 1940s-1950s.
Item
BR-874

$1895.00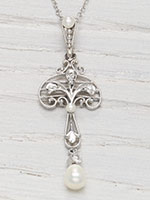 Edwardian Antique Necklace by Krementz
Pearls and diamonds flirt with an unfurled parasol in this Edwardian antique necklace. Like a summer parasol arching over a fair maiden, this Edwardian necklace has a mushrooming cupola design that is accented with a collection of old European cut diamonds. Set in platinum, this antique necklace's pendant features two natural button pearls. A larger drop Akoya pearl dangles below. The necklace bears the Krementz trademark. Details: Antique, Edwardian. Circa 1905. Platinum. Old European cut diamonds; 0.10 carats. Akoya and natural pearls. Krementz trademark.
Item
NK-3512

$1825.00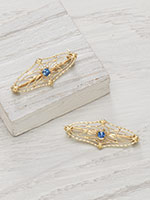 Turn of the Century Sapphire Filigree Pins
Two round natural blue sapphires accent these turn of the century antique filigree collar pins. The florally swirled filigree design is in 14k yellow gold and creates a golden lacey look for this turn of the century collar pin pair. Antique filigree pins were popular over 100 years ago and are back in vogue for the stylish Twenty-First-Century woman. Dress up a shirt collar or suit lapel with these sapphire and filigree antique pins. Circa 1900s.
Item
PN-1385

$799.00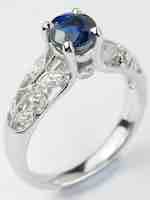 Sapphire Engagement Ring with Garden Motif
Diamond petals flutter about the shank and shoulders of this garden-inspired sapphire engagement ring. Like petals dancing in a summer breeze, this vintage style engagement ring sets the warmth and beauty of a flower garden into motion. A violet-blue sapphire rises from the center of the 18k white gold band. Mille grain adds a splash of texture. Details: Vintage style. New. 18k white gold. Full cut diamonds; 0.11 carats. Round faceted mixed cut sapphire; 1.41 carats.
Item
RG-3169e

$2999.00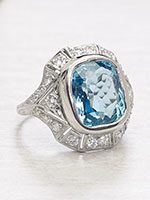 Art Deco Antique Aquamarine Ring
A diamond orbit spins around this antique Art Deco ring's aquamarine planet. The planet Uranus glows with the same light blue-green intensity as this antique ring's focal point cushion cut aquamarine. A constellation of bead set diamond stars spin around the centerpiece gemstone in a platinum setting. This Art Deco aquamarine ring has a pierced and hand engraved mounting. Details: Antique, Art Deco. Circa 1925. Platinum. Old style full cut and round brilliant cut diamonds; 0.80 carats. Cushion cut aquamarine; 5.67 carats.
Item
RG-3495

$8259.00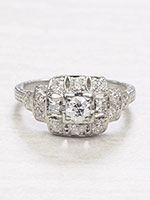 Late Edwardian Antique Engagement Ring
Capture your queen with this antique Edwardian engagement ring. The diamonds in this engagement ring are laid out in a checkerboard pattern. Set in a pierced and hand engraved mounting, the accenting diamonds are bead set around an old style full cut diamond. The band of this antique engagement ring is made of platinum and has a carved wheat motif. Details: Antique, Edwardian. Circa 1920. Platinum. Old style full cut and single cut diamonds; 0.50 carats.
Item
RG-3657

$2125.00