New Listings
On this page, you'll find the latest additions to our extensive jewelry collection, including engagement rings, wedding rings, antique rings and other vintage jewelry. If you'd like to be notified whenever new jewelry becomes available, please sign up for our newsletter.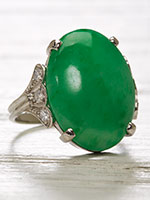 Art Deco Antique Jadeite Ring
Diamond scallops hug tight this Art Deco cocktail ring's enchanting Cabachon jadeite. Like grass after a springtime shower, the oval gemstone bursts with nature's greenest intensity. Diamond scallops embrace the jadeite at the shoulders of the platinum band, cradling it in their cockled edges. Details: Antique, Art Deco. Circa 1920. Platinum. Single cut diamonds; 0.12 carats. Jadeite; 13.21 carats.
Item
RG-1456

$5559.00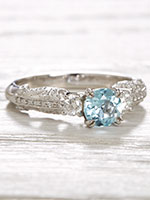 Vintage Style Engagement Ring with Aquamarine
Round brilliant cut diamonds snuggle close to this vintage style engagement ring's aquamarine. A pair of diamonds nestles on the sides of the aquamarine, giving it triple-stone appeal. The antique style setting combines soft swirls with angular edges. These contrasting features draw additional attention to the finger. A collection of smaller diamonds makes this engagement ring sparkle from every direction. Details: Vintage Style. New. 18k white gold. Round brilliant cut diamonds; 0.31 carats. Aquamarine; 0.51 carats.
Item
RG-3618

$1649.00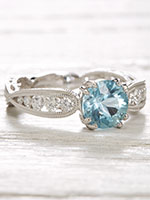 Aquamarine Engagement Ring with a Scalloped Band
Diamonds swirl in an infinity design down the band of this vintage style aquamarine engagement ring. The overall effect is one of infinite captivation. The meandering diamonds lure the eye to the round greenish blue aquamarine at the center. Love and beauty spring eternal in vintage style engagement rings like this one. Details: Vintage Style. New. 18k white gold. Round brilliant cut diamonds; 0.74 carats. Aquamarine; 1.19 carats.
Item
RG-3623

$2499.00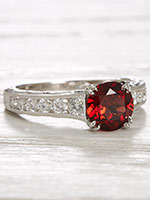 Vintage Style Engagement Ring with Almandine Garnet
Diamond accents cool the fiery blaze of this vintage style engagement ring's almandine garnet. The white gold setting and icy streams of diamonds that cascade down the shoulders contrast the garnet's spirit of fire and passion. Delicate mill grain fringes the diamonds. The hot and chill combination of the stones sets this engagement ring a-sizzle. Details: Vintage Style. New. 18k white gold. Round brilliant cut diamonds; 0.56 carats. Almandine garnet; 1.55 carats.
Item
RG-3625

$1995.00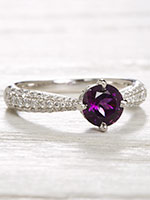 Amethyst and Diamond Vintage Style Engagement Ring
Diamond-dusted arrows point attention to this engagement ring's bewitching amethyst. Like violets pushing through winter's newly unfrozen earth, this amethyst engagement ring blends the beauty of two seasons. The round amethyst glows with vivid springtime color. Reminiscent of ice crystals, diamond accents drip like icicles and prismatically radiate light down the shoulders of the polished band. Details: Vintage Style. New. 18k white gold. Round brilliant cut diamonds; 0.49 carats. Amethyst; 0.77 carats.
Item
RG-3626

$2229.00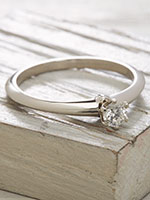 Tiffany & Co. Diamond Engagement Ring
Classic beauty never goes out of style as evidenced by this traditional Tiffany & Co. diamond engagement ring. Tiffany's timeless design is a testament to the enduring appeal of diamond solitaires. A single diamond understatedly wows from the center of this ring's ultra-polished platinum band. Simplicity and elegance join together to give this engagement ring incomparable charm. Details: Vintage Style. Platinum. Round brilliant cut diamond; 0.19 carats. T&Co trademark.
Item
RG-3647

$1899.00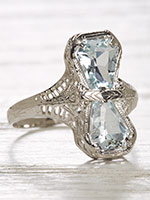 Aquamarine and Filigree Antique Cocktail Ring
A pair of calf's head aquamarines forms a romantic bowtie in this antique cocktail ring. The filigree cutwork of the band culminates at the center with a chevron-etched divider and the aquamarines sit atop and beneath this dividing line. Milgraining trims the edges of the two aquamarines. Details: Antique. Circa 1930s. 14k white gold. Calf's head aquamarines; 1.36 carats.
Item
RG-3663

$2350.00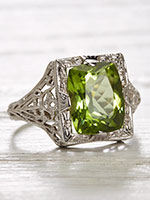 Antique Peridot Cocktail Ring with Filigree
This antique peridot cocktail ring will capture you in its mesmerizing web. When sunlight, dew and summer blades of grass combine, they emit the same lustrous green as this antique ring's peridot. This lush gemstone is set in a square mounting that lends geometric interest. A filigree band fancies up the finger with lacy cutwork that spins around the peridot and down the shoulders. Details: Antique. Circa 1930s. 14k white gold. Cushion cut peridot; 3.29 carats.
Item
RG-3664

$2489.00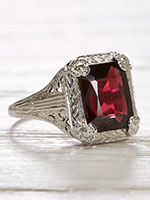 Vintage Almandine Garnet Ring with a Floral Design
Delicate floral blossoms temper the passion in this vintage garnet ring. The almandine garnet at the center blushes red as the reddest rose. The octagonal mounting features four metallic rosettes at its corners. The filigreeing that highlights the band of this vintage ring is threaded down the shoulders with a trio of mill grain streamers. Details: Vintage. Circa 1930s. 18k white gold. Emerald faceted mixed cut garnet; 2.74 carats.
Item
RG-3666

$1199.00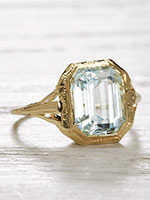 Art Deco Antique Ring with Pierced Design
A warm gold setting, like golden sunlight, wraps itself around the pale blue sky in this Art Deco antique ring. The pierced yellow gold filigree mounting allows the rays of light to spill through. Bezel set at its octagonal center is a cool blue aquamarine. The aquamarine's faceting gives the gemstone almost endless depth. Details: Antique Art Deco. Circa 1920s. 14k yellow gold. Emerald cut aquamarine; 3.63 carats.
Item
RG-3667

$1049.00