About Gemstone Wedding Rings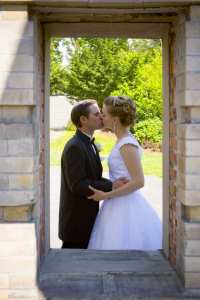 Gemstones are prized for their beauty and come in all the colors of the rainbow. When vibrant color and out-of-the-ordinary settings are what she adores, she'll love wearing a gemstone wedding ring. If you're looking for a unique symbol of your commitment to each other, consider choosing one of Topazery's gemstone wedding rings. Every time she looks at her gemstone wedding ring, she'll be reminded of your everlasting love and devotion.
Our Gemstone Wedding Rings Collection
Sapphires, rubies, emeralds, amethysts and aquamarines are just some of the focal point gemstones in our unique collection of gemstone wedding rings. Some of our gemstone wedding rings also have diamonds for just the right touch of added sparkle.

You'll also find unusual gemstones like tourmalines and opals for the bride-to-be who marches to her own drummer. Topazery's fine selection of antique, estate and antique style gemstone wedding rings are set in all the precious metals, including white, rose and yellow gold, and platinum. Each gemstone wedding ring is carefully selected for quality and craftsman and is sure to please even the most discriminating bride-to-be!

Orders & More

Ruby and Diamond Wedding Ring

Rubies and diamonds dance around her finger like a ribbon in this delightful wedding ring. It features a contemporary "pinched" design mounting in 18k white gold. This antique style wedding ring is new.

Item
RG-3579
$1449.00

Orders & More

Edwardian Two Stone Antique Ring with Sapphires

The pretty band of this Edwardian antique ring is pierced with a floral and bow motif.

Item
RG-2308
$1519.00

Orders & More

Sapphire and Diamond Wedding Ring

Nine graduated blue sapphires cascade down the center of this wedding ring.

Item
RG-3544
$1929.00

Orders & More

Antique Emerald Ring with Scalloped Design

Full cut diamonds encircle a trio of emeralds in this antique ring.

Item
RG-3514
$2779.00

Orders & More

Ruby and Diamond Wedding Ring

Rasberry red rubies are interspersed with round brilliant cut diamond ice in this anniversary style wedding ring.

Item
RG-3553
$1999.00

Orders & More

Retro Ruby Wedding Band

Five rubies burst out of this Retro wedding band like shooting stars.

Item
RG-3449
$889.00

Orders & More

Princess Vintage Engagement Ring

A sapphire and diamond princess style ring features English hallmarks and a classic two toned design in this vintage ring.

Item
RG-3234
$1249.00

Orders & More

1920's Three Stone Antique Ring

A bridge of gold holds two sapphires and a diamond for a three stone filigree antique ring from the 1920s.

Item
RG-2605
$1129.00

Orders & More

Square Cut Ruby Eternity Band

Like a garland of roses, this square cut ruby eternity band encircles the finger in brilliant color.

Item
RG-3061
$685.00
---
---
ęCopyright 2001 - 2013
Topazery, LLC
Atlanta, GA, USA
&reg Topazery is a Registered Trademark
Cart

WELCOME!
Home
Join Newsletter
New Listings
How To Order
FAQs
Contact Us
Testimonials
Hassle Free Returns

JEWELRY STORES
All Rings
All Jewelry
Gifts Under $500

ENGAGEMENT RINGS
Thumbnails
Vintage Engagement Rings
Antique Engagement Rings
Antique Style Engagement Rings
Diamond Engagement Rings
Champagne Diamond Rings
Aquamarine Engagement Rings
Sapphire Engagement Rings
Emerald Engagement Rings
Ruby Engagement Rings
Filigree Engagement Rings

RINGS & MORE
Thumbnails
Topazery Collection
Antique Rings
Antique Style Rings
Sapphire Rings
Emerald Rings
Ruby Rings
Aquamarine Rings
Pearl Rings
Filigree Rings
Cocktail Rings
Filigree Jewelry
Pearl Jewelry

WEDDING RINGS
Thumbnails
Antique Wedding Rings
Antique Style Wedding Rings
Gemstone Wedding Rings
Filigree Wedding Rings

JEWELRY BY PERIOD
Thumbnails
Victorian Jewelry
Art Nouveau Jewelry
Edwardian Jewelry
Art Deco Jewelry
Retro Jewelry

OTHER JEWELRY
Thumbnails
Bracelets
Crosses
Earrings
Necklaces
Pendants & Lockets
Pins & Brooches

RECENTLY SOLD
Recently Sold Jewelry

EDUCATION
Gemstone History
Jewelry Periods
Antique Diamond Cuts
Diamond Color Grades
Diamond Clarity Grades
Evaluating Gemstones
Jewelry Library

INFORMATION
About Us
In the News
Privacy Policy
Legal Policy