Champagne Diamond Engagement Rings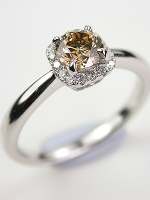 Champagne diamonds are beautiful naturally. They range in colors from the light hues of champagne bubbles to the warm, rich tones of cognac. These alluring stones make a statement about your individuality and style. Choose an unusual champagne diamond engagement ring from our Earth Collection and celebrate your love!
Topazery's champagne diamond engagement rings combine our favorite designs with the finest precious metals and stones that cast nature's warmest hues. The subtle and sophisticated colors of champagne diamonds range in intensity from the darker and rarer tones of cognac and milk chocolate to the medium hues of honey and caramel to the lighter tones of candle light and champagne.
Read more >>

Orders & More

Fancy Colored Diamond Filigree Engagement Ring

The path not taken often leads to the most unexpected surprises, and this antique style filigree engagement ring thrills from all directions.

Item
RG-2567ar
$3129.00

Orders & More

Champagne Diamond Engagement Ring

A timeless mounting lends classic sophistication to a fancy colored champagne diamond in this antique style engagement ring.

Item
RG-3306f
$2499.00

Orders & More

Fancy Champagne Diamond Engagement Ring

This natural fancy champagne diamond vintage style engagement ring is from the Topazery Earth Collection.

Item
RG-3274c
$1719.00

Orders & More

Diamond Engagement Ring from the Earth Collection

Beautiful filigree and trillion cut diamonds make champagne diamond engagement rings like this one irresistible.

Item
RG-3121g
$4575.00

Orders & More

Champagne Diamond Engagement Ring

Infinity symbols dance and flirt with diamonds in this filigree and champagne diamond vintage style engagement ring.

Item
RG-2814aq
$2159.00

Orders & More

Champagne Diamond Engagement Ring

The warmth of honey and the glitter of diamond come together in this outstanding champagne diamond engagement ring.

Item
RG-2809c
$2129.00

Orders & More

Timeless Champagne Diamond Engagement Ring

The warm glow of candlelight radiates from this timeless ring.

Item
RG-1753h
$2499.00

Orders & More

Floral and Leaf Engagement Ring

Flowers and leaves create a fresh vintage look in this champagne diamond engagement ring.

Item
RG-1748y
$2129.00

Orders & More

Pierced Filigree Engagement Ring

A fancy brown champagne diamond is set in a pierced and engraved filigree mounting in this antique style ring.

Item
RG-1747u
$2895.00

Orders & More

Filigree Engagement Ring with Fancy Diamond

A champagne diamond provides the razzle dazzle for this antique style filigree engagement ring.

Item
RG-2802s
$3339.00

Orders & More

Engagement Ring with Floral and Leaf Design

Baguette cut diamonds and a leaf and floral design join forces with a fancy champagne diamond in this chic antique style engagement ring.

Item
RG-3272
$1695.00
Champagne Diamond Engagement Rings (continued from above)
Their earthy intensity warms both the heart and the spirit. Drawing on romantic and dreamy filigree settings from the vintage and antique eras, we infuse a splash of contemporary flavor into these new antique style engagement rings. From vintage floral and leaf motifs, to dramatic contemporary designs, our rings are delightfully sophisticated and oh so chic.
Does she love autumn leaves and bonfires? Are her favorite shoes a pair of hiking boots? Does her favorite weekend involve sleeping in a tent? Or maybe she loves autumn in the city when the leaves start dancing on the sidewalk and swirling around the park benches? Regardless of her favorite things, if she's an "earth" girl, she'll love Topazery's romantic collection of champagne diamonds.
Cheers to Champagne Wedding Inspiration!
According to legend, when Dom Perignon perfected the effervescent wine that would go on to be called champagne, he exclaimed, "I'm tasting stars." Although he may have been exalting the beverage's bubbliness, champagne has a lot more going for it than just its texture. All of its many qualities in combination prove fertile ground for brides to draw elegant inspiration for their weddings.
Vintage and antique engagement rings with champagne diamonds and champagne hued bridesmaids' dresses will have your wedding day bubbling over with the light and radiance of the stars.
All the Colors of the Champagne Rainbow
Champagne diamond engagement rings run the spectrum from light champagne all the way through dark cognac. This range of hues allows brides-to-be to tailor their engagement ring color palette to their personality. In their palest shades, champagne diamonds are almost indistinguishable from traditional diamonds. For those women who prefer a bit more drama, medium champagne and dark champagne diamonds provide deep richness to the finger.
Antique and vintage engagement rings often featured champagne diamonds as their focal point. Soon-to-be brides who chose these vintage and antique styles, therefore, can find diamonds in all the old romantic diamond cuts of yesteryear.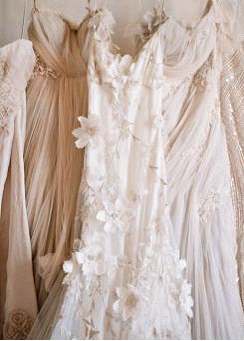 Because champagne diamonds all fall into the same color family, regardless of their depth of saturation, light, medium and dark variations of them blend together seamlessly. As a result, women who are extending their champagne diamond engagement ring hue to their wedding's color theme have a lot of flexibility. Perhaps one of the biggest perks is allowing their bridesmaids to pick their own bridesmaids' dress in any champagne shade. Instead of being mixy-matchy, bridesmaids can complement each other while embracing their own individual styles. That means they may very well walk away from the wedding with a dress they'll actually wear again.
Of course brides who prefer their bridesmaids in a single color can still fulfill their wish while continuing to offer their attendants flexibility in their wedding attire. Light champagne colored bridesmaids' dresses in an amalgam of styles are perfect for summer weddings, especially beach and destination weddings. More dramatic, darker-hued champagne bridesmaids' dresses lend a blush of coziness to winter and evening weddings under the pale moonlight.
Accenting Afterglow
Because of their splash of warmth, champagne diamonds glow with a softer illumination than traditional diamonds when set in engagement ring bands with antique and vintage touches. Cushion settings, filigree cutwork and accenting diamonds all enhance the beauty of champagne diamond engagement rings. And contrasting metals like platinum and white gold enhance the warm afterglow of champagne diamonds even more.
For these same reasons, champagne colored bridesmaids' dresses are even more elegant when splashed with glittery and sparkling accents. Sequins, pearlized beading, rhinestones and fabric flowers all add enchantment to champagne bridesmaids' dresses.
Topazery raises a toast and says "Cheers!" in honor of your champagne wedding. We hope these ideas have provided you with inspiration to make your special day bubble over with moments to remember.
Acknowledgments: Bridesmaids Dress Photo by EverlyTrue
---
---
© Copyright 2001 - 2015
Topazery, LLC
Atlanta, GA, USA
® Topazery is a Registered Trademark