Champagne Diamond Engagement Rings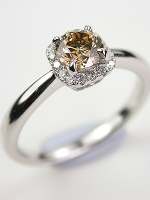 Champagne diamonds are beautiful naturally. They range in colors from the light hues of champagne bubbles to the warm, rich tones of cognac. These alluring stones make a statement about your individuality and style. Choose an unusual champagne diamond engagement ring from our Earth Collection and celebrate your love!
Topazery's champagne diamond engagement rings combine our favorite designs with the finest precious metals and stones that cast nature's warmest hues. The subtle and sophisticated colors of champagne diamonds range in intensity from the darker and rarer tones of cognac and milk chocolate to the medium hues of honey and caramel to the lighter tones of candle light and champagne.
Their earthy intensity warms both the heart and the spirit. Drawing on romantic and dreamy filigree settings from the vintage and antique eras, we infuse a splash of contemporary flavor into these new antique style engagement rings. From vintage floral and leaf motifs, to dramatic contemporary designs, our rings are delightfully sophisticated and oh so chic.
Does she love autumn leaves and bonfires? Are her favorite shoes a pair of hiking boots? Does her favorite weekend involve sleeping in a tent? Or maybe she loves autumn in the city when the leaves start dancing on the sidewalk and swirling around the park benches? Regardless of her favorite things, if she's an "earth" girl, she'll love Topazery's romantic collection of champagne diamonds.

Orders & More

Fancy Colored Diamond Filigree Engagement Ring

The path not taken often leads to the most unexpected surprises, and this antique style filigree engagement ring thrills from all directions.

Item
RG-2567ar
$3129.00

Orders & More

Champagne Diamond Engagement Ring

A timeless mounting lends classic sophistication to a fancy colored champagne diamond in this antique style engagement ring.

Item
RG-3306f
$2499.00

Orders & More

Elegantly Simple Champagne Diamond Engagement Ring

This elegantly simple champagne diamond engagement ring is from the Topazery Earth Collection.

Item
RG-3274c
$1719.00

Orders & More

Diamond Engagement Ring from the Earth Collection

Beautiful filigree and trillion cut diamonds make champagne diamond engagement rings like this one irresistible.

Item
RG-3121g
$4575.00

Orders & More

Champagne Diamond Engagement Ring

Infinity symbols dance and flirt with diamonds in this filigree and champagne diamond antique style engagement ring.

Item
RG-2814aq
$2159.00

Orders & More

Champagne Diamond Engagement Ring

The warmth of honey and the glitter of diamond come together in this outstanding champagne diamond engagement ring.

Item
RG-2809c
$2129.00

Orders & More

Timeless Champagne Diamond Engagement Ring

The warm glow of candlelight radiates from this timeless ring.

Item
RG-1753h
$2499.00

Orders & More

Floral and Leaf Engagement Ring

Flowers and leaves create a fresh vintage look in this champagne diamond engagement ring.

Item
RG-1748y
$2129.00

Orders & More

Pierced Filigree Engagement Ring

A fancy brown champagne diamond is set in a pierced and engraved filigree mounting in this antique style ring.

Item
RG-1747u
$2895.00

Orders & More

Filigree Engagement Ring with Fancy Diamond

A champagne diamond provides the razzle dazzle for this antique style filigree engagement ring.

Item
RG-2802s
$3339.00

Orders & More

Engagement Ring with Floral and Leaf Design

Baguette cut diamonds and a leaf and floral design join forces with a fancy champagne diamond in this chic antique style engagement ring.

Item
RG-3272
$1695.00
---
---
ęCopyright 2001 - 2014
Topazery, LLC
Atlanta, GA, USA
&reg Topazery is a Registered Trademark
Cart

WELCOME!
Home
Join Newsletter
New Listings
How To Order
FAQs
Contact Us
Testimonials
Hassle Free Returns

JEWELRY STORES
All Rings
All Jewelry
Gifts Under $500

ENGAGEMENT RINGS & MORE
Thumbnails
Vintage Engagement Rings
Antique Engagement Rings
Antique Style Engagement Rings
Champagne Diamond Rings
Aquamarine Engagement Rings
Sapphire Engagement Rings
Antique Rings
Filigree Rings

WEDDING RINGS
Thumbnails
Antique Wedding Rings
Antique Style Wedding Rings

PERIOD JEWELRY
Thumbnails
Vintage Jewelry and Rings
Victorian Jewelry
Edwardian Jewelry
Art Deco Jewelry

EDUCATION
Gemstone History
Jewelry Periods
Antique Diamond Cuts
Evaluating Stones
Jewelry Library

INFORMATION
In the News
Site Map
Jewelry Details
Privacy Policy
Legal Policy