Antique and Vintage Wedding Rings

Are you thinking about purchasing a vintage wedding ring? There are a lot of good reasons to back up that decision. Vintage rings are gorgeous, they are kind to the environment, and they are competitively priced in comparison to new wedding rings. All that said, a vintage wedding ring isn't right for everyone. Are you (or your loved one) a good candidate? Following are the five top reasons you should say yes to a vintage wedding ring.
Reason #1: You like to be a little bit different and stand out from the crowd. When you purchase a vintage wedding ring, it is almost a guarantee that no one else will own one just like it. If you're seeking a one-of-a-kind vintage ring without the expense of custom made, a vintage wedding ring is the perfect solution. It serves as an expression of your individual personality--and your love--that is uniquely your own.
Read more >>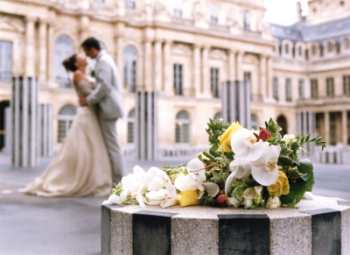 continued from above
Reason #2: You've opted for a simple engagement ring, or no engagement ring at all. Back in the eras from which vintage wedding rings hail, many brides wore only one ring. As a result, their wedding bands took on a dual role, incorporating the bling of today's engagement rings with the culminating "I do" exchange gesture. If you prefer your wedding band to do most, if not all, of the talking, then vintage is the perfect way to go.
Reason #3: You relate to a specific time period in history. Maybe you envision yourself dressed in poodle skirts and bobby socks, hanging out at the soda shop. Perhaps you are a free-spirited flower child. No matter your personality inclinations, your heart is in a bygone era, and you want your wedding ring to reflect that. Whether you belong in the 1950s, 1960s, 1970s, or 1980s, a vintage wedding ring can time travel you back to that special point in history.
Reason #4: You want your wedding ring purchase to be an investment. Because vintage engagement rings are rare--sometimes the only remaining example of their kind--they stand a far better chance of increasing in value over time than the cookie-cutter new rings that are being sold to today's brides. Think of it in Barbie doll collector terms. Hoping to maximize the value of their investment, the vast majority of current collectors are keeping their Barbie purchases in pristine condition, never removing them from the box. With so many new-in-the-box versions floating around, that tendency has only served to drive down prices. Yet the rare few original Barbies that are still preserved in their packaging are worth a small fortune. Rareness, however, isn't the only quality that lends itself to a vintage wedding ring's value. Much of the jewelry made in the vintage eras is of higher craftsmanship than modern options as well.
Reason #5: You're not a fan of mass production. When you purchase a new wedding band, you can be fairly certain that large quantities of the exact same version were produced by machine. The fine, handcrafted workmanship that went into the construction of vintage wedding rings is completely lacking in their modern counterparts. The hand finishing, rare gems and settings, and scarce metals that went into the making of vintage wedding rings are all examples of dying materials and arts. Owning a vintage wedding ring is not only one way of preserving them but also a means of showing the world that you hold them in high regard.
Is a Vintage or Antique Wedding Ring Right for You?
Maybe you're considering an antique or vintage wedding ring but you're not sure it's the right choice for you. Will you love your wedding ring as much a year from now, 10 years, even 50 years down the road as you do right now? To be sure, tastes change over time, but certain aspects of your personality probably won't. Here are 7 questions to help you determine if a vintage wedding ring or antique wedding ring is the right choice.
Question #1: Do you have a high regard for the environment and hold it dear? If your answer is yes, every time you look at your vintage or antique wedding ring, you'll know that your choice contributed in every way possible to protecting the world around you. No additional mining or manufacturing processes went into making your wedding ring, so no additional impact is being made on the earth by you wearing it. You are not a contributing factor to ecological harm. Wear your vintage or antique wedding ring proudly.
Question #2: Are tasks that are hard on the hands, like gardening, dish washing or weight lifting, something you engage in only rarely? Or if you participate in them more frequently, are you prepared to take your wedding ring off? Most vintage and antique wedding rings require special care. They often have filigree, or are made with dainty details and tiny stones held in place with delicate prongs. If you want your vintage or antique wedding ring to last a lifetime be prepared to treat it like the precious heirloom it is.
Question #3: Is your wedding band the only ring you plan on wearing? Vintage and antique wedding rings were designed to make a statement. They are often showcased as standalone jewelry pieces. That's not to say you can't pair one with a vintage engagement ring or that you can't move your vintage engagement ring to your right hand after the wedding ceremony.
Question #4: Vintage wedding rings are usually sizeable. A good rule of thumb is not to purchase one that is more than two sizes above or below your own size without first consulting with a Master Jeweler regarding resizing. Don't give up if you your finger is very big or very small; part of the fun is the treasure hunt to find the perfect antique wedding ring for you.
Question #5: Are you more concerned with the wow factor than the diamond or gemstone specifics? The old style cuts of the stones found in antique wedding rings have an appeal that is completely different from today's modern-day cuts. If carat weight and clarity are your main concerns then an antique wedding ring may not be your best option. However, if a one-of-a-kind flair is more your style, you may just find exactly what you're seeking in an antique wedding ring.
Question #6: Are you more about setting your own trends than following the lead of others? If you pride yourself on your individuality and don't take your cues from the fickle world of fashion, then an antique or vintage wedding ring is likely to give you the unique appeal you're seeking for years to come. Unlike what's current today, your ring won't be tired and old tomorrow.
Question #7: Do you want your wedding ring to be alive with soul? An antique wedding ring has a history to it. It has lived and breathed in the past and the previous life it has experienced has been entrusted to you. Take that responsibility sincerely. You are the guardian keeper of its secrets.
About Topazery's Antique and Vintage Wedding Rings
You'll soon be walking down the aisle and you're looking for a unique wedding ring as a symbol of your commitment. The charm and romance of yesteryear are brought to life in Topazery's elegant collection of vintage wedding rings and antique wedding rings. Seal your vows and promise your eternal devotion with an antique or vintage wedding ring from Topazery. Our wedding rings go above and beyond the traditional band with a myriad of fine details, making them truly one-of-a-kind jewelry pieces. Carved leaf engravings, floral cutwork and open weaving are just some of the exciting enhancements you'll find in our collection of vintage wedding rings and antique wedding rings.
As you browse our extensive collection of vintage wedding rings and antique wedding rings, you'll find rings accented with shimmering diamonds as well as vivid gemstones like sapphires, emeralds, rubies, tourmalines, and pink sapphires. As for precious metals, you'll be able to choose a wedding ring set in platinum, white or yellow gold, or even two-tone and tri-color gold. A narrow but elegantly carved eternity band or an extra wide eternity band with filigree work and diamonds are also popular choices for the bride who is looking for an unusual band.