About Antique Wedding Rings
You'll soon be walking down the aisle and you're looking for a unique wedding rings as a symbol of your commitment. The charm and romance of yesteryear are brought to life in Topazery's elegant collection of antique wedding rings. Seal your vows and promise your eternal devotion with an antique wedding ring from Topazery. Our antique wedding rings go above and beyond the traditional band with a myriad of fine details, making them truly one-of-a-kind jewelry pieces. Carved leaf engravings, floral cutwork and open weaving are just some of the exciting enhancements you'll find in our collection.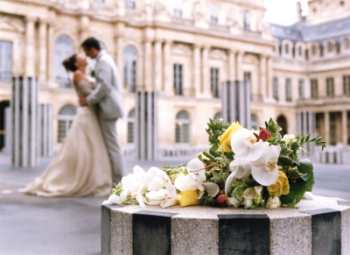 As you browse our extensive collection, you'll find wedding rings accented with shimmering diamonds as well as vivid gemstones like sapphires, emeralds, rubies, tourmalines, and pink sapphires. As for precious metals, you'll be able to choose a wedding ring set in platinum, white or yellow gold, or even two-tone and tricolor gold. A narrow but elegantly carved eternity band or an extra wide eternity band with filigree work and diamonds are also popular choices for today's brides!

Orders & More

Art Deco Filigree Diamond Wedding Ring

The diagonal slicing of this Art Deco antique wedding ring lends visual intrigue to the finger and showcases the band's geometric elements.

Item
RG-1237
$1795.00

Orders & More

Platinum Knife Edge Vintage Wedding Ring

Constructed of iridium-platinum, this wedding ring has a timeless design.

Item
RG-1988
$619.00

Orders & More

Vintage Filigree Wedding Ring

Diamond studded rhombuses playfully encircle this platinum and filigree vintage wedding ring to create a "hugs and kisses" or XO pattern around the vintage band.

Item
RG-3349
$1699.00

Orders & More

Antique Orange Blossom Wedding Ring

The orange blossoms that encircle this romantic antique wedding ring are so lifelike that you can almost catch a whiff of their delicate floral scent.

Item
RG-3441
$559.00

Orders & More

Vintage Wedding Band with Rubies

Five rubies burst out of this Retro wedding band like shooting stars.

Item
RG-3449
$889.00

Orders & More

Antique Diamond Wedding Ring in Platinum

Seven diamonds are set across the top of this platinum antique wedding ring.

Item
RG-3343
SOLD

Orders & More

Vintage Two Toned Diamond Wedding Ring

In this vintage diamond wedding ring, a pierced scroll motif in white gold is splashed with diamonds and accented by yellow gold edges.

Item
RG-3333
$1499.00

Orders & More

Classic Diamond Eternity Band in Platinum

A pierced design and scalloped edges make unusual platinum and diamond antique rings.

Item
RG-3199
$3999.00

Orders & More

1920's Three Stone Antique Ring

A bridge of gold holds two sapphires and a diamond for a three stone filigree antique ring from the 1920s.

Item
RG-2605
$1129.00

Orders & More

Hand wrought Platinum and Diamond Eternity Band

Diamond leaves dance around her finger in this hand wrought vintage ring.

Item
RG-3221
$1849.00

Orders & More

Antique Diamond Wedding Band

Surround her finger in brilliance with this this antique diamond wedding band.

Item
RG-2521
$2999.00

Orders & More

Art Deco Filigree and Diamond Wedding Ring

Like luminous strobe lights, this Art Deco filigree and diamond wedding ring mesmerizes the eye with its geometric design.

Item
RG-2471
$1395.00

Orders & More

Antique Filigree and Diamond Wedding Ring

The platinum band of this antique filigree and diamond wedding ring boasts filigree work and milgrained rhomboids.

Item
RG-2231
$1495.00

Orders & More

1950s "Wave" Antique Diamond Eternity Band

The unique design of this antique wedding ring creates a playful display of glitter on her finger.

Item
RG-1596
$3895.00

Orders & More

1954 Antique Filigree Wedding Ring

Visual details add impact to classic antique filigree wedding rings like this one.

Item
RG-1367
$895.00

Orders & More

Art Deco Antique Wedding Ring

This antique Art Deco wedding ring has a band of shimmering diamonds which extend half-way around the finger.

Item
RG-1364
$625.00

Orders & More

Art Deco Antique Filigree Wedding Ring

The geometric filigree pattern in this eternity band gives this antique wedding ring its distinctive Art Deco flair.

Item
RG-839
$1295.00
---
---
ęCopyright 2001 - 2014
Topazery, LLC
Atlanta, GA, USA
&reg Topazery is a Registered Trademark
Cart

WELCOME!
Home
Join Newsletter
New Listings
How To Order
FAQs
Contact Us
Testimonials
Hassle Free Returns

JEWELRY STORES
All Rings
All Jewelry
Gifts Under $500

ENGAGEMENT RINGS & MORE
Thumbnails
Vintage Engagement Rings
Antique Engagement Rings
Antique Style Engagement Rings
Champagne Diamond Rings
Aquamarine Engagement Rings
Sapphire Engagement Rings
Antique Rings
Filigree Rings

WEDDING RINGS
Thumbnails
Antique Wedding Rings
Antique Style Wedding Rings

PERIOD JEWELRY
Thumbnails
Vintage Jewelry and Rings
Victorian Jewelry
Edwardian Jewelry
Art Deco Jewelry

EDUCATION
Gemstone History
Jewelry Periods
Antique Diamond Cuts
Evaluating Stones
Jewelry Library

INFORMATION
In the News
Site Map
Jewelry Details
Privacy Policy
Legal Policy