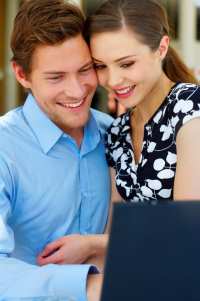 About Antique Style Rings
Each antique style ring from Topazery's online e-boutique is either a classic reproduction of an original design or an orginal design with a contemporary twist. Our antique style rings are just as elegant as the original one-of-a-kind antique and estate rings we're renowned for. We only offer antique style rings that match the quality, design and craftsmanship you've come to expect in our fine jewelry collection. When you purchase a Topazery antique style ring, you're assured of having the antique look in a never before owned jewelry piece.
Our Antique Style Rings Collection
In our antique style / modern rings collection you'll find rings from every jewelry period, including Art Deco, Art Nouveau, Victorian and Edwardian, Retro, and Contemporary. Accenting stones include diamonds (in a variety of cuts) as well as myriad other gemstones, such as sapphires, emeralds, rubies, aquamarine, and citrines. We carry rings in white, rose and yellow gold (and various combinations thereof) as well as platinum. As you browse our extensive selection, you'll also discover designs with filigree cutwork and romantic carvings. We have a ring to match your personal, unique style.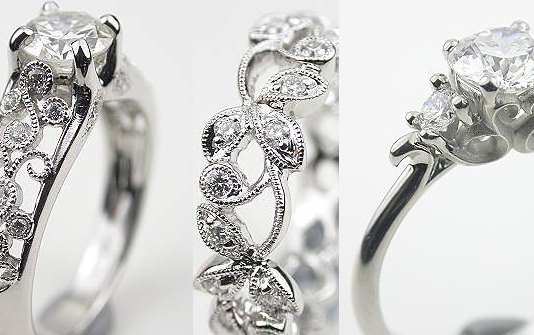 Orders & More

Radiant Cut Diamond Engagement Ring

A classic mounting creates the perfect setting for a GIA certified 1.14 carat radiant cut diamond in this antique style engagement ring.

Item
RG-3216b
$4449.00

Orders & More

Swirling Diamond Engagement Ring

Whimsical scrolls and swirls thread down the shoulders of this unusual diamond engagement ring.

Item
RG-1750v
SALE PENDING

Orders & More

Swirling Diamond Wedding Ring

The swirling Vs that highlight this diamond wedding ring have a playful quality about them.

Item
RG-3479m
$1299.00

Orders & More

Antique Style Green Sapphire Engagement Ring

Climbing vines and rose buds ascend to a bluish green sapphire in this antique style engagement ring.

Item
RG-3169d
$1599.00

Orders & More

Antique Style Green Sapphire Engagement Ring

Green sapphire engagement rings like this one are cool and fresh thanks to a lovely blue green gemstone.

Item
RG-2955v
$2925.00

Orders & More

Swirling Diamond Engagement Ring

Whimsical scrolls and swirls thread down the shoulders of this unusual diamond engagement ring.

Item
RG-1750u
$2749.00

Orders & More

Wedding Band with Baguette Cut Diamonds

Like it's matching engagement ring, this wedding band is draped in festive streamers of gold and diamonds.

Item
RG-1739wbf
$1299.00

Orders & More

Blue Sapphire Engagement Ring

Dramatic color and unusual elegance come together in this blue sapphire engagement ring.

Item
RG-2817k
$3222.00

Orders & More

Matching Wedding Ring for RG2817

The wedding ring rises to a point at the top and curves ever so slightly to nestle against the engagement ring.

Item
RG-2817wbf
$1229.00

Orders & More

Champagne Diamond Engagement Ring

A timeless mounting lends classic sophistication to a fancy colored champagne diamond in this antique style engagement ring.

Item
RG-3306f
$2499.00

Orders & More

Floral Wedding Band with Diamonds

A delicate vine of diamonds winds around the finger in this unusual wedding band.

Item
RG-2813wbl
$749.00

Orders & More

Antique Style Aquamarine Engagement Ring

Ribbons of diamond lace wrap the shoulders and shank of this antique style aquamarine engagement ring.

Item
RG-3276b
$1469.00

Orders & More

Antique Style Sapphire Engagement Ring

A timeless mounting lends classic sophistication to a stunning blue sapphire in this antique style engagement ring.

Item
RG-3306g
$2179.00

Orders & More

Antique Style Leaf and Scroll Wedding Band

Delicate filigree in a leafy scroll pattern is accented by mille grain on this antique style wedding ring.

Item
RG-3345wbb
$779.00

Orders & More

Curved Matching Wedding Band

An 18k white gold band curves to fit the bezel of its matching engagement ring style RG-2955 and RG-3142.

Item
RG-2955wbe
$1199.00

Orders & More

Antique Style Sapphire Engagement Ring

This regal antique style sapphire engagement ring blends breathtaking color with diamond shimmer.

Item
RG-3341a
$3299.00

Orders & More

Green Sapphire Engagement Ring

A green sapphire is set at the top of a delicate vine of diamonds in this unusual engagement ring.

Item
RG-2813w
$1429.00

Orders & More

Antique Style Aquamarine Engagement Ring

A halo of diamonds surrounds an aquamarine in this romantic engagement ring.

Item
RG-2955u
$1999.00

Orders & More

Engagement Ring with Fancy Colored Diamonds

The glorious colors of fall accent this romantic Topazery Earth Collection engagement ring.

Item
RG-2836b
$2459.00

Orders & More

Antique Style Diamond Wedding Band

Seven diamonds accent the top of this complimentary wedding band for engagement ring style RG-2808.

Item
RG-2808wbe
$1089.00

Orders & More

Simply Elegant Green Sapphire Engagement Ring

A bluish green sapphire is surrounded by diamonds in this elegantly simple engagement ring from the Topazery Earth Collection.

Item
RG-3274d
SALE PENDING

Orders & More

Romantic Diamond Engagement Ring

Love knots and hearts lend nonstop romance to this antique style diamond engagement ring.

Item
RG-2401b
SALE PENDING

Orders & More

Matching Wedding Ring for RG3121

This fitted diamond wedding band nestles against it's engagement ring.

Item
RG-3121wbc
$1119.00

Orders & More

Diamond and Heart Promise Ring in Rose Gold

Declare your love for her with this rose gold and diamond heart shaped promise ring.

Item
RG-3293
$959.00

Orders & More

Elegantly Simple Champagne Diamond Engagement Ring

This elegantly simple champagne diamond engagement ring is from the Topazery Earth Collection.

Item
RG-3274c
$1719.00
---
---
ęCopyright 2001 - 2013
Topazery, LLC
Atlanta, GA, USA
&reg Topazery is a Registered Trademark
Cart

WELCOME!
Home
Join Newsletter
New Listings
How To Order
FAQs
Contact Us
Testimonials
Hassle Free Returns

JEWELRY STORES
All Rings
All Jewelry
Gifts Under $500

ENGAGEMENT RINGS
Thumbnails
Vintage Engagement Rings
Antique Engagement Rings
Antique Style Engagement Rings
Diamond Engagement Rings
Champagne Diamond Rings
Aquamarine Engagement Rings
Sapphire Engagement Rings
Emerald Engagement Rings
Ruby Engagement Rings
Filigree Engagement Rings

RINGS & MORE
Thumbnails
Topazery Collection
Vintage Jewelry
Antique Rings
Antique Style Rings
Sapphire Rings
Emerald Rings
Ruby Rings
Aquamarine Rings
Pearl Rings
Filigree Rings
Cocktail Rings
Filigree Jewelry
Pearl Jewelry

WEDDING RINGS
Thumbnails
Antique Wedding Rings
Antique Style Wedding Rings
Gemstone Wedding Rings
Filigree Wedding Rings

JEWELRY BY PERIOD
Thumbnails
Victorian Jewelry
Art Nouveau Jewelry
Edwardian Jewelry
Art Deco Jewelry
Retro Jewelry

OTHER JEWELRY
Thumbnails
Bracelets
Crosses
Earrings
Necklaces
Pendants & Lockets
Pins & Brooches

RECENTLY SOLD
Recently Sold Jewelry

EDUCATION
Gemstone History
Jewelry Periods
Antique Diamond Cuts
Evaluating Stones
Jewelry Library

INFORMATION
In the News
Privacy Policy
Legal Policy