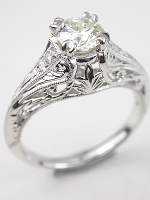 Vintage and Antique Style Engagement Rings
Some women adore the old world flavor of period engagement rings but want a new engagement ring that has never been owned or worn by anyone else. If you are looking for a new ring, but love the vintage look, choose a ring from our collection of antique style and vintage style engagement rings. As you shop our carefully chosen selection, you'll find rings in classic and timeless designs with a contemporary twist. Accenting stones include diamonds (in a variety of cuts) as well as myriad other gemstones, such as sapphires, emeralds, rubies, aquamarine, amethyst, tourmalines, citrines, and more.
We carry rings in white, rose and yellow gold (and various combinations thereof) as well as platinum. As you browse our extensive selection, you'll also discover ring designs with filigree, lacey weavings, floral motifs, and romantic engraving. We have an antique style or vintage style engagement ring to match your personality and tastes!

Orders & More

Radiant Cut Diamond Engagement Ring

A classic mounting creates the perfect setting for a GIA certified 1.14 carat radiant cut diamond in this antique style engagement ring.

Item
RG-3216b
$4449.00

Orders & More

Aquamarine Filigree Engagement Ring

Likes snow flurries dancing in the winter wind, this aquamarine engagement ring has a swirling design.

Item
RG-2802ad
$1399.00

Orders & More

Dramatic Diamond Engagement Ring

A dramatic design and unusual elegance come together in this diamond engagement ring from the Topazery Collection.

Item
RG-2817m
$5999.00

Orders & More

Antique Style Aquamarine Engagement Ring

A halo of diamonds surrounds an aquamarine in this romantic antique style aquamarine engagement ring from the Topazery Collection.

Item
RG-2955z
$1999.00

Orders & More

Filigree Engagement Ring with Blue Sapphire

Paisley swirls of filigree flirt with diamonds in this engagement ring with a natural blue sapphire.

Item
RG-1747y
$2119.00

Orders & More

Green Sapphire Engagement Ring

A green sapphire is set at the top of a delicate vine of diamonds in this unusual engagement ring.

Item
RG-2813x
$1429.00

Orders & More

Swirling Blue Sapphire Engagement Ring

In this blue sapphire engagement ring, whimsical scrolls and swirls glitter with diamonds.

Item
RG-1750t
$2625.00

Orders & More

Swirling Diamond Engagement Ring

Whimsical scrolls and swirls thread down the shoulders of this unusual vintage style diamond engagement ring.

Item
RG-1750w
$3299.00

Orders & More

Sapphire and Pear Shaped Diamond Ring

The romance of a tropical island honeymoon is captured in antique style sapphire engagement rings like this one.

Item
RG-3090f
$2749.00

Orders & More

Antique Style Filigree and Diamond Engagement Ring

Antique style diamond engagement rings like this one are a symbol of your endless love for each other.

Item
RG-3121i
$6429.00

Orders & More

Antique Style Edwardian Diamond Engagement Ring

With an intriquing ambiance, this antique style Edwardian filigree diamond engagement ring is as romantic as a full moon rising over Paris's Eiffel Tower.

Item
RG-3345d
$3695.00

Orders & More

Edwardian Style Rose Cut Diamond Engagement Ring

Engagements should be announced with romantic diamond rings like this one.

Item
RG-2956g
$2189.00

Orders & More

Diamond and Heart Promise Ring in Rose Gold

Declare your love for her with this rose gold and diamond heart shaped promise ring.

Item
RG-3293
$959.00

Orders & More

Dramatic Diamond Engagement Ring

This dramatic diamond engagement ring will always remind her of the exciting moment when she whispered "Yes!"

Item
RG-1739f
$2895.00

Orders & More

Vibrant Chrysoberyl Engagement Ring

A sleek design and diamonds set on the shoulders show off an electrifying yellow green Chrysoberyl that really "pops".

Item
RG-2806i
$799.00

Orders & More

Asscher Cut Diamond Engagement Ring

A classic mounting creates the perfect setting for a GIA certified 1.26 carat, H color, VS2 clarity Asscher cut diamond in this antique style engagement ring.

Item
RG-3216a
$7999.00

Orders & More

Diamond Engagement Ring with Flower Motif

Marquise cut diamonds form the petals for the flower blossom accents on this antique style diamond engagement ring.

Item
RG-2808o
$3499.00

Orders & More

Engagement Ring with Radiant Cut Yellow Diamond

A yellow diamond casts a magical spell in this enchanting engagement ring.

Item
RG-3015
$5999.00

Orders & More

Green Tourmaline Engagement Ring

In this Topazery Earth Collection engagement ring, a green tourmaline is held afloat by a stream of diamonds and loops.

Item
RG-3239
$1699.00

Orders & More

Emerald and Baguette Cut Diamond Engagement Ring

This dramatic emerald and diamond engagement ring is draped in festive streamers.

Item
RG-1739d
$2339.00
---
---
ęCopyright 2001 - 2014
Topazery, LLC
Atlanta, GA, USA
&reg Topazery is a Registered Trademark
Cart

WELCOME!
Home
Join Newsletter
New Listings
How To Order
FAQs
Contact Us
Testimonials
Hassle Free Returns

JEWELRY STORES
All Rings
All Jewelry
Gifts Under $500

ENGAGEMENT RINGS & MORE
Thumbnails
Vintage Engagement Rings
Antique Engagement Rings
Antique Style Engagement Rings
Champagne Diamond Rings
Aquamarine Engagement Rings
Sapphire Engagement Rings
Antique Rings
Filigree Rings

WEDDING RINGS
Thumbnails
Antique Wedding Rings
Antique Style Wedding Rings

PERIOD JEWELRY
Thumbnails
Vintage Jewelry and Rings
Victorian Jewelry
Edwardian Jewelry
Art Deco Jewelry

EDUCATION
Gemstone History
Jewelry Periods
Antique Diamond Cuts
Evaluating Stones
Jewelry Library

INFORMATION
In the News
Site Map
Jewelry Details
Privacy Policy
Legal Policy