Antique & Vintage Style Engagement Rings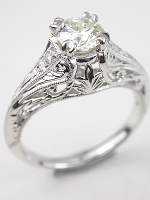 Some women adore the old world flavor of period engagement rings but want a new engagement ring that has never been owned or worn by anyone else. If you are looking for a new ring, but love the vintage look, choose a ring from our collection of vintage inspired (also called vintage style) engagement rings. As you shop our carefully chosen selection, you'll find engagement rings in classic and timeless designs with a contemporary twist. Accenting stones include diamonds (in a variety of cuts) as well as other precious gemstones. You'll discover ring designs with filigree, lacey weavings, floral motifs, and romantic engraving. Our vintage inspired rings are based on designs from the late 1800's to the 1970s and there is something for everyone.
Continue reading >>
Want to Be Her Hero? Vintage Style Engagement Rings Are the Way to Go!
Vintage style engagement rings have a lot going for them. They radiate with the old world charm of yesteryear yet are often priced significantly lower than the antique rings and vintage rings they emulate. And, you probably never thought that buying your future wife an engagement ring could arm you with superpowers . . . Which of these superhero qualities do you wish you possessed? A vintage inspired engagement ring might just be the ticket to possessing it!
Faster than a speeding bullet -- When you ask the love of your life to marry you with a vintage style ring, chances are there will be no hesitation. You can bet she'll say yes faster than Clark Kent can transform into Superman.
More powerful than a locomotive -- Okay, so maybe you won't magically transform into a muscle-bound hunk, but you'll feel like you can burst through a mountain when the ring you propose with results in an affirmative response.
Able to leap (or scale) tall buildings in a single bound -- On cloud nine, on top of the world--these cliches will instantly take on new meaning when your engagement ring proposal elicits an immediate yes. That feeling of elevated euphoria is one even Spiderman's wall-scaling capabilities could never hope to reach.
X-ray vision -- Vintage style engagement rings have the uncanny ability to make a woman feel as though the man she's about to marry knows her intimately from the inside out. When you ask for her hand in marriage with the type of ring she's always wanted, you'll be showing her that you see deep into her very soul.
Behold the power -- The Green Lantern might have his Power Ring, but with an engagement ring in the antique style or vintage style so do you. The power of the Green Lantern's ring is limited only by his lack of imagination. When selecting a vintage inspired engagement ring, dare to dream. As the Law of Attraction attests, what you envision comes to you.
Healing -- Maybe not physical wounds, but engagement rings in the antique and vintage style certainly hold the power to make emotional boo-boos heal quickly. Next time you're in the doghouse with your future or now wife, remind her how much you love her by pointing to her ring. One glance may be all it takes for her to forgive you.
Invisibility -- Vintage inspired rings won't make you invisible to the woman you love. Quite the contrary. What they will do is make all other men invisible to her. Once you slip that engagement ring on her finger, she'll have eyes only for you.
Topazery Vintage Inspired Engagement Rings and Jewelry
Classical, exuberant, sometimes whimsical.... Worn often and treasured always.... Topazery Vintage Style Rings and Jewelry honors the important moments in your life.
Topazery Vintage includes 4 jewelry collections:
Tara

Topazery's Tara Vintage Collection embraces jewelry pieces from the past. Named after Tara, the spectacular Southern plantation in the movie "Gone With the Wind", this collection features original, classic rings. Transcend time with a Tara jewelry piece.

Dragonfly

Every ring in the Dragonfly Vintage Collection is based on the design of an original piece. After we sold the original, we had so many requests for these well-loved designs that we decided to reproduce them just for you in the Dragonfly Collection.

Earth

The Earth Vintage Collection includes rings set with diamonds and gemstones in the warm earth tones of greens, browns, and the golden shades of Autumn. You'll find chocolate and champagne colored diamonds, green tourmalines, emeralds, citrines, and green and yellow sapphires. Celebrate a special occasion with a Topazery Earth Collection ring -- each jewelry piece is as enchanting as the natural beauty all around us.

Vintage

Inspired by classic motifs from the past and indistinguishable from the original in design, quality, and craftsmanship, each ring or jewelry piece is beautifully crafted in the USA. Every stone is hand-set and each piece is meticulously hand-finished by a Master Jeweler.