Antique Jewelry Library p23

1920s Art Deco Diamond Engagement Ring
This unusual 1920s Art Deco diamond engagement ring is designed in the shape of a glittering bowtie. The loops and streamers of the bow are accented with a collection of eighteen round single cut diamonds. Prong set in their midst lies a round European cut diamond. This F-colored, SI2-clarity diamond weighs 0.39 carats. The combined weight of all the diamonds in this 14k white gold engagement ring is 0.75 carats. Circa 1920. Size 4.75. SOLD

Arts and Crafts Antique Necklace
This Arts and Crafts antique necklace's green-tipped metallic accents lend rose garden romance to the neckline. Constructed of 14k yellow gold, this antique necklace is accentuated with a floral-set round faceted mixed cut garnet and glass doublet. Out of this blossom emerges a pair of angel wings that are tipped with natural Oriental pearls. An orangy red glass stone dangles from the base of the flower and is surrounded by a trio of freeform hearts. Circa 1890. SOLD

Victorian Amethyst Antique Cocktail Ring
The round faceted mixed cut amethyst that focal points this Victorian antique cocktail ring weighs 1.82 carats. An 18k yellow gold band with a swirling wave bezel provides stunning contrast to the purple gemstone that centerpieces it. This antique amethyst cocktail ring is done in a modified Belcher style. Circa 1890. Size 6.5. SOLD

1940s Platinum Eternity Band with Leaf Motif
The pierced leaf motif of this 1940s platinum eternity band engages the eye and lends a soft arboreal feel to the finger. You'll love how the thirty-four diamonds radiantly catch and reflect light. Set in platinum, the band of this 1940s eternity ring holds a collection of round full and single cut F-I-colored, VVS1-SI2 clarity diamonds that total 0.51 carats. Platinum eternity bands like this are perfect for the nature-loving bride. Circa 1940 or later. Size 6.25. SOLD

Old European Cut Diamond Engagement Ring
This old European cut diamond engagement ring is decades ahead of its time with its mesmerizing Disco ball effect. Set in 18k white gold, the band of this antique engagement ring is fluted around the edges for a textured effect. The round top setting of this engagement ring is accented with an old European cut diamond that is surrounded by eight round full cut diamonds. The total diamond weight of this engagement ring is 0.43 carats, with the diamonds ranging in color from G to J and in clarity from VS1 to SI2. Circa 1935. Size 6.5. SOLD

Antique ByPass Aquamarine Engagement Ring
Rhythm and balance are stunningly captured in this antique aquamarine engagement ring, circa 1950. In a dazzling bypass design, twin ribbons of white gold studded with diamond baguettes and crowned with round cut aquamarine stones encircle each other in a sensuous embrace. Ring size 6.25

Details: Antique, Circa 1950. 14k white gold. Straight baguette cut diamonds; 0.33 ct. Round, faceted, mixed cut aquamarine; 1.19 ct. . SOLD

Antique Retro Aquamarine Engagement Ring
This antique Retro aquamarine engagement ring's design combines two of the most popular blue gemstones -- aquamarine and sapphire. The 14k yellow gold band of this antique engagement ring is accented with six round faceted blue sapphires. The piece de resistance, however, is this Retro engagement ring's stunning emerald cut aquamarine which weighs approximately 11.32 carats. Antique Retro aquamarine engagement rings like this one are perfect for the bride-to-be who loves blue. Circa 1940s to 1950s. Size 7.0. SOLD

Antique Carved Wedding Ring
A crescent moon bathes the earth in dimly lit iridescence in the same way this antique carved wedding ring bathes the finger. The iridium-platinum band of this wedding ring has that classic cigar-band style with crescent moons carved into it for a touch of texture and intrigue. An 'FWK' trademark is etched inside this antique carved wedding ring. Circa 1925 or later. Size 5.0. SOLD

Pierced and Engraved Antique Platinum Wedding Ring
Seal your vows with a kiss and cross your heart forever with this pierced and engraved antique platinum wedding ring. The pierced platinum band of this antique wedding ring is engraved with flower blossoms and kissing 'X's. At the center of each of the eleven kisses lies a round single cut diamond. The diamonds that accentuate this antique wedding ring total 0.35 carats. Circa 1930s or later. Size 6.25. SOLD

1930's Antique Diamond Engagement Ring
An old style round brilliant cut diamond is square set at the center of this 1930s engagement ring and is surrounded by four round single cut diamonds. The centerpiece diamond has a color of D, a clarity of SI2, and weighs 0.12 carats. The combined weight of all the diamonds is 0.22 carats. The 18k white gold band of this antique diamond engagement ring is hand-engraved at the shoulders. Circa 1930. Size 3.75 [and sizeable up to a 5.75]. SOLD

Art Deco Aquamarine Engagement Ring
This Art Deco antique aquamarine engagement ring lends the promise of bluebells in early spring with its pale blue aquamarine. Weighing 1.49 carats, this ring's centerpiece gemstone is pedestal set in a 14k white gold band. A wheat motif is carved on the shoulders of the band. Circa 1930. Size 4.5 full. SOLD

1930s Antique Sapphire Filigree Engagement Ring
The round faceted mixed cut blue sapphire in this antique filigree engagement ring weighs 1.25 carats. This violetish blue sapphire is flanked by a collection of six round single cut diamonds, three on each side, for a combined diamond weight of 0.10 carats. The stones are set in a platinum band with pierced filigree work. Circa 1930s or later. Size 5.75. SOLD

Edwardian Antique Diamond Anniversary Band
Commemorate an anniversary with this Edwardian antique diamond band, circa 1900. In this ring, an intricate floral motif cast in platinum creates a space for diamonds to play. Delicately bead set in the curves and angles of this remarkable pattern, the shine of 48 sparkling diamonds mingles with the gleam of platinum. Ring size 6.

Details: Antique, Circa 1900. Platinum. Round single cut diamonds; 1.00 ct. . SOLD

7 Stone Diamond Wedding Band in Platinum
This seven stone diamond wedding band in platinum lends a clean, streamlined effect to the finger. A platinum setting provides a tonal backdrop for the seven round full cut diamonds that accentuate this wedding ring. Horizontally set, these H-I-colored, VS1-SI1-clarity diamonds total 0.54 carats. Circa 1950 or later. Size 8.0. SOLD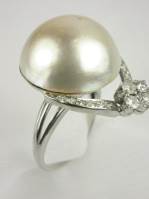 1950s Mabe Pearl and Diamond Antique Ring
1950s Mabe pearl and diamond antique rings like this one bring to mind a star-studded milky moon. The unique 18k white gold design gives the illusion that its focal point light creamy white round Mabe pearl is hovering inside a diamond orbit. A collection of twenty-five round single cut diamonds cradles the Mabe pearl for a total diamond weight of 0.32 carats. Circa 1950. Size 7.0 full. SOLD

Edwardian Diamond Dinner Ring
A stunning tapestry of diamonds graces this Edwardian diamond dinner ring. The North-South setting of this Edwardian diamond dinner ring elongates the finger. The nine old European and round single cut diamonds that accentuate this antique dinner ring are arranged in a lacy marquise fashion. Ranging in color from G to I and clarity from VVS1 to SI2, the diamond accents total 0.49 carats. Edwardian diamond dinner rings like this one bathe the finger in resplendence. Circa 1920. Size 6.5 full. SOLD

Estate Diamond and Pearl Earrings
A pair of classic pearl studs are dressed to the nines, draped in diamond-encrusted folds, in these estate pearl earrings. The creamy white pearls have rose and silver overtones and are set in a platinum bezel from which wrapping folds of diamonds descend. A total of fifty-eight round single cut diamonds accent these estate pearl earrings for a combined diamond weight of 0.70 carats. SOLD

Antique Edwardian Diamond Engagement Ring
The illusion setting of this antique Edwardian diamond engagement ring enhances the 0.09 carat, F color, old style round full cut diamond that is set in the crown. The platinum band of this antique engagement ring is accented with milgrain, pierced cutwork, and two rose cut diamonds. The trio of diamonds in this Edwardian ring total 0.12 carats. Circa 1915. Size 6.25 full. SOLD

1925 Classic Antique Sapphire Engagement Ring
In this dramatic, 1925 antique engagement ring, symmetric trails of old style single cut diamonds pave the way to a violetish blue gemstone. Contained in a four-prong setting of 5% iridium-platinum, a sapphire dazzles like a cyclone of blue light. As if buoyed by tiny stars, the sapphire floats above diamonds that twinkle delicately from the sides of the setting.

Details: Antique, Circa 1925. 5% Iridium-platinum. Old style single cut diamond; 0.34 carats. Round faceted mixed cut sapphire, 2.24 carats. Ring size 6.25. . SOLD

1945 Classic Aquamarine Engagement Ring
This 1945 classic aquamarine engagement ring is geometrically engaging. The focal point gemstone is a round greenish blue aquamarine that weighs 0.57 carats. The aquamarine is set in a square white gold top setting and is flanked by four round single cut diamonds. The combined carat weight of this engagement ring's diamond accents is 0.14 carats. A 14k yellow gold band adds a touch of gold to this 1945 classic aquamarine engagement ring. Circa 1945. Size 5.75 scant. SOLD