Aquamarine Engagement and Wedding Ring, RG-2375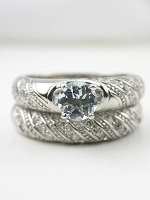 Scroll down for pictures and details
Aquamarine Engagement and Wedding Ring
The engagement ring holds 0.52 carat round aquamarine. A collection of fifty-two round full cut diamonds further accentuates the engagement and wedding rings. The total combined diamond weight of these two bridal rings is 0.52 carats. This is vintage style aquamarine engagement ring and wedding ring set. Size 6.75. Sizing options >>>
Aquamarine
Engagement
Rings
Item RG-2375
$865.00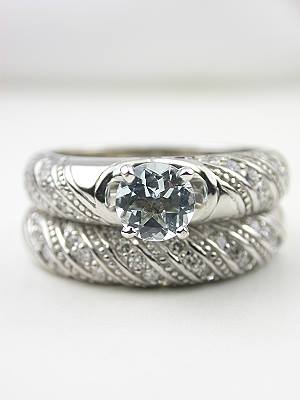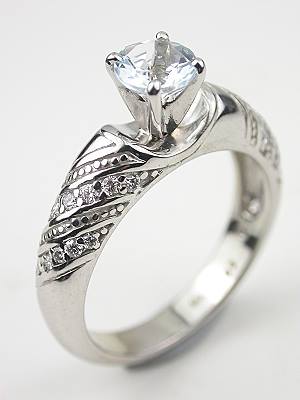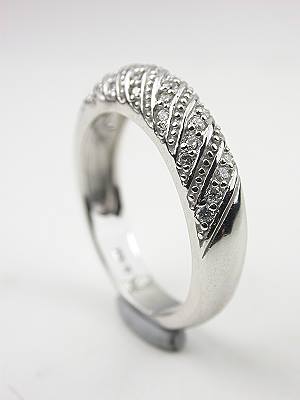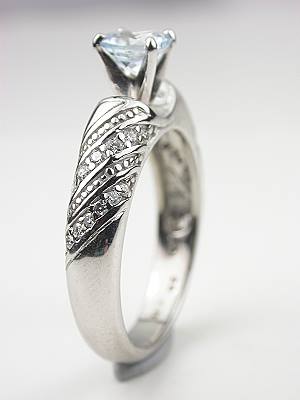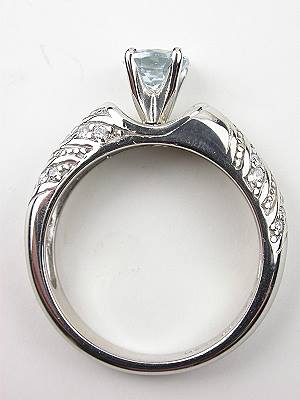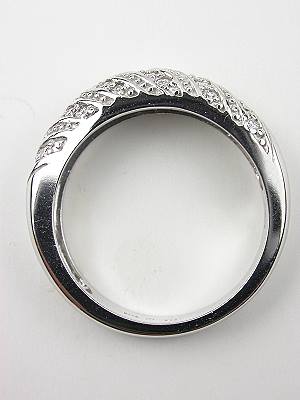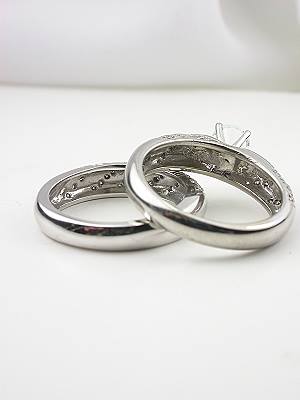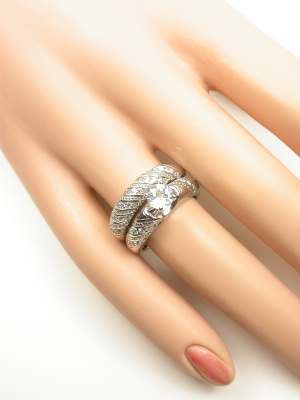 | | |
| --- | --- |
| Item # | rg2375 |
| Metal | 14 karat white gold |
| Weight in grams | 9.42 |
| Other notes | This is a two piece bridal set with an engagement ring and matching wedding band. |
| Condition | New |
| Options | Not available as a setting/mounting. |
| Diamond2 cut or shape | Round full cut |
| Diamond2 carat weight | 0.52 |
| Diamond2 mm measurements | 1.3 to 1.4 |
| Diamond2 color | F to H |
| Diamond2 clarity | VVS2 to VS2 |
| Diamond2 # of stones | 52 |
| All Diamonds, total ct. wt. | 0.52 |
| Gemstone name | Beryl (Aquamarine) |
| Gemstone cut or shape | round faceted mixed cut |
| Gemstone carat weight | 0.74 |
| Gemstone mm measurements | 5.40 - 5.42 x 3.7 |
| Gemstone type | Type I |
| Gemstone clarity | VVS |
| Gemstone hue | very very slightly greenish blue |
| Gemstone tone | 2-Very Light |
| Gemstone saturation | 2-Slightly Grayish |
| All Gemstones, total ct. wt. | 0.74 |
| Top of ring length (N-S) | 9.8 mm [0.38 in] |
| Top of ring width (E-W) | 21.2 mm [0.83 in] |
| Width of shank at shoulders | 9.01 mm [0.35 in] |
| Width of shank at base | 7.10 mm [0.28 in] |
| Ring height above finger | 8.6 mm [0.34 in] |
| Other ring info | measurements are for both rings together as you would wear them |
| Ring Size | 6.75 |
---
Click HERE for Important Jewelry Information.
Information about the following topics -- Jewelry Care, Repairs and Insurance, Custom Requests, Jewelry Condition, Gem Treatments, Diamond Grading Reports, Jewelry Classifications, and Warranty -- is available by clicking HERE.

Sizing options
This ring requires a custom sizing quote and is returnable after sizing. Please email us your ring size and the item number for a sizing quote. You may also purchase the ring, enter your ring size in the Comments field of the online Checkout form, and we will email you the cost of sizing before proceeding. The sizing fee is not refundable. Rings which are purchased from us and sized by other jewelers are not returnable.
International fees
An order shipped outside the USA includes these non-refundable fees:
$ 45.00 -- FEDEX Priority shipping with insurance
$ 37.78 -- Special processing fee
$ TBD -- Customs duties and fees
FEDEX will send you a separate invoice for customs duties and fees after your purchase has been delivered. Please contact your local customs office regarding the amount of these charges as they are not insignificant.