When one of the nation's leading department stores recently conducted a Valentine's Day survey, an overwhelming majority of female respondents indicated that if they could only have one gift this February 14th holiday, they would want it to be jewelry. And not just any jewelry, mind you. In particular, "Antique and vintage styles are popping up everywhere from restaurants to music to jewelry," an engagement ring and wedding band designer for the retailer pointed out.
In this high-tech era of gadgets and gizmos, 29 percent of the women polled stated that if forced to choose a single item, they would prefer jewelry as a Valentine's Day gift. Compare that to the mere eight percent of respondents who favored the latest technology product, and even the iPad can't compete.
What about men who already have the gift of jewelry in the bag and are planning to pop the question this February 14th with an engagement ring? The department store's designer encourages them to focus on timeless designs.
That's a jewelry philosophy that Topazery holds near and dear to its heart. Indeed, Topazery's founder firmly believes that antique jewelry should touch the heart and soul with its timeless beauty. As such, she selects every antique engagement ring and antique jewelry piece the company carries by hand to ensure it evokes that kind of enduring adoration in herself and her customers.
The surveying retailer's designer also offered these additional tips for making a Valentine's Day proposal one she'll remember for a lifetime:
1. "Consider creative packaging options … like an antique jewelry box…"
At Topazery.com, no attention to detail is spared. Time and time again, the men who buy their antique engagement rings from the site—and the women who receive them—come back with nothing but praise for the entire experience, including the exquisite packaging. They marvel over the treasure box their ring comes wrapped in and comment that "This [beautiful wrapping] added to its charm" and gush that "even the box is gorgeous!"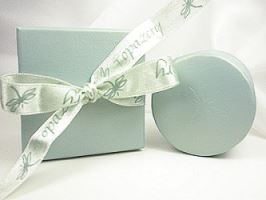 2. "Look for special diamond cuts and shapes as well as intricate and dazzling band styles…"
Browsers of the Topazery website will discover antique engagement rings accented with old cut diamonds like rose cut, old European cut and old mine cut. They will also find white gold, yellow gold and platinum bands with milgrain, carvings, and filigree and orange blossom detailing.