When it comes to jewelry stones, diamonds and gemstones are sharing the industry's newest and biggest trend. Colored diamonds and gemstones are not only popping up all over jewelry shows and jewelry auctions; they're also fetching record prices.
Diamonds are still a girl's best friend—and that's probably a longstanding jewelry trend that is here to stay. But the types of diamonds girls are calling their BFFs these days are different from those that caught Marilyn Monroe's fancy. When it comes to today's diamond confidantes, it's all about color, and the demand for these intensely hued stones is being reflected in their price tags.
An eye-opening example of this inflation recently revealed itself at the Christie's Hong Kong Magnificent Jewels sale. There, "the largest round fancy intense pink diamond to ever appear at auction sold for $17.4 million," or almost $1.5 million per carat, Forbes reported last month. This record-setting Harry Winston ultra-pink and ultra-rare diamond weighed in at 12 carats and was mounted in an 18k yellow gold, size 7 setting.
Of note is the diamond's nickname, a decidedly not-so-feminine "Martian Pink." The unusual moniker, however, only adds to the stone's intrigue. It pays homage to the U.S.'s launching of The Viking Landers satellite mission to Mars, which took place the year the diamond was purchased from Harry Winston: 1976.
In contrast, the highest-priced clear diamonds to sell at the same sale was "a pair of brilliant-cut unmounted diamonds, weighing 10.88 and 10.88 carats," which combined sold for $4.8 million. "Both diamonds are of D color, flawless clarity, with excellent cut, polish and symmetry," Forbes described. That figure represented a per-carat price tag of $220,588.
Interestingly enough, a non-diamond outperformed this second-place diamond finisher in the per-carat department. "A 6.04-carat 'pigeon's blood red' Burmese ruby and diamond ring by Etcetera sold for $3.4 million … setting a world record price of $551,000 per carat." In the process, it reinforced that the color stone trend is extending beyond merely diamonds.
Lest jewelry lovers think the Christie's auction was just a fluke, colored diamonds drew increased attention at this year's Las Vegas Antique Jewelry & Watch Show as well. The pink diamonds collectors are willing to pay top dollar for were well-represented at the four-day event, as were yellow and blue diamonds.
One exhibitor cited in an article about the exhibition on InStoreMag.com explained the influx of colored diamonds this way: "People want color all of a sudden … where everything was monochromatic before."
Among the diamonds featured at the show were antique and vintage ones "from periods ranging from Renaissance, Baroque and Edwardian to Modern and Art Deco." Another exhibitor grouped the color and antique yens found there under the same umbrella. "People want something that is a little bit different, that is interesting."
And as triumvirate proof of the colored diamond trend, in covering the recent Christie's Paris auction, Jewelry News Network reported that "a 26.10-carat round brilliant cut yellow diamond and platinum ring" was the auction's top seller … fetching $623,000."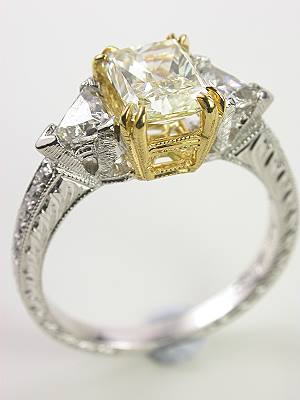 See the ring details here :