About Filigree Wedding Rings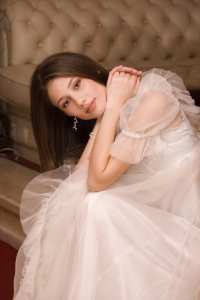 Filigree is the ornamental work of fine gold, silver or platinum metal which is wrought into an openwork design. Filigree dates all the way back to the 3rd century, when the Greeks practiced this fine jewelry art form. Topazery's selection of filigree wedding rings brings back the romanticism of this age-old art. Taking elegance and sophistication to a whole new level, our filigree wedding rings are enhanced with geometric patterns as well as floral cutwork. Whether you choose a style that's delicate and feminine or simple and geometric, a filigree wedding ring will delight her!
Our Filigree Wedding Rings Collection
When you browse Topazery's selection of filigree wedding rings, you'll find diamond accented wedding rings set in a variety of precious metals. We have Art Deco filigree wedding rings, Edwardian filigree wedding rings and Art Nouveau filigree wedding rings. You'll love how our filigree wedding rings' cutwork lends a lacy feel to the finger. You'll also discover feminine floral filigree wedding rings as well as boldly geometric filigree wedding rings. Whether she loves frilly and romantic or angular and showy, you'll find the perfect antique filigree wedding ring at Topazery!

Orders & More

Filigree and Diamond Antique Style Wedding Band

Diamonds, milgraining and fancy cutwork join forces in this filigree and diamond antique style wedding band.

Item
RG-2807ae
$1299.00

Orders & More

Antique Style Filigree Wedding Band

This antique style filigree wedding band curves ever so slightly to fit its matching engagement ring.

Item
RG-2814wby
$799.00

Orders & More

Filigree and Diamond Wedding Band

Elegant sophistication is yours in this princess-inspired filigree and diamond wedding band.

Item
RG-3080j
SALE PENDING

Orders & More

Filigree Wedding Band

This wedding band is intricately carved in filigreed chevrons and paisley swirls. The 18k white gold band is slightly curved to fit against it's matching engagement ring, style RG-2802.

Item
RG-2802wbm
$649.00

Orders & More

Paisley and Filigree Diamond Wedding Band

This 18k white gold filigree and diamond wedding band is elegant worn alone or paired with a filigree engagement ring.

Item
RG-1747wbf
$1129.00

Orders & More

Edwardian Two Stone Antique Ring with Sapphires

The pretty band of this Edwardian antique ring is pierced with a floral and bow motif.

Item
RG-2308
$1519.00

Orders & More

Art Deco Filigree Diamond Wedding Ring

The diagonal slicing of this Art Deco antique wedding ring lends visual intrigue to the finger and showcases the band's geometric elements.

Item
RG-1237
$1795.00

Orders & More

Vintage Filigree Wedding Ring

Diamond studded rhombuses playfully encircle this platinum and filigree vintage wedding ring to create a "hugs and kisses" or XO pattern around the vintage band.

Item
RG-3349
$1699.00

Orders & More

Hand wrought Platinum and Diamond Eternity Band

Diamond leaves dance around her finger in this hand wrought vintage ring.

Item
RG-3221
$1849.00

Orders & More

Art Deco Filigree and Diamond Wedding Ring

Like luminous strobe lights, this Art Deco filigree and diamond wedding ring mesmerizes the eye with its geometric design.

Item
RG-2471
$1395.00

Orders & More

Antique Filigree and Diamond Wedding Ring

The platinum band of this antique filigree and diamond wedding ring boasts filigree work and milgrained rhomboids.

Item
RG-2231
$1495.00

Orders & More

1954 Antique Filigree Wedding Ring

Visual details add impact to classic antique filigree wedding rings like this one.

Item
RG-1367
$895.00

Orders & More

Art Deco Antique Wedding Ring

This antique Art Deco wedding ring has a band of shimmering diamonds which extend half-way around the finger.

Item
RG-1364
$625.00
---
---
ęCopyright 2001 - 2013
Topazery, LLC
Atlanta, GA, USA
&reg Topazery is a Registered Trademark
Cart

WELCOME!
Home
Join Newsletter
New Listings
How To Order
FAQs
Contact Us
Testimonials
Hassle Free Returns

JEWELRY STORES
All Rings
All Jewelry
Gifts Under $500

ENGAGEMENT RINGS
Thumbnails
Vintage Engagement Rings
Antique Engagement Rings
Antique Style Engagement Rings
Diamond Engagement Rings
Champagne Diamond Rings
Aquamarine Engagement Rings
Sapphire Engagement Rings
Emerald Engagement Rings
Ruby Engagement Rings
Filigree Engagement Rings

RINGS & MORE
Thumbnails
Topazery Collection
Antique Rings
Antique Style Rings
Sapphire Rings
Emerald Rings
Ruby Rings
Aquamarine Rings
Pearl Rings
Filigree Rings
Cocktail Rings
Filigree Jewelry
Pearl Jewelry

WEDDING RINGS
Thumbnails
Antique Wedding Rings
Antique Style Wedding Rings
Gemstone Wedding Rings
Filigree Wedding Rings

JEWELRY BY PERIOD
Thumbnails
Victorian Jewelry
Art Nouveau Jewelry
Edwardian Jewelry
Art Deco Jewelry
Retro Jewelry

OTHER JEWELRY
Thumbnails
Bracelets
Crosses
Earrings
Necklaces
Pendants & Lockets
Pins & Brooches

RECENTLY SOLD
Recently Sold Jewelry

EDUCATION
Gemstone History
Jewelry Periods
Antique Diamond Cuts
Diamond Color Grades
Diamond Clarity Grades
Evaluating Gemstones
Jewelry Library

INFORMATION
About Us
In the News
Privacy Policy
Legal Policy