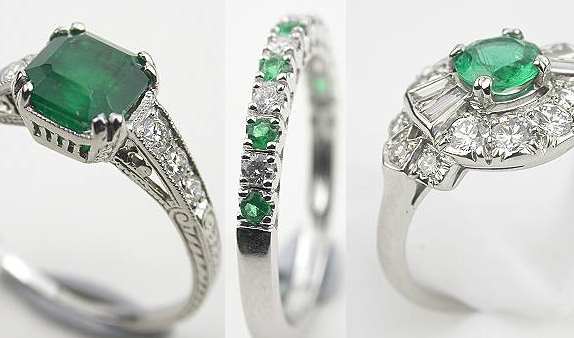 About Antique Emerald Rings
Emerald rings have long been popular because of their lush, earthy green gemstones. Emerald rightly takes it's place in the world of gems as one of the three most popular colored gemstones.
Emeralds have an interesting legacy of violence, romance, and controversy. The first emerald mines were opened in Egypt although the exact dates are not known. The Cleopatra emerald mine opened as early as 300 BC. Ancient peoples attributed all kinds of magical qualities to emeralds. Antique emerald rings and emerald jewelry symbolized fertility and rebirth. Scholars wore emeralds to strengthen their memory and become more eloquent. Lovers wore emeralds to learn the truth of their loved ones's intentions. In the sixteenth century violence became part of the emerald's history when Spanish conquistadors looted thousands of emeralds from the mines in South America. Emerald's legacy is as eternal as the stone itself.
Our Emerald Rings Collection
Topazery's selection of emerald rings is always changing so please stop by often. We offer a fine selection of antique emerald rings as well as vintage, and antique style designs. Popular emerald ring designs include halos, solitaires, and filigree as well as unusual cut emerald stones for accent. Many celebrities are announcing their engagement with Edwardian and Art Deco antique emerald engagement rings.

Orders & More

Antique Emerald Ring with Scalloped Design

Full cut diamonds encircle a trio of emeralds in this antique ring.

Item
RG-3514
$2779.00

Orders & More

Emerald Engagement Ring with Heart Shaped Diamonds

Two heart shaped diamonds snuggle against an emerald in this exotic engagement ring.

Item
RG-3301
SOLD

Orders & More

Art Deco Antique Engagement Ring

Antique rings like this one are made for romantic proposals in faraway places.

Item
RG-3414
$10200.00

Orders & More

Emerald and Baguette Cut Diamond Engagement Ring

This dramatic emerald and diamond engagement ring is draped in festive streamers.

Item
RG-1739d
$2339.00

Orders & More

Filigree Antique Style Engagement Ring

A magnificent mounting of filigree surrounds a green emerald in this antique style engagement ring.

Item
RG-3175b
$3449.00
---
---
ęCopyright 2001 - 2013
Topazery, LLC
Atlanta, GA, USA
&reg Topazery is a Registered Trademark
Cart

WELCOME!
Home
Join Newsletter
New Listings
How To Order
FAQs
Contact Us
Testimonials
Hassle Free Returns

JEWELRY STORES
All Rings
All Jewelry
Gifts Under $500

ENGAGEMENT RINGS
Thumbnails
Vintage Engagement Rings
Antique Engagement Rings
Antique Style Engagement Rings
Diamond Engagement Rings
Champagne Diamond Rings
Aquamarine Engagement Rings
Sapphire Engagement Rings
Emerald Engagement Rings
Ruby Engagement Rings
Filigree Engagement Rings

RINGS & MORE
Thumbnails
Topazery Collection
Antique Rings
Antique Style Rings
Sapphire Rings
Emerald Rings
Ruby Rings
Aquamarine Rings
Pearl Rings
Filigree Rings
Cocktail Rings
Filigree Jewelry
Pearl Jewelry

WEDDING RINGS
Thumbnails
Antique Wedding Rings
Antique Style Wedding Rings
Gemstone Wedding Rings
Filigree Wedding Rings

JEWELRY BY PERIOD
Thumbnails
Victorian Jewelry
Art Nouveau Jewelry
Edwardian Jewelry
Art Deco Jewelry
Retro Jewelry

OTHER JEWELRY
Thumbnails
Bracelets
Crosses
Earrings
Necklaces
Pendants & Lockets
Pins & Brooches

RECENTLY SOLD
Recently Sold Jewelry

EDUCATION
Gemstone History
Jewelry Periods
Antique Diamond Cuts
Diamond Color Grades
Diamond Clarity Grades
Evaluating Gemstones
Jewelry Library

INFORMATION
About Us
In the News
Privacy Policy
Legal Policy