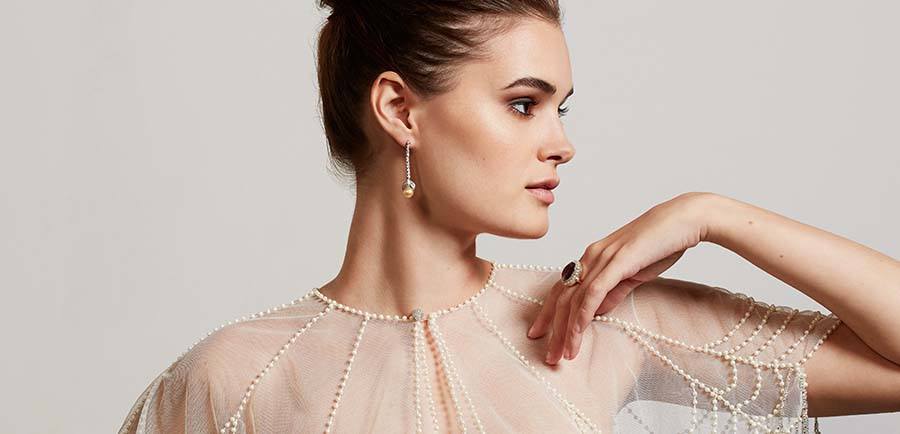 Antique Jewelry
Antique jewelry touches our hearts and souls with its timeless beauty. There's something magical about jewelry from another era with a story to tell. Antique jewellery pieces glow with a soft patina that only comes from being worn and loved. Topazery Jewelry in Atlanta, GA offers antique jewelry and vintage jewelry, along with our own Topazery Collection.
You'll find rare antique rings, unusual engagement rings, and one of a kind wedding rings dating from the 1800's. Our collection includes Victorian jewelry, Edwardian jewelry, and Art Deco jewelry. We also offer vintage engagement rings, and a fine selection of vintage jewelry which spans the jewelry eras from 1930 to the present.
Jewelry News and Lore via "Facets"
As its name implies "Facets", focuses on one (or two) alluring aspects of an antique or vintage jewelry piece. On a regular basis we will pick out a jewelry piece that we find especially bewitching and delve a little deeper into the characteristics that make it such a standout. And, when we learn interesting news and lore about noteable jewelry from around the world, we will share this information with you through "Facets". We hope you'll visit "Facets" often to learn interesting and educational tidbits about antique and vintage jewelry!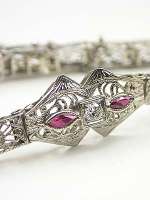 Our Newest Facet: Top 5 Filigree Jewelry Pieces around the Globe
Filigree jewelry has been around for millennia. Some of the earliest filigree pieces serve as cultural windows into the past. It is no wonder then that some of the world's most famous museums have reserved space specifically for filigree jewelry.
With a history dating back over 5,000 years, filigree jewelry has left a major mark on the world. Not surprisingly then many such pieces are housed in some of the most famous museums around the world. Following are the Top 5 filigree jewelry items that are on display behind glass at some of the most renowned museums on the planet.
1. Louvre (Paris) - A pair of barrel-shaped Etruscan earrings illustrate the excellent workmanship of Etruscan goldsmiths, specifically in terms of their filigree and graining. The fine gold threads and beads that are part of the filigreeing process incorporated geometric and plant motifs into these earrings. These earrings date back somewhere to the mid-6th century B.C. to the height of the Etruscan civilization.
2. Royal Irish Academy (Dublin) - Dating to about 700 A.D., the Tara brooch measures seven inches long and has quickly become recognized as one of the most important works of early Christian Irish Insular art. Filigree and inlaying are two of the workmanship techniques that set this brooch apart.
3. Victoria and Albert Museum (London) - Another noteworthy jewelry piece that is ornamented with Etruscan style filigree beads is this museum's gold bead necklace. This three-strand necklace is strung with 68 filigreed beads. It dates to the mid-19th century.
4. Hermitage (St. Petersburg) - This Russian museum showcases many filigree pieces from the 330-300 B.C. timeframe. These items are examples of Scythian jewelry, which were unearthed from the tombs of the Crimea. A pair of crescent-shaped earrings that are decorated with filigreed palmettes and a pair of filigree bracelets whose ends are shaped like rams are some of the highlights of this collection.
5. British Museum (London) - A gold disc brooch from the late 6th-early 7th century A.D. is showcased at this museum. It has a wire-wrapped filigree terminal and features four serpents curled so that their heads meet their tails.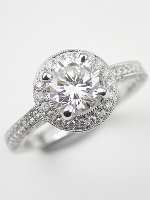 Facet: Halo Engagement Ring from The Batchelorette
August 10, 2014: Although the dating television franchise of The Bachelor / Bachelorette has thus far resulted in only four actual marriages (one of them infamously between the bachelor and his second-place choice, not his first), it's not for lack of trying. The majority of the seasons have ended with some sort of proposal. Will the reigning couple of Andi Dorfman and Josh Murray endure? Only time will tell, but their engagement ring choice may give them a leg up.
The Bachelor / Bachelorette franchise may not be known for its lasting relationships, but it does produce some pretty spectacular engagements. And one of the showcases of all those "Will you marry me?" moments is, of course, the engagement ring.
The most recent incarnation of the television dating series is no exception. Only one ring was picked out thanks to the lead bachelorette, Andi Dorfman, bidding her second-place suitor farewell before he had a chance to meet with the jeweler. But that single ring resulted in Andi's chosen bachelor, Josh Murray, getting down on one knee and her saying yes.
The engagement ring itself might have had a little bit to do with the successful proposal. ABC, the network airing the show, described the ring as a three-carat oval cut center diamond surrounded by 154 round cut diamonds. The platinum band is studded with diamonds as well.
The overall effect has a decidedly antique style to it, and what viewers may not be aware of is that Andi played a part in Josh's choosing of the engagement ring. She revealed to ABC News that during their time in the Fantasy Suite, she dropped major hints about what she wanted in an engagement ring. Round (diamond) and halo were her must haves.
"It's a pretty big deal! I might as well tell him (what my dream engagement ring looks like) if we're getting engaged," Andi explained. Smart girl. Every newly engaged woman should have the engagement ring of her dreams.
Antique jewelry boutique Topazery takes great pride in helping marriage-minded men like Josh Murray pick out just the right engagement ring for their future wives. And for those girlfriends who've been not so subtly hinting that they want a halo style diamond engagement ring just like The Bachelorette Andi Dorfman's, Topazery happens to have one in stock.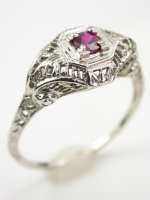 Facet: July Birthstone: Ruby Red Hot!
When it comes to matters of the heart, nothing compares to July's birthstone, the ruby. This red hot gemstone has been held in high esteem for millennia. Just like the fiery heat of a summer day, the ruby ignites with red hot fervor and passion. And the redder its intensity, the more sought-after and valuable a ruby is.
Second only to diamonds on the hardness scale, rubies are typically considered one of the precious gemstones. In fact, rubies have held high esteem and value for centuries, so much so that the Bible holds them up as a comparative measuring stick for both wisdom and noble character.
But Judeo-Christians aren't the only ones who hold rubies in high appreciation. The ancient Hindus deemed the ruby the "Rajnapura" or King of Gems. India's Sanskrit language also refers to rubies as "ratnaraj," which translates to the same imperial meaning. In the ancient Orient, a ruby was described as "a drop of the heart's blood of Mother Earth." From a legendary perspective, rubies wielded mystical powers and were often worn by the royal class to protect against evil. Evoking devotion, desire and passion, the ruby has inspired more emotion than any other gemstone stone throughout history. Because rubies are associated with the heart chakra, they are believed "to heal the heart both physically and emotionally" and to "increase love, both given and received," according to LuckyGemstones.com. The largest known ruby is the world famous "Edwardes Ruby." Coming in at 167 carats, this gemstone is on display at the British Museum of Natural History in London.
Facet: Bird and Bow Jewelry Motifs
Bird and bow motifs have been topping jewelry trends for centuries. Read on to find out how these popular designs have evolved over the years to continue maintaining a soft spot in the heart of jewelry lovers.
Long before Katniss Everdeen ever wore her mockingjay pin into The Hunger Games arena, birds, and right alongside them bows, were a popular jewelry motif. Birds first dropped into the jewelry scene during the Georgian period, which spanned the years of 1714 through 1830. That timeframe emphasized nature designs, with flowers, leaves, insects, and birds all being widely desired by jewelry enthusiasts.
As jewelry entered the late Victorian era of 1885-1900, birds reclaimed their popularity when the avian theme took on new meaning as scarabs. The spring mechanisms that were a new feature of this age's jewelry pieces also lent themselves well to movement, and bows became an extremely popular motif to incorporate into this technology. At the same time, diamonds reached their pinnacle of popularity and were often combined with both birds and bows in brooches, rings, and other jewelry pieces.
The plique a jour enameling technique of the Art Nouveau period (1890-1915) allowed birds to be set in stunningly colorful enamel. As a result, the "old" feathered friend motif was suddenly new all over again.
In the midst of all this, the Edwardian jewelry period (1901-1910) embraced lacy and delicate designs. Pieces incorporating bows were therefore quite coveted. The bow motif once again resurfaced in 1935 when the Retro era made its debut. Because of their three-dimensionality, bows and ribbons alike flooded this timeframe's designs.
Our Antique Jewelry Story
The Topazery story began in 2001 when a dragonfly antique pin was discovered almost hidden in the corner of a dusty box. We were enchanted by the beauty of the dragonfly, which now adorns our logo, and were inspired to start an online antique jewellery boutique. Since that day we've been searching auctions, estate sales, fairs, and shows in the United States of America (USA) and Europe to bring you extraordinary heirloom pieces. If you're looking for a special gift for yourself or for someone you love, Topazery offers amazing jewelry pieces for every style and taste. From classic to chic, from traditional to eclectic, from feminine to sassy . . . antique and vintage jewelry brings the past to the present.
Antique Engagement Rings

You'll love Topazery's spectacular selection of Art Deco Engagement Rings with their bold, bright colors and straight lines. In sharp contrast are the light and airy designs of Edwardian Engagement Rings with delicate filigree and soft colors. Favorite antique engagement rings include antique diamonds like rose cut diamonds, Old Mine cut diamonds, and Old European cut diamonds.
Choose your engagement ring from a spectacular collection of beautiful, unusual, traditional and non-traditional designs with diamonds, sapphires, rubies, emeralds, aquamarines, and other gemstones. We offer one-of-a-kind original period jewelry as well as antique style jewelry reproductions. Our Aquamarine Engagement Rings and Filigree Engagement Rings are the best on the web!
Interested in Selling your Jewelry and Diamonds?
Do you want to sell jewelry or sell diamonds? Buckhead Buyers, located in Sandy Springs, GA, has a team of professional diamond buyers and jewelry buyers who offer cash for your fine jewelry and diamonds. To learn how to sell your jewelry and diamonds in the Atlanta area, visit Buckhead Buyers.
---
---
ęCopyright 2001 - 2014
Topazery, LLC
Atlanta, GA, USA
&reg Topazery is a Registered Trademark