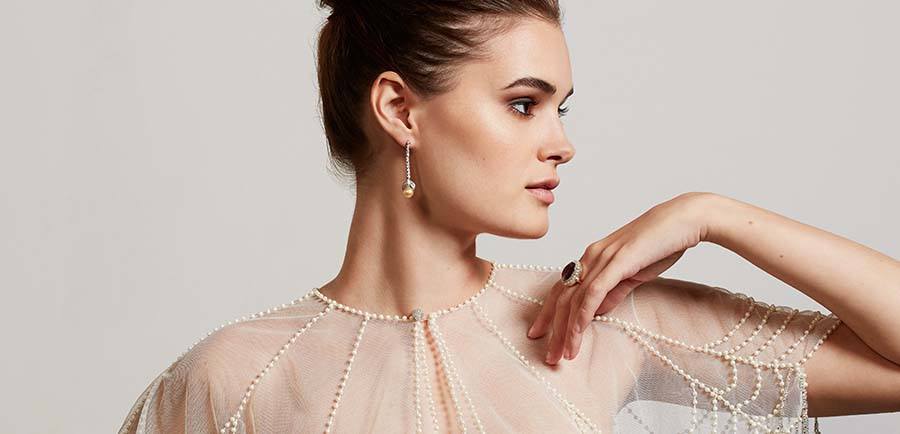 Antique Jewelry
Antique jewelry touches our hearts and souls with its timeless beauty. There's something magical about jewelry from another era with a story to tell. Antique jewellery pieces glow with a soft patina that only comes from being worn and loved. Topazery Jewelry in Atlanta, GA offers antique jewelry and vintage jewelry, along with our own Topazery Collection.
You'll find rare antique rings, unusual unusual engagement rings, and one of a kind wedding rings dating from the 1800's. Our collection includes Victorian jewelry, Edwardian jewelry, and Art Deco jewelry. We also offer vintage engagement rings, and a fine selection of vintage jewelry which spans the jewelry eras from 1930 to the present.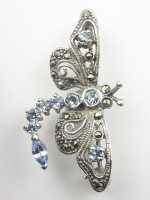 Our Antique Jewelry Story
The Topazery story began in 2001 when a dragonfly antique brooch was discovered almost hidden in the corner of a dusty box. We were enchanted by the beauty of the dragonfly, which now adorns our logo, and were inspired to start an online antique jewellery boutique. Since that day we've been searching auctions, estate sales, fairs, and shows in the United States of America (USA) and Europe to bring you extraordinary heirloom pieces. If you're looking for a special gift for yourself or for someone you love, Topazery offers amazing jewelry pieces for every style and taste. From classic to chic, from traditional to eclectic, from feminine to sassy . . . antique and vintage jewelry brings the past to the present.
Antique Engagement Rings

You'll love Topazery's spectacular selection of Art Deco Engagement Rings with their bold, bright colors and straight lines. In sharp contrast are the light and airy designs of Edwardian Engagement Rings with delicate filigree and soft colors. Favorite antique engagement rings include antique diamonds like rose cut diamonds, Old Mine cut diamonds, and Old European cut diamonds.
Choose your engagement ring from a spectacular collection of beautiful, unusual, traditional and non-traditional designs with diamonds, sapphires, rubies, emeralds, aquamarines, and other gemstones. We offer one-of-a-kind original period jewelry as well as antique and vintage style jewelry reproductions. Our Aquamarine Engagement Rings and Filigree Engagement Rings are the best on the web!
Jewelry News and Lore via "Facets"
As its name implies "Facets", focuses on one (or two) alluring aspects of an antique or vintage jewelry piece. On a regular basis we will pick out a jewelry piece that we find especially bewitching and delve a little deeper into the characteristics that make it such a standout. And, when we learn interesting news and lore about noteable jewelry from around the world, we will share this information with you through "Facets". We hope you'll visit "Facets" often to learn interesting and educational tidbits about antique and vintage jewelry! Our newest facet is next. Read all of our facets on the Vintage Jewelry Facets page.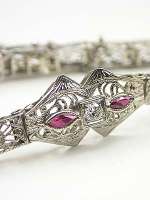 Our Newest Facet: Top 5 Filigree Jewelry Pieces around the Globe
Filigree jewelry has been around for millennia. Some of the earliest filigree pieces serve as cultural windows into the past. It is no wonder then that some of the world's most famous museums have reserved space specifically for filigree jewelry.
With a history dating back over 5,000 years, filigree jewelry has left a major mark on the world. Not surprisingly then many such pieces are housed in some of the most famous museums around the world. Following are the Top 5 filigree jewelry items that are on display behind glass at some of the most renowned museums on the planet.
1. Louvre (Paris) - A pair of barrel-shaped Etruscan earrings illustrate the excellent workmanship of Etruscan goldsmiths, specifically in terms of their filigree and graining. The fine gold threads and beads that are part of the filigreeing process incorporated geometric and plant motifs into these earrings. These earrings date back somewhere to the mid-6th century B.C. to the height of the Etruscan civilization.
2. Royal Irish Academy (Dublin) - Dating to about 700 A.D., the Tara brooch measures seven inches long and has quickly become recognized as one of the most important works of early Christian Irish Insular art. Filigree and inlaying are two of the workmanship techniques that set this brooch apart.
3. Victoria and Albert Museum (London) - Another noteworthy jewelry piece that is ornamented with Etruscan style filigree beads is this museum's gold bead necklace. This three-strand necklace is strung with 68 filigreed beads. It dates to the mid-19th century.
4. Hermitage (St. Petersburg) - This Russian museum showcases many filigree pieces from the 330-300 B.C. timeframe. These items are examples of Scythian jewelry, which were unearthed from the tombs of the Crimea. A pair of crescent-shaped earrings that are decorated with filigreed palmettes and a pair of filigree bracelets whose ends are shaped like rams are some of the highlights of this collection.
5. British Museum (London) - A gold disc brooch from the late 6th-early 7th century A.D. is showcased at this museum. It has a wire-wrapped filigree terminal and features four serpents curled so that their heads meet their tails.
Interested in Selling your Jewelry and Diamonds?
Do you want to sell jewelry or sell diamonds? Buckhead Buyers, located in Sandy Springs, GA, has a team of professional diamond buyers and jewelry buyers who offer cash for your fine jewelry and diamonds. To learn how to sell your jewelry and diamonds in the Atlanta area, visit Buckhead Buyers.
---
---
ęCopyright 2001 - 2014
Topazery, LLC
Atlanta, GA, USA
&reg Topazery is a Registered Trademark