Antique and Vintage Jewelry Library p9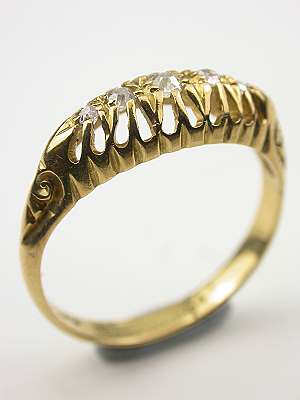 Late Victorian Diamond Wedding Ring
A delicate web of gold holds five old mine cut diamonds in this antique Victorian wedding ring. Hailing from the late Victorian era, this wedding ring is made of 18k yellow gold. Five old mine cut diamonds parade across the looping open-weave top. Ranging in color from H to I, these SI1-clarity diamonds total 0.10 carats. The shoulders of the antique band are carved with fleur de lis daggers. Circa 1900. SOLD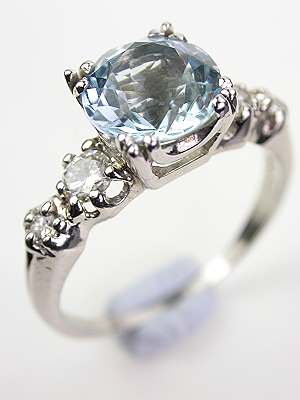 Vintage Platinum Aquamarine Engagement Ring
Four diamonds on the shoulders of this aquamarine engagement ring add radiance to the polished band. Details: Vintage. Circa 1930 or later. Platinum. Round brilliant cut diamonds; 0.30 carats. Round cut aquamarine; 1.83 carats. SOLD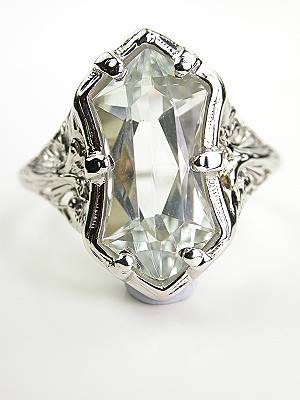 Vintage Pierced Filigree Cocktail Ring
Like a carnival fun-house mirror, this vintage cocktail ring's aquamarine captivates at every twist and turn. The gemstone's unique shape, with curved sides, attracts immediate attention.The mounting has a pierced floral and filigree design on the shoulders.
Details: Vintage. Circa 1930. Trademark star in a hexagon.14k white gold. Hexagonal cut aquamarine; 3.85 carats. SOLD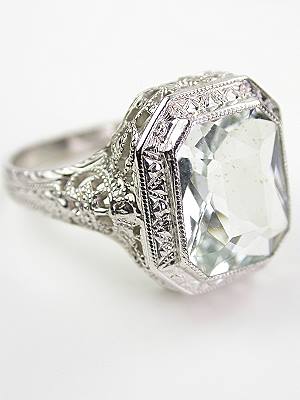 1930s Floral and Aquamarine Ring
As a child you may have lifted the lid on grandma's jewelry box, only to see your own joyous reflection staring back at you from the lid underneath. This vintage 1930s floral ring recaptures that youthful exuberance with an aquamarine so crystalline it reflects the light like a mirror. The greenish blue gemstone is set in a pierced floral mounting.
Details: Vintage. Circa 1930. Trademark OB. 14k white gold. Rectangular aquamarine; 2.81 carats. SOLD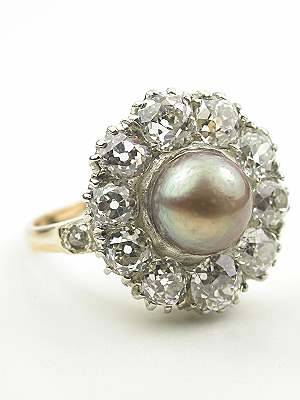 Antique Pearl Ring
Old mine cut diamonds create a dazzling halo around a 6.8mm Akoya pearl in this antique pearl ring. This antique engagement ring's shimmering top is accentuated with ten old mine cut diamonds. Two additional rose cut diamonds dapple the shoulders of the hand-wrought 18k yellow gold band. These twelve diamonds total 2.54 carats. The centerpiece Akoya pearl that is peg set amidst all this diamond radiance is slightly greenish brown with orange and rose overtones. This antique pearl ring is circa 1920. SOLD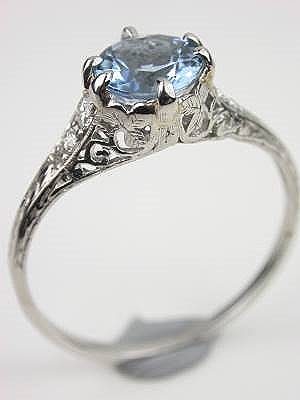 Antique Aquamarine Engagement Ring
An outstanding aquamarine and a floral and filigree setting make this antique Edwardian engagement ring irresistible. You'll love how the flowery spray ascends up the pierced mounting to cup the centerpiece 0.88-carat round aquamarine. Four old European cut bead set diamonds highlight the shoulders, lending 0.14 diamond carats to this antique engagement ring. A platinum setting is the finishing touch to this Edwardian ring. Circa 1910. SOLD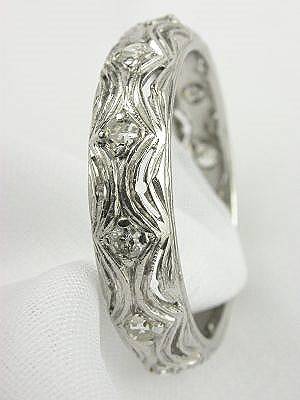 Antique Art Deco Filigree Wedding Ring
A wavy filigree design graces this unusual antique Art Deco wedding ring. The platinum band of this antique Art Deco ring is accented with 12 round single cut diamonds which sparkle amidst the swirling filigree pattern. These VS-SI2 clarity, H-I-colored diamonds total approximately 0.33 carats. This antique wedding rings's unusual design pays tribute to the artistic jewelry craftsman of the Art Deco period. Circa 1920s. SOLD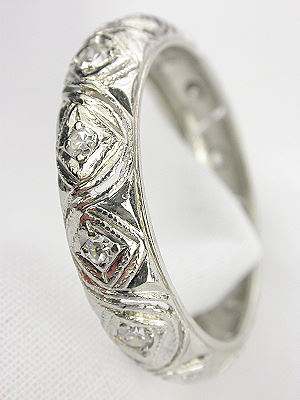 Classic Platinum Filigree Antique Wedding Ring
Classic antique platinum wedding rings like this one rim the finger in entrancing beauty. You'll love the filigree work that surrounds this antique wedding ring's platinum band. Each of the twelve geometric designs is centered with a round single cut diamond for a total diamond weight of 0.26 carats. Circa 1950s or later. SOLD