Antique and Vintage Jewelry Library p7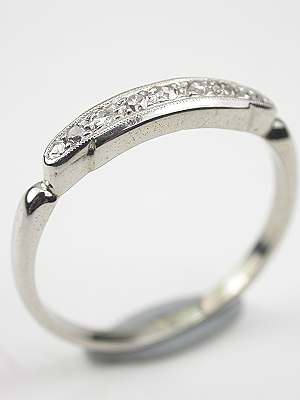 Vintage Diamond Wedding Ring
Smooth and streamlined, this vintage diamond wedding ring is set in14k white gold. The elongated top setting of this vintage wedding ring cradles a collection of seven single cut diamonds that total 0.07 carats. Set side by side in an East-West array, these diamonds range in color from E to I and in clarity from VS1 to SI2. Circa 1935. SOLD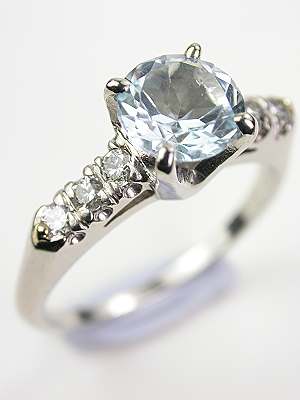 Vintage Aquamarine Engagement Ring
"Blue Moon, Now I'm no longer alone, Without a dream in my heart, Without a love of my own . ." This vintage aquamarine engagement ring is as dreamy as Frank Sinatra's popular love song. A greenish blue aquamarine glistens like seaglass while four diamonds ripple down the shoulders of this romantic ring.
Details: Vintage. Circa 1950. 14k white gold. Round brilliant cut diamonds; 0.50 carats. Round cut aquamarine; 0.92 carats. SOLD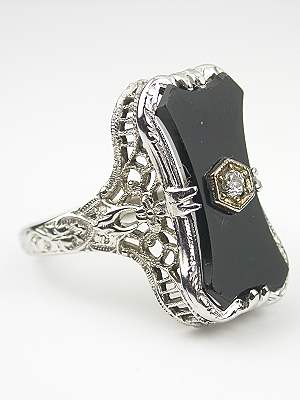 Filigree and Onyx Antique Cocktail Ring
An ebony butterfly dances in a field of 14k white gold filigree flowers in this antique cocktail ring. The butterfly's tablet cut onyx wingspan is centerpieced with an octagonal set round single cut diamond. The lovely floral filigree cutwork extends down the shoulders of the band. Details: 14k white gold. Round single cut diamond; 0.03 carats; Tablet onyx. Circa 1930s or later. SOLD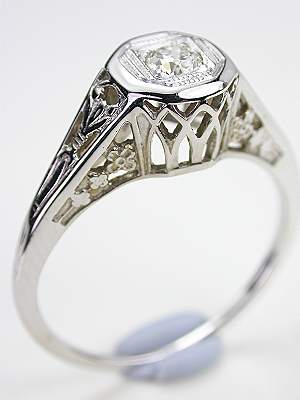 Art Deco Antique Ring with Floral Motif
This antique Art Deco engagement ring showcases a bead set old style full cut diamond surrounded by mille grain in a hexagonal top. The classic pierced design mounting also features flowers on four corners of the gallery. Circa 1920. SOLD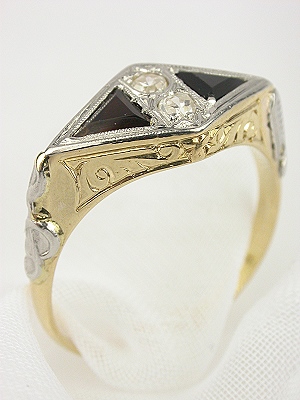 Victorian Jet and Diamond Engagement Ring
When the ordinary just won't do, this Victorian jet and diamond engagement ring doesn't disappoint. Every facet of this antique engagement ring is unique, from its rhomboid setting to its musical note carvings. The 15k yellow gold band of this Victorian engagement ring is top-plated and shoulder-detailed with platinum. Two triangular step cut jet gemstones form the points of the rhomboid. Between the two jets lie a pair of round single cut diamonds. The diamond weight of this Victorian jet engagement ring is 0.09 carats. Circa 1900. SOLD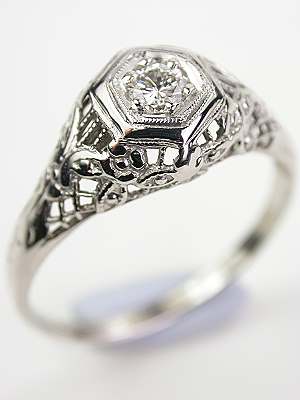 Vintage Floral and Filigree Engagement Ring
The birdcage design of this floral and filigree vintage engagement ring's shank gives a touch of classical whimsy to the finger. A round diamond soars out from the center of the domed mounting like a peaceful dove breaking free from its confines and taking flight. The diamond is hexagonally set and trimmed in millgrain.
Details: Vintage. Circa 1930. 14k white gold. Round brilliant cut diamonds; 0.13 carats. SOLD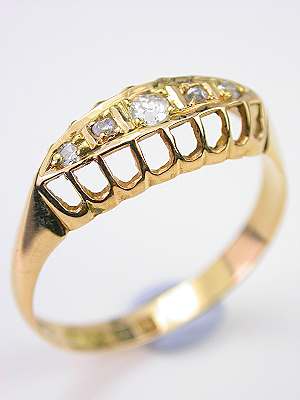 Victorian Antique Wedding Ring
Five old mine cut diamonds are suspended by a bridge of 18k rose gold in this Victorian antique wedding ring. The five diamonds total 0.10 carats and are separated by gold bars. This antique wedding ring is circa 1880. SOLD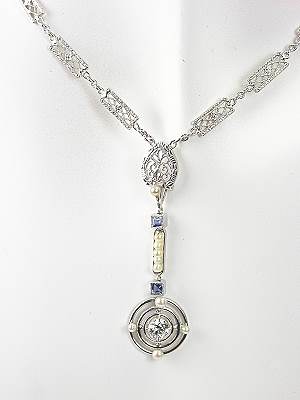 Edwardian Filigree Antique Necklace
Pearls and sapphires are delicately suspended from a lacey chain of filigree in this Edwardian antique necklace. Accented with ten cream colored pearls, this antique necklace's dream catcher pendant dips to a Y to draw attention to the decolletage. A pair of square faceted step cut blue sapphires adds an understated touch of color to this antique necklace. This light and airy Edwardian filigree necklace has a platinum pendant and 14k white gold figaro cable link chain with filigree panels. Circa 1910 SOLD