Antique and Vintage Jewelry Library p6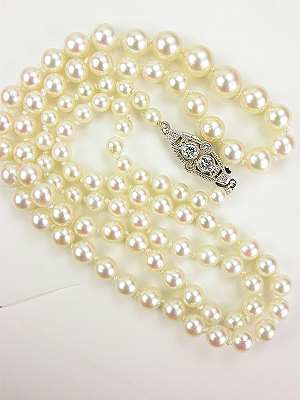 Antique Pearl Necklace with Filigree Diamond Clasp
A rhombus-shaped navette secures this antique pearl necklace. The elegant pierced filigree clasp is accentuated with a pair of diamonds that are bezel set at the center. A collection of 96 Akoya pearls encircle the neck in creamy luster. This antique pearl necklace brings to mind the timeless beauty of Audrey Hepburn.
Details: Vintage. Circa 1930. Trademark S. 18k white gold. Full cut diamonds; 0.14 carats. Round Akoya pearls. SOLD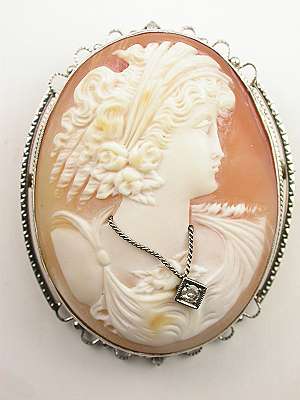 Large Antique Cameo Brooch and Pendant
This antique shell cameo features the right profile of a beautiful woman wearing a delicate dress which appears tied at the shoulders. She has long curly locks. She is wearing flowers in her hair and a diamond necklace. The cameo is encircled with an intricate twisted gold frame that is decorated with flowers, beads and milgraining. The brooch is in excellent condition and may be worn as a pendant or brooch. Cameos are believed to bring good fortune to the wearer! Circa 1910 SOLD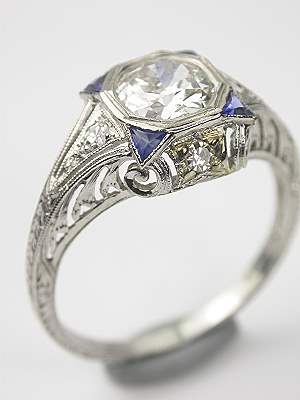 Art Deco Antique Engagement Ring
Triangular scissor cut blue sapphires lend a colorful and unexpected accent to this Art Deco engagement ring's transitional cut diamond. This diamond solitaire is octagonally set and is flanked top, bottom and sides with four round single cut diamonds. The platinum band's swirling wave and leafy frond accents complete the design.
Details: Platinum. Round transitional brilliant cut diamond; 0.65 carats. Round single cut diamond; 0.12 carats. Triangular scissor cut sapphire; 0.20 carats. Circa 1920s or later. SOLD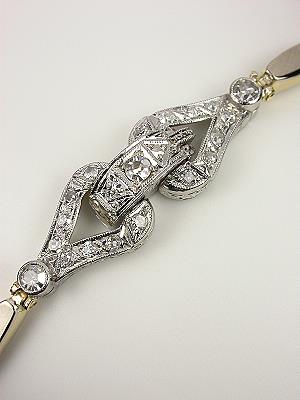 Antique Diamond Bracelet
This antique diamond bracelet seals two hearts and locks them together for all eternity with its chain link connection. The 18k yellow gold base is centered with diamond-accented platinum links, which are hand-engraved with scrollwork. The nineteen diamonds that accentuate this bracelet are H colored and VVS2 to SI2 in clarity. Totaling 0.35 carats, these diamonds are round single cut. Circa 1920s and later. SOLD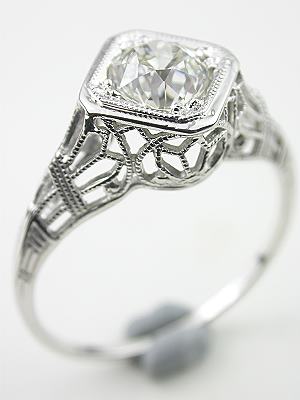 Art Deco Old European Cut Diamond Engagement Ring
This Art Deco old European cut diamond engagement ring is enchanting with its gossamer threads of milgrained gold. The 18k white gold mounting is in a classic pierced design. An old European cut diamond is nestled in a square top plate with milgraining around the edge. This old cut diamond is GIA certified and weighs 0.81 carats. It is J in color and VS2 in clarity. Circa 1920. SOLD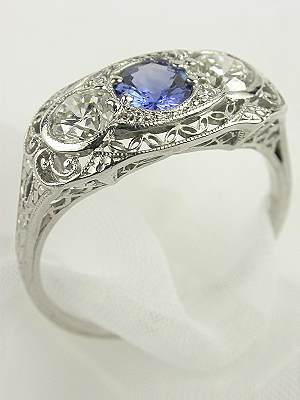 Antique Edwardian Filigree Ring
This antique three stone ring by Whitehouse Brothers is a miniature work of art in platinum. It exemplifies the fine craftsmanship and delicate designs of Edwardian jewelry. Two white diamonds and a Ceylon blue sapphire in bezel settings are surrounded by fine mille graining and filigree. A lace-like open work leaf and vine motif undulates around the stones. The underbezel has a delicate open work design. Antique Edwardian rings like this one are perfect for her engagement ring, anniversary ring, or "Just Because". Circa 1910. SOLD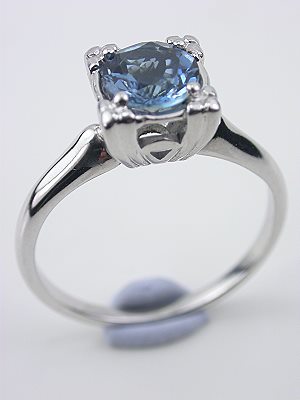 Aquamarine Solitaire Engagement Ring
Sleek and sophisticated, this aquamarine solitaire engagement ring has a classic, timeless design. The 14k white gold band of this engagement ring is polished to a high sheen. Its pronged square paladium center head cradles an outstanding aquamarine. Its color rivals the hue and brilliance of the sought after and rare aquamarines from the Santa Maria de Itabira mine in Brazil. This focal point gemstone weighs 0.68 carats. Circa 1960 or later. SOLD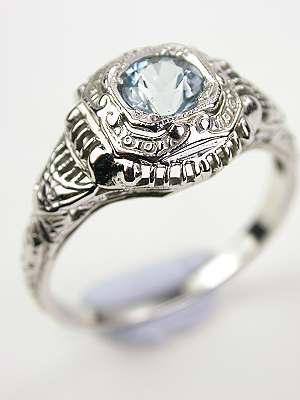 Antique Aquamarine Filigree Ring
The setting of this antique aquamarine ring has a Romeo and Juliet flavor about it. The band is open weaved at the shank and shoulders and then dappled with delicately engraved peonies down the shoulders and back like the kind that might have romantically adorned Juliet's lovely locks.
Details: Antique. Circa 1920. Trademark CK. 18k white gold. Round cut aquamarine, 0.37 carats. SOLD