Antique and Vintage Jewelry Library p3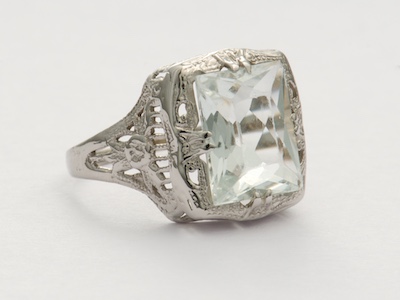 Antique Art Deco Engagement Ring
The lack of color in this beryl gemstone creates a mesmerizing display. Rectangular cut, the gemstone's angularity is delicately cushioned by the floral and filigree mounting that surrounds it. The back of this antique engagement ring's band is polished to a high sheen. Details: Antique. Art Deco. Circa 1930. 14k white gold. Rectangular scissors cut Goshenite (a colorless aquamarine); 2.60 carats. SOLD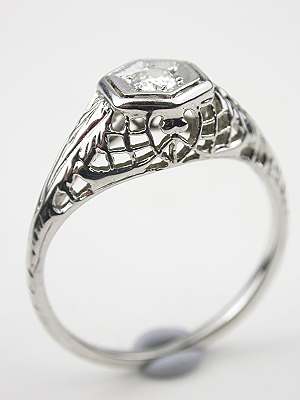 Filigree and Diamond Antique Engagement Ring
A filigree and diamond antique engagement ring is set with a round diamond in an elaborate filigree design. The K-colored bead set diamond is VS1 in clarity and weighs 0.10 carats. Circa 1920. SOLD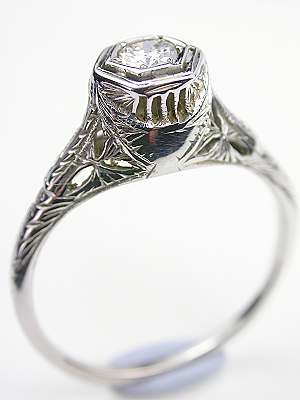 Art Deco Antique Engagement Ring
A wheat motif on the shank and angular open cutwork on the shoulders and bezel make this antique engagement ring irresistible. The bead set diamond weighs 0.16 carats and is G in color with a clarity of VVS2. Circa 1920. SOLD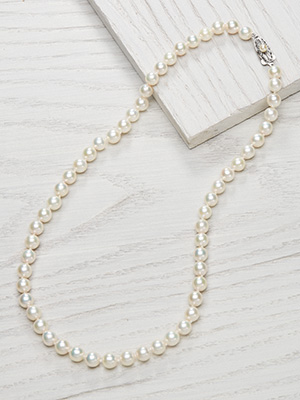 Vintage Necklace with Akoya Pearls
A floral engraved clasp gives this string of classic pearls a hint of dainty femininity. A small Akoya pearl is nestled in the center of the metallic flower. Fifty-eight larger Akoya saltwater pearls hug the neckline, giving a creamy luster to this necklace and the skin. Details: Vintage. Circa 1950 or later. 80% silver clasp. Akoya pearls. SOLD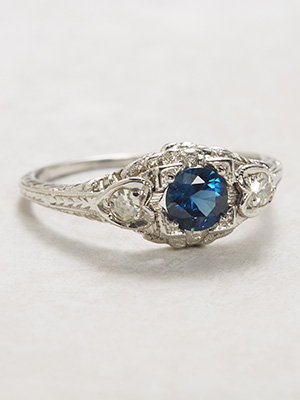 Edwardian Antique Sapphire Engagement Ring
The shoulders are set with heart-shaped trim plates, at the center of which is nestled a diamond. The hearts flank a round blue natural sapphire. A platinum integrated center cradles the sapphire in a fancy explosion of metalwork. Chevron etchings meander down the sides of the Edwardian band. Details: Antique, Edwardian. Platinum. Single cut diamonds; 0.05 carats. Round blue sapphire; 0.45 carats. SOLD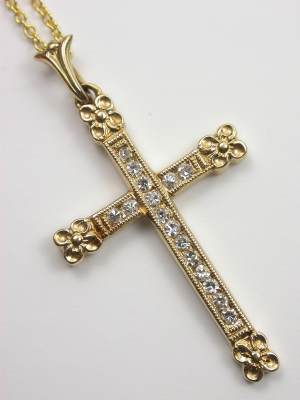 Vintage Cross with Orange Blossom Motif
A collection of sixteen channel set diamonds cascades like waterfalls between the orange blossom design. A budding lily bail adds to the botanical charm of this vintage cross. A 14k yellow gold chain is included. Circa 1930 or later. SOLD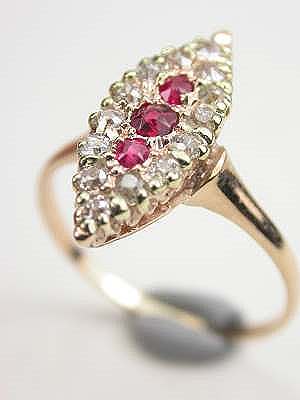 Victorian Ruby and Diamond Cocktail Ring
These three ruby accents total approximately 0.12 carats of gemstone weight. The 14 European cut diamonds total 0.21 carats. Circa 1890. SOLD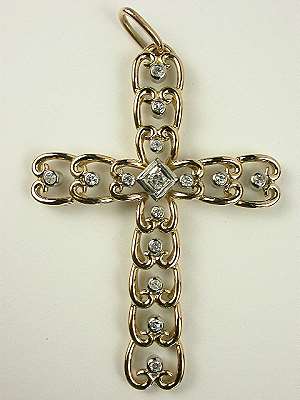 Vintage Diamond Cross
Constructed of 18k yellow gold, each of the fourteen hearts that form the arms of this vintage cross is set with a round single cut diamond. The cross is centerpieced with an additional rhomboid set round single cut diamond for a total diamond weight of 0.21 carats. This hand-wrought vintage cross dates to 1960 or later. SOLD
Vintage Pearl Stick Pin
The round pearls in this vintage jewelry pin float delicately around the open sphere and are cream in color. A straight stick pin and stopper securely holds this pin in place. Circa 1930s or later. SOLD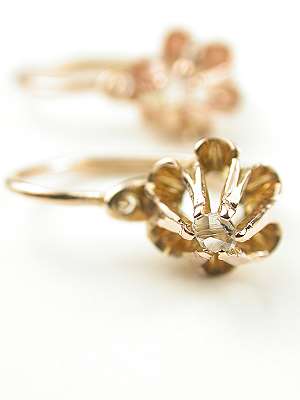 Rose Gold and Diamond Victorian Earrings
Make of 14k rose gold, the rosebud gallery of each of these Victorian earrings cups a rose cut diamond. The pair of diamonds that centerpiece these earrings total 0.02 carats. Leverbacks hold this earring pair securely. Circa 1880 SOLD
Edwardian Antique Ring with Cushion Cut Emerald
This romantic antique ring features a natural cushion cut emerald in a classic Edwardian setting. Twelve old mine cut diamonds surround the blueish green emerald creating a glittering halo. The shank is carved with a wheat motif. Details: Antique, Edwardian. Circa 1920. 14k white gold. Cushion cut emerald, 1.30 carats. Old mine cut diamonds, 1.26 carats. SOLD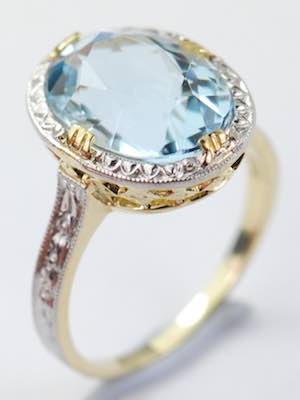 1960's Vintage Aquamarine Engagement Ring
The crown bezel of this vintage engagement ring makes it befitting a princess. This coronet top setting cradles a breathtaking oval aquamarine. The 14k yellow gold band is splashed with white gold down the shoulders and around the setting. Trademark of Jones and Woodland. Details: Vintage. Circa 1960 or later. 14k yellow gold. Oval cut aquamarine; 4.4 carats. SOLD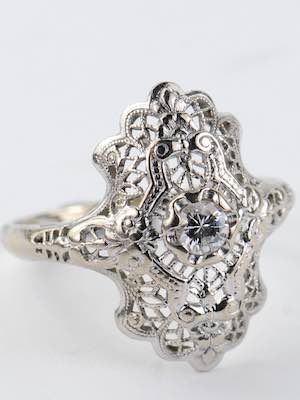 Art Deco Filigree Antique Ring
Spun of 14k white gold, the tangled and pierced filigree web of this antique Art Deco ring has a dream catcher quality to it. Details: Antique, Art Deco. Circa 1930. 14k white gold. Round brilliant cut diamond; 0.23 carats. SOLD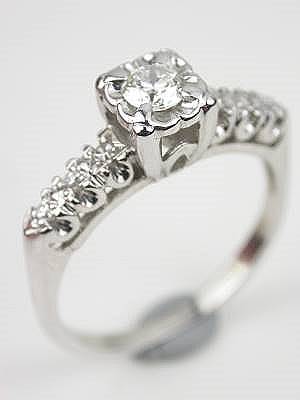 Vintage Engagement Ring with Illusion Setting
Six round single cut diamonds, three on each side, waterfall down the shoulders of the 14k white gold band of this vintage ring. They flank an illusion set old European cut diamond that weighs 0.16 carats. This center diamond is I in color and has a clarity of VS2. The total diamond weight of this vintage engagement ring is 0.25 carats. Circa 1930s or later. SOLD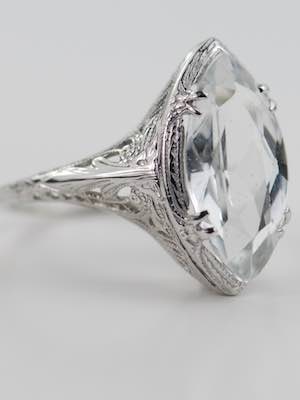 Antique Ring with Marquise Cut Aquamarine
Lacy 14k white gold filigree backdrops the stunning marquise cut aquamarine that is the centerpiece of this antique Art Deco ring. A double four prong setting cradles the gemstone. Bowtie filigreeing at the top and bottom of the shank lends a flirty, playful touch. Details: Antique. Circa 1920. 14k white gold. Marquise cut aquamarine; 3.08 carats. SOLD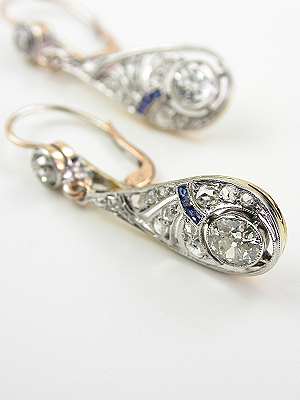 Edwardian Antique Drop Earrings
Shaped like teardrops, these hand-wrought antique earrings contain large diamonds at both the base of the drop and the front of the lobe. Smaller accenting diamonds are set in the teardrops. Channel set blue sapphires lend a touch of subtle color.
Details: Antique, Edwardian. Circa 1920 or later. Platinum on 14k rose gold. Rose, old European and old mine cut diamonds; 1.31 carats. Rectangular calibre cut synthetic sapphires. SOLD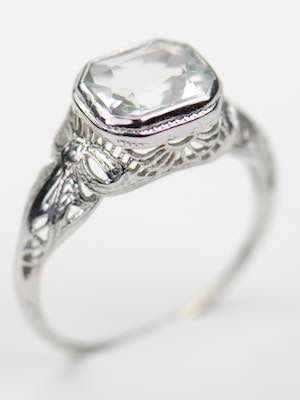 Art Deco Aquamarine Engagement Ring
The cornered edges of this antique engagement ring's rectangular cut aquamarine draws the eye inward to its fascinating center. Scalloping and bowtie filigreeing at the shank and shoulders add visual interest to the white gold band. A C.P. trademark hints at this ring's Art Deco lineage.
Details: Antique. Circa 1920. 14k white gold. Rectangular cut cornered aquamarine; 1.56 carats. SOLD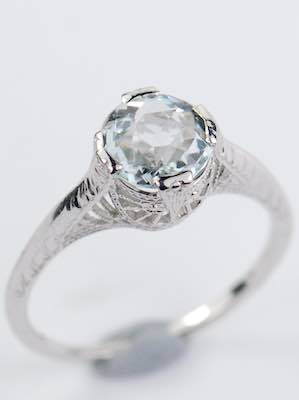 Antique Aquamarine Engagement Ring with Filigree
Intricate filigree swirls around the setting of this aquamarine engagement ring like a finely spun web. The focal point aquamarine that is nestled in the center of this pierced metallic cutwork shimmers with a blue green hue. Tiny flowers decorate the filigree design. The slim band is carved part way down the shank. Details: Antique. Circa 1920 or later. 18k white gold. Round aquamarine; 1.22 carats. SOLD
Edwardian Antique Filigree Engagement Ring
The 18k white gold band of this Edwardian antique engagement ring builds a geometric staircase to diamond heaven. Textured squares are layered atop the pierced filigree mounting. Set in the center of these geometric tiers is a bead set single cut diamond.
Details: Antique. Circa 1920. 18k white gold. Single cut diamond; 0.04 carats. SOLD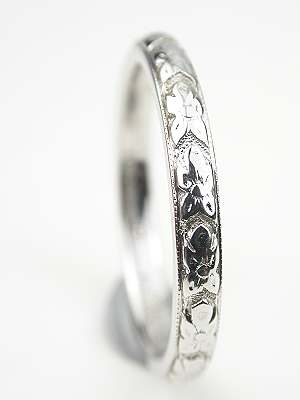 Orange Blossom Antique Wedding Ring
Edged in milgrain, the 18k white gold band of this antique wedding ring is stamped with the Orange Blossom trademark. The flowers that are carved into it extend all the way around the band. Circa 1920. SOLD