Antique and Vintage Jewelry Library p2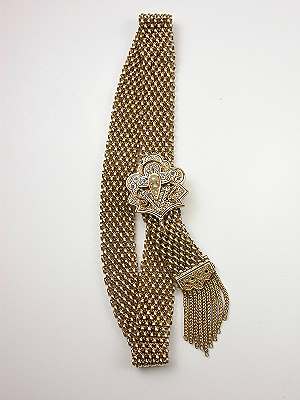 Victorian Inspired Vintage Bracelet
This vintage bracelet is made of 14k yellow gold. The textured surface of the band culminates in an ornately carved end piece. A gold tassel flirtatiously drips from its edge. Three natural creamy half pearls flitter down the center and add a touch of elegance to Victorian inspired vintage bracelets like this one. Circa 1960 or later SOLD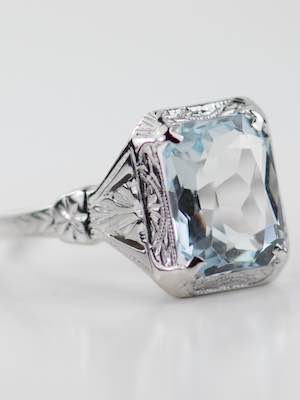 Art Deco Aquamarine Engagement Ring
This Art Deco engagement ring's greenish blue aquamarine is the color of the sea. Wheat motifs are engraved on the sides, shank, and under bezel of the mounting. An engraved starburst design embellishes four sides of the top. Details: Antique, Art Deco. Circa 1925. Rectangular cut-cornered aquamarine, 2.84 carats. SOLD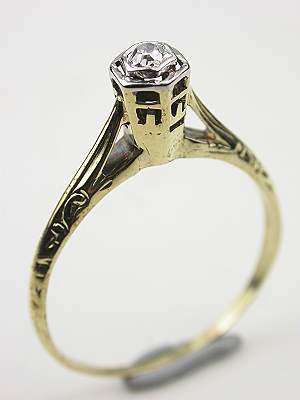 Vintage Diamond Engagement Ring in Yellow Gold
In this vintage engagement ring, the diamond's elevated setting gives it an ethereal feel. Constructed of 14k yellow gold, the band is carved down the shoulders. An old style single cut diamond sits at the center of the hexagonal top plate. Circa 1930. SOLD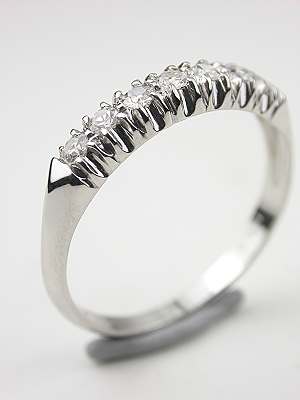 Antique Diamond Wedding Ring in Platinum
The platinum band of this antique wedding ring is polished to a high sheen. The zigzag setting cradles seven round single cut diamonds that extend East to West across the finger. Circa 1920. SOLD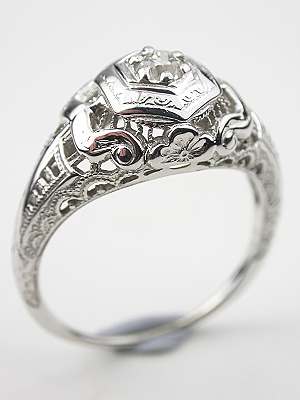 Old European Cut Diamond Edwardian Antique Ring
The 18k white gold band of this antique engagement ring is carved and pierced in a dramatic mix of floral elements. An old European diamond solitaire is set in the multi-tiered hexagonal top plate. This old cut diamond weighs 0.12 carats. Circa 1920. SOLD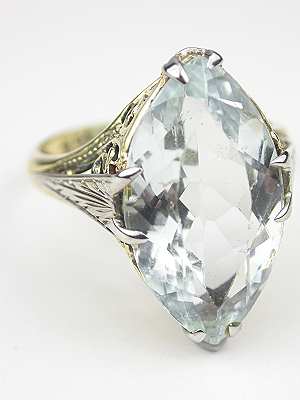 Antique Edwardian Aquamarine Cocktail Ring
This smashing antique aquamarine cocktail ring is for the woman who likes rings that make a dramatic statement on her finger. The focal point greenish blue marquise cut aquamarine weighs 5.10 carats. The 14 yellow gold band that clutches the aquamarine is highlighted with scalloped wings at the shoulders and fancy open scrollwork around the bezel. Circa 1920. SOLD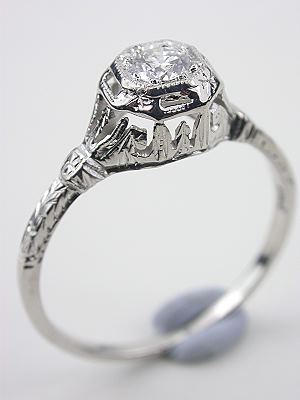 Late Edwardian Antique Filigree Engagement Ring
This late Edwardian antique filigree engagement ring is set with a 0.16-carat round brilliant cut diamond with G color and VS2 clarity. The 18k white gold band of this antique engagement ring is pierced along the bezel and carved along the shoulders in a wheat design. Circa 1920. SOLD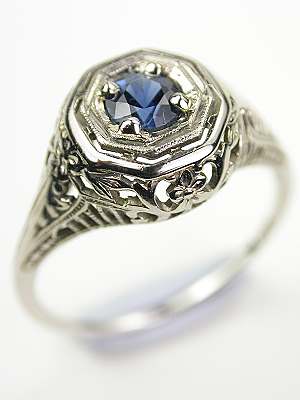 Edwardian Antique Sapphire Engagement Ring
Lovely flowers and leaves dapple the shoulders and shank of this antique Edwardian engagement ring. The pierced filigree mounting culminates in an octagonal-shaped top setting. Classic yet extraordinary, this antique engagement ring's unique appeal would be hard to duplicate.
Details: Antique, Edwardian. Circa 1920. 18k white gold. Round cut blue sapphire; 0.30 carats. SOLD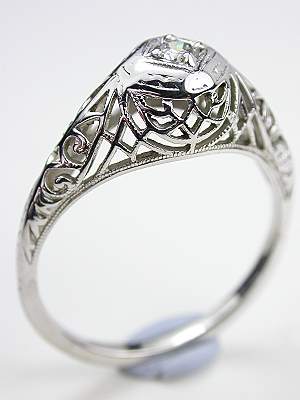 Vintage Filigree Engagement Ring
A trellis design filigree mounting in 14k white gold teams up with a round brilliant cut diamond in this vintage engagement ring. Curlicues accent the shoulders of this sophisticated filigree vintage ring. Circa 1930. SOLD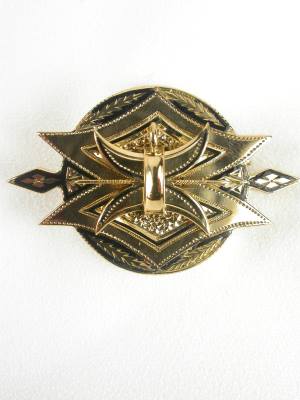 Victorian Gold and Enamel Antique Brooch
This Victorian gold and enamel brooch borrows its notable features from Chinese pagoda designs. Constructed of 14k yellow gold, this Victorian brooch is split down the middle in a mirror image design. Hammered accents give the crescents and pagodas textural appeal. A carved wheat pattern around the outside circular base softens the edges of this antique gold and enamel brooch. Antique Victorian brooches like this one may also be worn as a pendant. Circa 1875 SOLD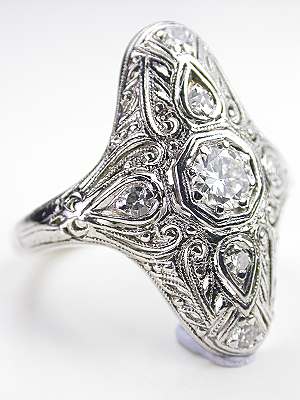 Art Deco Antique Cocktail Ring with Curlicued Hearts
This romantic Art Deco cocktail ring features an elaborate filigree mounting in 18k white gold. The design features single cut diamonds in four tear drop surrounds which are embraced by curlicued hearts. Trademark of JSK. Circa 1920. SOLD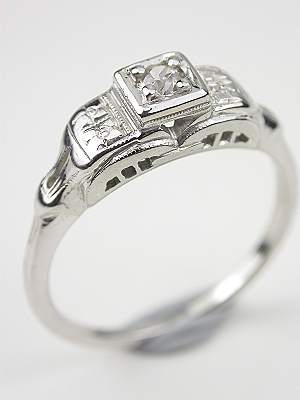 1920s Antique Diamond Engagement Ring
In this antique engagement ring, an old European cut diamond is flanked by floral carvings. The angular step construction of this 1920s engagement ring is softened with delicate flowers. The 18k white gold band of this antique ring rises in tiers to elevate the bead set old European cut diamond. Weighing 0.07 carats, this diamond is K in color and VS1 in clarity. Circa 1920. SOLD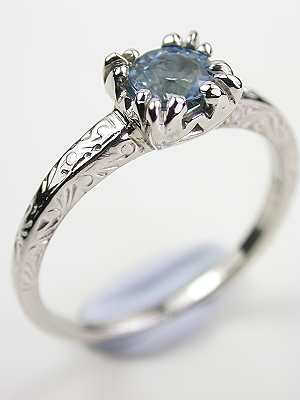 Vintage 1950s Aquamarine Engagement Ring
A charming aquamarine peeks out from a delicately textured band in this vintage aquamarine engagement ring. The setting is carved in a frond and floral motif. The band of this vintage engagement ring culminates in a square mounting, inside of which is a round aquamarine. The soothing colors of the ocean radiate from this natural gemstone. Details: Vintage. Circa 1950s. 14k white gold. Round aquamarine, 0.40 carats. SOLD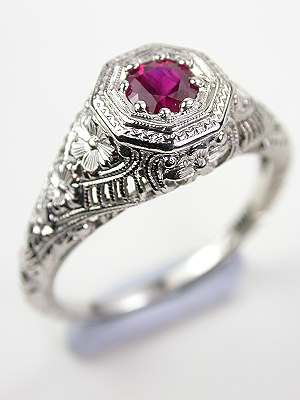 Antique Ruby Ring with Floral and Filigree
This antique ruby ring playfully harbors a single red rose amongst its platinum flowers and boughs. The ruby solitaire that peeks out of the center of this antique ring is bead set and surrounded by an elaborately carved hexagonal top plate. Pierced filigreeing and a textured floral spray cascade down the shank and shoulders like morning glory ivy climbing a trellis.
Details: Antique. Circa 1920. Platinum. Round cut ruby; 0.30 carats. SOLD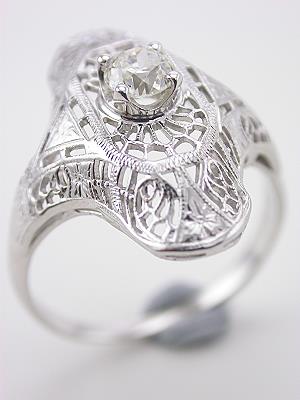 Antique Filigree and Diamond Dinner Ring
The lacy romance of yesteryear is captured in this antique filigree and diamond dinner ring. Delicately pierced 14k white gold filigree provides a dramatic backdrop for this antique cocktail ring's focal point diamond. Amidst this romantic and airy sea of shimmering metal lies an old European cut diamond. Weighing 0.28 carats, the diamond that highlights this antique dinner ring is J in color and SI1 in clarity. Circa 1920. SOLD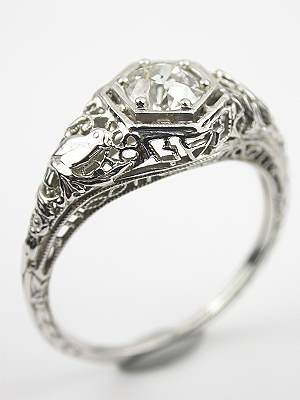 Edwardian Antique Engagement Ring with Bird Motif
According to Indian lore, the chickadee is the bird of truth and this Edwardian engagement ring playfully honors that legend. A pair of chickadees is tucked amongst the botanical carvings and cutouts that decorate the elaborately filigreed band. Perched on opposite sides of a GIA-certified old European cut diamond, the birds are gloriously chirping away about love. SOLD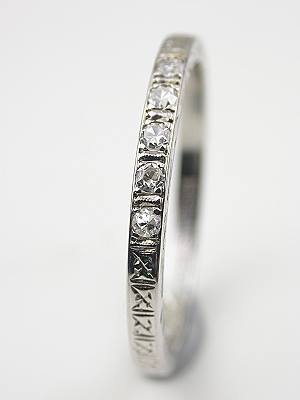 Belais Antique Wedding Ring
"I love you truly" is hand engraved on the inside of this delightful antique wedding ring by Belais. The 'X' kisses that are etched around the sides and back of the 18k white gold band echo this romantic sentiment. The front of this antique wedding rings band shimmers with five old style single cut diamonds. These bead set diamond accents total 0.10 carats. They are F to H in color and VVS2 to VS2 in clarity. Circa 1920. SOLD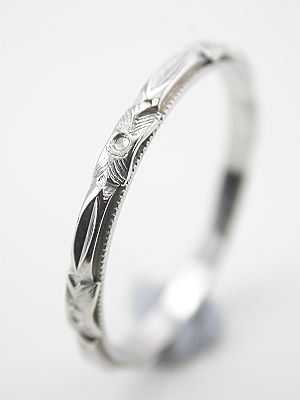 Antique Carved Wedding Ring
This antique carved wedding ring brings to mind Native American themes with its collection of feathery accents, long-stemmed bows and targeted bull's-eyes. The 18k white gold band of this antique wedding ring is rimmed with milgraining. Circa 1940. SOLD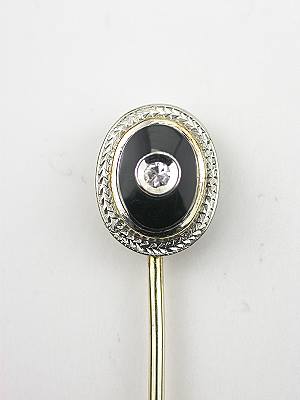 Black Onyx and Diamond Antique Stick Pin
A classic stick pin perks up a lapel or collar with black onyx and a single cut diamond. This 14k yellow gold stick pin culminates in an oval table cut onyx. This striking gemstone is centered with a single cut diamond. A rhodium-finished border that is carved in a wheat pattern encircles the onyx. Antique stick pins like this one give your tailored pieces a dramatic touch. Circa 1930s or later. SOLD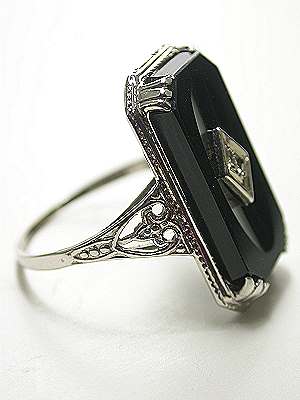 Antique Filigree and Onyx Dinner Ring
A delicate filigree mounting contrasts with the bold lines of black onyx in this antique cocktail ring. The slim 14k white gold band of this dramatic dinner ring has a heart and key design at the shoulders. The elongated mounting of this antique dinner ring holds an octagonal tablet cut black onyx in its scalloped prongs. This 3.0-carat gemstone is centerpieced with a diamond-studded lozenge. The round single cut diamond nestled inside weighs 0.01 carats. Circa 1920. SOLD