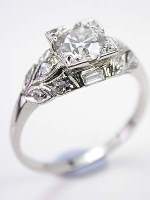 Vintage Engagement Rings
When Prince William proposed to Kate Middleton, he gave Kate his mother's 30-year-old engagement ring. This gesture lent private, personal meaning to the impending nuptials that would all-too-soon become a very public affair. Brides-to-be and their husbands-to-be who are seeking to lend that same nostalgic romance to their betrothals will find an unusual and unique selection of vintage engagement rings at Topazery. You'll find rings in platinum and gold with unusual settings and adorned with diamonds and gemstones. Choose from a spectacular selection of traditional and non-traditional vintage engagement rings with diamonds or from an eclectic and chic collection of colored stone vintage engagement rings.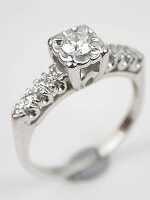 Illusion Settings in Vintage Engagement Rings
Want more diamond size and sparkle for your money? Then a vintage engagement ring with an illusion setting might be the perfect choice.
When it comes to purchasing a diamond, you've probably heard the 4 Cs mentioned over and over again: cut, color, clarity and carat. In combination, these are the four features of a diamond that determine its value. But what if you desire a quality diamond on a limited budget? Do you have to sacrifice all these value-adding aspects?
Not necessarily. One way you can still have your diamond dream and keep your bank account too is with an illusion setting. The term is just as it sounds-a magical sleight of hand that makes something (in this case a diamond) appear to be more that it actually is.
According to "The Illustrated Dictionary of Jewelry," an illusion setting is one "in which the stone is placed in a collet of reflective and brightly burnished metal, and then the metal edges are cut or shaped so that, when bent around the stone, they create the illusion of being a part of the stone."
The idea is the brainchild of the French jeweler Oscar Massin, who in the 1860s during the height of the Victorian era, invented what he referred to as the 'monture illusion,' which is frequently found in vintage engagement rings. You may also hear an illusion setting referred to as a 'deceptive setting' or a 'mirage setting.'
Why has the setting earned such monikers? It's because the metallic trickery it employs renders a small diamond appear much larger than it actually is. As such, discerning diamond buyers who are on a budget don't have to sacrifice the near-flawless color and clarity they yearn for. Plus, they can still choose their preferred diamond cut as well.

Orders & More

Vintage Engagement Ring

Just as a beautiful butterfly emerges from a delicate cocoon, this vintage engagement ring's centerpiece diamond bursts forth from a platinum mounting

Item
RG-2525
$8999.00

Orders & More

1930's Vintage Diamond Engagement Ring

Like the Milky Way, this 1930s vintage diamond engagement ring casts a mesmerizing spiral of star-powered radiance.

Item
RG-2663
$3999.00

Orders & More

Vintage Filigree Engagement Ring

A trellis design filigree mounting in 14k white gold teams up with a round brilliant cut diamond in this vintage engagement ring. Curlicues accent the shoulders of this sophisticated filigree vintage ring. Circa 1930.

Item
RG-3489
SOLD

Orders & More

Vintage Diamond Engagement Ring

A classic style mounting glitters softly with 10 old style single cut diamonds which are bead set on the shoulders of this vintage engagement ring.

Item
RG-3339
$5885.00

Orders & More

Ruby and Diamond Vintage Ring by Tiffany & Co.

Full cut diamonds play a game of flirty Ring around the Rosy in this vintage ring.

Item
RG-3532
$2499.00

Orders & More

Vintage 1930s Engagement Ring

Amazing things come in small packages and this vintage engagement ring's diamond packs a tremendous amount of impact into its small size.

Item
RG-3488
$400.00

Orders & More

Vintage Engagement Ring with Old European Cut Diamond

Romantic X-shaped kisses blow their way down the shoulders of this vintage engagement ring, but their kissing cousin, the hug, is not to be outdone.

Item
RG-3503
$4889.00

Orders & More

Vintage Ruby Engagement Ring

In this vintage engagement ring, a ruby pushes its way through an 18k white gold lattice, as if it were summer's sole remaining rose.

Item
RG-3360
$1459.00

Orders & More

Pearl and Diamond Vintage Engagement Ring

In this vintage ring, a cultured natural pearl embraces an old style full cut diamond in a recreation of Rodin's romantic sculpture "The Kiss."

Item
RG-3518
$899.00

Orders & More

Green Sapphire Vintage Bridal Rings

The green sapphire in this bridal ring set's vintage engagement ring radiates with the crispness and freshness of a spring morning.

Item
RG-3397
$2449.00

Orders & More

Vintage Engagement Ring with Sapphire

The focal point of this vintage engagement ring is a round faceted mixed cut blue sapphire.

Item
RG-2526
$1999.00

Orders & More

1920's Sapphire Vintage Engagement Ring

Like a bluebird flitting across a golden field of grain, this 1920s filigree and sapphire vintage engagement ring adds unexpected colorful contrast to the finger.

Item
RG-2524
$659.00

Orders & More

Vintage Engagement Ring with Illusion Setting

An illusion setting lends prominence to the diamonds in this vintage engagement ring.

Item
RG-3461
$1069.00

Orders & More

1930s Vintage Diamond Engagement Ring

This 1930s vintage diamond engagement ring surprises with unexpected bursts of color.

Item
RG-3430
$3949.00

Orders & More

Vintage Diamond Engagement Ring

The two-tone design of this vintage engagement ring shows off its diamond to perfection.

Item
RG-3451
$255.00

Orders & More

Retro Vintage Ring

Bold and sassy sums up the spirit of this Retro vintage engagement ring.

Item
RG-3154
$989.00

Orders & More

Filigree Vintage Engagement Ring in Platinum

This vintage 1930's diamond engagement ring in platinum features a double 4 prong setting with a pierced and scroll design.

Item
RG-3412
$4800.00

Orders & More

1930s Vintage Engagement Ring with Scroll Design

This vintage engagement ring with scroll design boasts an attention-getting domed top.

Item
RG-3380
$699.00

Orders & More

1950's Swirling Vintage Engagement Ring

This 1950's vintage engagement ring brings to mind a diamond-studded spiral staircase.

Item
RG-1522
$829.00

Orders & More

Vintage Diamond Engagement Ring in Yellow Gold

An old style single cut diamond is prominently set in an airline designed mounting in this vintage diamond engagement ring.

Item
RG-3209
$179.00

Orders & More

Princess Vintage Engagement Ring

A sapphire and diamond princess style ring features English hallmarks and a classic two toned design in this vintage ring.

Item
RG-3234
$1249.00

Orders & More

Vintage Engagement Ring with Chrome Tourmaline

This hand wrought vintage engagement ring with airline design features an outstanding 3.33 carat chrome tourmaline.

Item
RG-3193
$4900.00

Orders & More

Marquise Cut Ruby Vintage Engagement Ring

Like fire and ice, this marquise cut ruby vintage engagement ring is dazzling.

Item
RG-2789
$3200.00
---
---
ęCopyright 2001 - 2014
Topazery, LLC
Atlanta, GA, USA
&reg Topazery is a Registered Trademark
Cart

WELCOME!
Home
Join Newsletter
New Listings
How To Order
FAQs
Contact Us
Testimonials
Hassle Free Returns

JEWELRY STORES
All Rings
All Jewelry
Gifts Under $500

ENGAGEMENT RINGS & MORE
Thumbnails
Vintage Engagement Rings
Antique Engagement Rings
Antique Style Engagement Rings
Champagne Diamond Rings
Aquamarine Engagement Rings
Sapphire Engagement Rings
Antique Rings
Filigree Rings

WEDDING RINGS
Thumbnails
Antique Wedding Rings
Antique Style Wedding Rings

PERIOD JEWELRY
Thumbnails
Vintage Jewelry and Rings
Victorian Jewelry
Edwardian Jewelry
Art Deco Jewelry

EDUCATION
Gemstone History
Jewelry Periods
Antique Diamond Cuts
Evaluating Stones
Jewelry Library

INFORMATION
In the News
Site Map
Jewelry Details
Privacy Policy
Legal Policy