Antique and Vintage Wedding Rings p2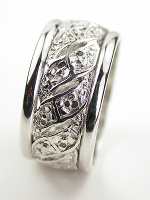 Vintage Wedding Ring, Circa 1945
A wave of precious metal swirls and twirls around the finger in this 1945 vintage wedding ring. The wide band of this vintage wedding ring has polished sections on top and bottom. In between, floral cut waves rollick down the center, lending eye-catching contrast to this vintage wedding band. Details: Vintage. Circa 1945. 14k white gold.
Item
RG-1559

$949.00

Platinum Knife Edge Vintage Wedding Ring
Constructed of iridium-platinum, this vintage wedding ring has a timeless design. In the early morning hours of dawn, the meadow shimmers with the radiance of dew. That same glimmer shines in this platinum knife edge vintage wedding ring. Circa 1950 or later.
Item
RG-1988

$619.00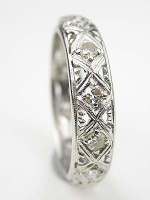 Vintage Wedding Ring with Hugs and Kisses
Diamond studded rhombuses playfully encircle this platinum and filigree vintage wedding ring to create a "hugs and kisses" or XO pattern around the band. In this hugs and kisses "XO" design wedding ring, the twelve single cut diamonds weigh 0.54 carats. Vintage wedding rings like this one make romantic one-of-a-kind anniversary gifts. Circa 1950.
Item
RG-3349

$1699.00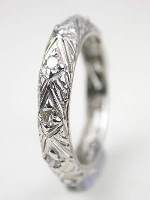 Filigree and Diamond Vintage Wedding Ring
Single cut diamonds dance around your finger in this handwrought vintage wedding ring. A pierced filigree design and an engraved chevron motif add sophistication to the 14k white gold band. This vintage wedding ring is set with 11 diamonds which total 0.35 carats. Circa 1950.
Item
RG-3220

$1595.00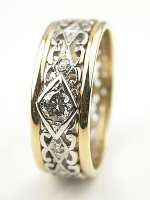 Two Toned Vintage Wedding Ring
In this Retro vintage wedding ring, a pierced scroll motif in white gold is splashed with diamonds and accented by yellow gold edges. The 14k white and yellow gold band of this vintage wedding ring has the unexpected impact of open scroll work down the center. Eleven single cut diamonds accentuate the metallic intrigue. A 0.17 carat old style round full cut diamond is set in the center. The total diamond weight of this vintage wedding ring is 0.28 carats. Circa 1950.
Item
RG-3333

$1499.00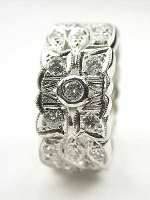 Classic Wide Vintage Wedding Ring
A pierced design and scalloped edges make unusual platinum and diamond vintage wedding rings like this one. Fashioned in an interlocking double-row design, this anniversary style vintage wedding ring captivates with its collection of thirty-six full and single cut diamonds. Set in platinum circles and teardrops, these diamonds total 1.44 carats. Milgrain trim separates the geometric elements of this classic eternity style vintage wedding ring. Circa 1950 or later.
Item
RG-3199

$3999.00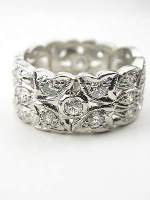 Vintage Wedding Ring with Leaf and Ribbon Design
Leaves and ribbons wind their way around her finger in vintage rings like this one. The platinum band of this vintage ring is composed of diamond accented leafy sprigs and fronds which encircle the finger like a miniature wreath. Twenty-two full cut diamonds are bead set in the band's eye-catching display, lending a total diamond weight of 1.19 carats to this anniversary ring. Circa 1950 or later.
Item
RG-3198

$3939.00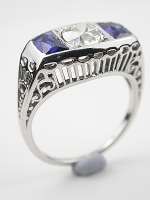 1920's Three Stone Antique Wedding Ring
A bridge of gold holds two sapphires and a diamond for a three stone filigree antique wedding ring from the 1920s. A pair of tapered cushion faceted mixed cut synthetic blue sapphires lends color to this 18k white gold antique wedding ring. Totaling 0.60 carats, the sapphires flank a centerpiece old European cut diamond. This J-colored, SI2-clarity diamond weighs 0.58 carats. Circa 1920.
Item
RG-2605

$1129.00