PRIME Living 2015 Digital Luxury Gift Guide Showcases Topazery Vintage Jewelry
August 04, 2016
PRIME Living magazine, a luxury lifestyle magazine for affluent adults, aims to provide inspiration and to answer the question "What's next?" For the nostalgia lover, what's next hearkens back to what used to be. Paying homage to that polarity, the publication recently selected two vintage jewelry pieces from the Topazery collection as gift ideas for the nostalgic in its 2015 Digital Luxury Gift Guide.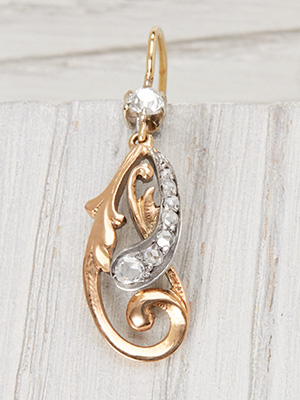 The first of these featured vintage items was a pair of Arts and Crafts Diamond Earrings in Rose Gold. Dating back to the early 1900s, these hand-wrought antique dangle earrings are highlighted with an Arts and Crafts leaf and scroll motif in an 18k rose gold setting. Fourteen rose cut diamonds (seven on each earring) are bead set to add a touch of old world Hollywood glamour when the gift box is unwrapped.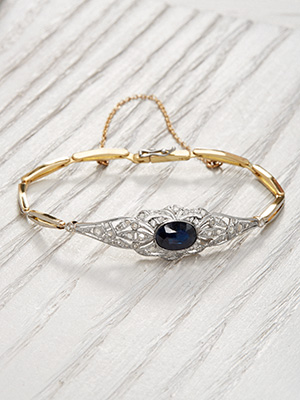 PRIME Living paired the earrings with Topazery's Vintage Sapphire Bracelet. Circa 1950s, this wrist accent piece radiates with nostalgic charm. Focal pointed with an oval deep blue faceted sapphire, the 18k yellow gold and platinum link bracelet also showcases 50 rose cut diamonds. The diamonds are captured in the bracelet's lacey filigree web, the centerpiece of which is the sapphire.
The magazine had this to say in its Topazery "for the nostalgic" spotlight: "Diamonds, pearls, and gems--oh my! Topazery offers unique and unusual traditional and nontraditional jewels dating from the 1800s to the 1970s. Each piece is a one-of-a-kind creation that has been carefully curated."
Gift givers with a nostalgia lover on their shopping list don't have to depend on what's new for inspiration. Antique jewelry boutique Topazery has proven to those who cater to even the most affluent shoppers that everything old really is new--and gift worthy--again.
Return to press home