Topazery Edwardian Antique Ring Shows Similarities to Scarlet Johansson's Engagement Ring
November 26, 2013
Couples who are considering getting engaged this holiday season may want to consider adding a memorable celebrity touch to their proposals. Just in time for the Christmas season, antique jewelry boutique Topazery has handpicked a December showcase piece that will allow them to do just that. The antique Edwardian ring Topazery will be featuring throughout the month is a diamond sparkler that closely resembles Scarlet Johansson's engagement ring.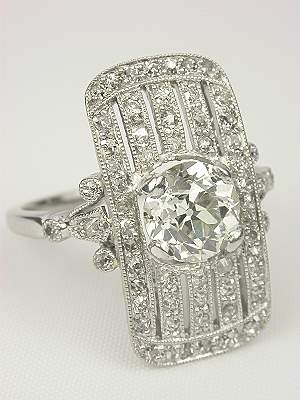 On September 4, 2013, E! News reported that actress Scarlet Johansson was engaged. The entertainment network enthused, "The actress flaunted her sparkly token of affection on her ring finger at the Venice Film Festival ... and we couldn't take our eyes off that rock!" They then went on to describe the engagement ring as a "gorgeous Art Deco ring" with a "beautiful design" and "an ornate vintage-inspired vibe to it." It features "three round-cut diamonds laid vertically to create an eye-catching rectangular shape." p>
It's exactly this vintage vibe Topazery had in mind when selecting its December showcase. The jewelry piece the site ultimately singled out is an Edwardian antique ring from 1910. "The only major difference I noted between our December spotlight ring and Scarlet Johansson's engagement ring is the number of diamonds at the center," explains Topazery spokesperson. "Whereas Scarlet's has three smaller solitaires, ours has one larger one. Other than that, both are North-South vertical designs that bathe the finger in diamond radiance and brilliance."
Rings like Johansson's and Topazery's December showcase appeal to a certain type of woman. Johansson is known around Hollywood for her flawless style. She's also been named "Esquire's" Sexiest Woman Alive twice in the past seven years.
As E! News went on to point out, "Scarlett has always differentiated herself from the Hollywood set with her unspoken charm and undeniable beauty, so it's only fitting that her engagement ring is just as rare and retro-inspired." Women--and the men who love them--who want to stylistically set themselves and their marriage proposals apart in the same way this holiday season may find just what they're looking for in the Topazery spotlight.
Return to press home