21st Bridal Spotlights Topazery Vintage Engagement Rings
August 18, 2016
21st Bridal takes great pride in the elegance, uniqueness and personalization that goes into its wedding stationery products. The company has turned those characteristics into a website that showcases the most elegant, unique and personalized wedding ideas, tips, hairstyles, dresses and favors the world over. Recently, the company focused on engagement rings, with an article exclusively devoted to Topazery's antique and vintage style engagement rings.
With 16 Topazery engagement rings chosen, 21st Bridal was able to represent the breadth of the vintage jewelry boutique's offerings. "We loved how eclectic 21st Bridal's choices were," says Topazery's spokesperson.
Some of the featured highlights included a fancy champagne diamond engagement ring with a filigree band. "Champagne diamonds are the perfect blend of traditional with just a hint of color to make them stand out," Topazery's spokesperson points out.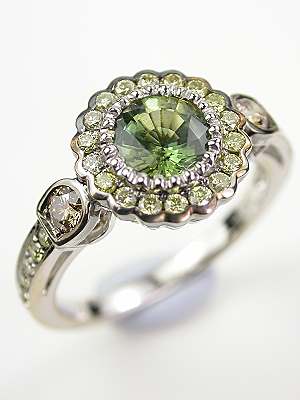 Those brides-to-be who are looking for a bit more vibrancy in their engagement ring gemstones were also taken into consideration by the 21st Bridal list. Two blue sapphire and diamond engagement rings, two green sapphire engagement rings with halos and diamond accents, a vintage ruby engagement ring, and a yellow diamond engagement ring were some of the colorful options that leap off the website page.
Of course, clear diamonds were well represented as well, including a rose gold rose bud with a diamond unfurling at its center and an antique style diamond engagement ring with love knots and hearts streaming down its shoulders.
Return to press home