ArtCarved Vintage Wedding Ring
The two-toned metallic setting of this vintage wedding ring draws captivating attention to the hand. The white gold band is topped with a yellow gold strip that encircles its center. This top piece is carved with feathery fronds, adding visual interest and textural appeal to the ring. The band is done in a classic cigar style that sleekly hugs the finger. Details: Vintage. Circa 1970 or later. 14k white and yellow gold. ArtCarved trademark.
Only One Available
RG-854
$625.00
Current Ring Size 7.5

Ring Sizing
Sizing is usually possible, but requires a custom quote. Please email us your ring size and the item number for a sizing quote. You may also purchase the ring, enter your ring size in the Comments field of the CHECKOUT form, and we will email you a sizing quote before proceeding. Or, you may send the ring back to us for sizing at a later date. This ring is not returnable after sizing.
Shipping
Shipping is FREE for orders in the USA and to APOs and FPOs. International orders have a $100.00 shipping fee plus a separate invoice from the shipper for customs fees, duties, and taxes. All fees for international orders are non-refundable.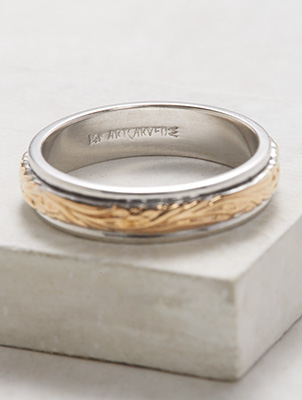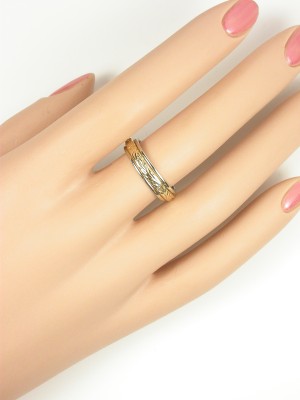 | | |
| --- | --- |
| Item # | rg854 |
| Metal | 14k white and yellow gold |
| Circa | 1970 or later |
| Weight in grams | 5.14 |
| Period or Style | Lyric style |
| Special characteristics | This two toned vintage wedding band features a 14k carved yellow gold center with a white gold base and rim. It is fashioned in the "lyric" style. |
| Other notes | This vintage band has the trademark of "ARTCarved" |
| Condition | Good |
| Options | Not available as a setting/mounting. |
| MM width for wedding bands | 4.82 mm [0.19 in] |
| Ring height above finger | 1.92 mm [0.07 in] |
| Ring Size | 7.5 |
Click HERE for our Hassle Free Returns agreement.
Click HERE for Important Jewelry Information.