Antique Occasional Pin by Krementz
Dainty petals flirtatiously peek out of this antique pin's lattice work. Morning glory vines climb up the lattice of this antique occasional pin. The Xs they playfully dart in and out of do double duty as "kiss" symbols. Rhodium edging provides striking visual contrast to the 14k yellow gold setting. This Edwardian pin is trademarked Krementz as evidence of its historical background. Details: Antique. Edwardian. Circa 1900. 14k yellow gold. Krementz trademark.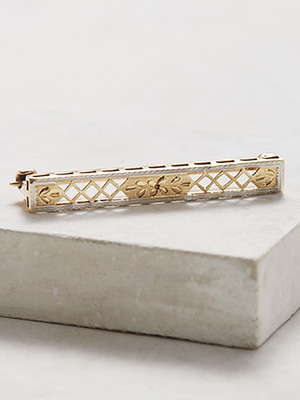 Only One Available
PN-1690
$95.00

Shipping
Shipping is FREE for orders in the USA and to APOs and FPOs. International orders have a $100.00 shipping fee plus a separate invoice from the shipper for customs fees, duties, and taxes. All fees for international orders are non-refundable.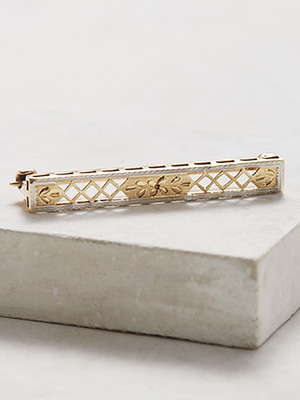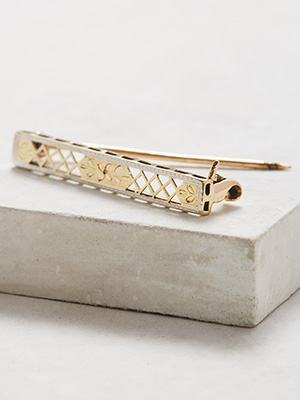 | | |
| --- | --- |
| Item # | pn1690 |
| Metal | 14k yellow gold |
| Circa | 1900 |
| Weight in grams | 0.97 |
| Period or Style | Edwardian |
| Special characteristics | This antique occasional pin by Kremetz is pierced with a lattice design. It is trimmed with a rhodium finished edge and leaf engraving. The classic pin assembly has an early style clasp. |
| Condition | Good |
| Other pin info | The pin measures 25.6 x 3.71 x 4.41mm and has the Krementz trademark. |
Click HERE for our Hassle Free Returns agreement.
Click HERE for Important Jewelry Information.