Vintage Jewelry p2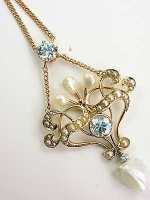 Victorian Pearl and Zircon Necklace
A glorious bouquet of pearls, diamonds and blue zircons accent a Victorian necklace's delicate swirling vase. A14k yellow gold pendant suspends from a round blue zircon in this vintage necklace. A larger matching zircon centerpieces the vase's cutwork. Three oval wing baroque pearls unfurl in between while a bigger heart-shaped pearl romantically dangles from below. Details: Antique, Victorian. Circa 1900. 14k yellow gold. Full cut diamonds, 0.025 carats. Two round zircons, 2.21 carats. 4 fresh water pearls.
Item
NK-3508

$2225.00

Handwrought Ruby and Diamond Vintage Cross
You'll think of morning dew droplets slowly descending from rose petals when you wear this handwrought ruby and diamond vintage jewelry cross. The open-weave construction of this platinum clad 18k yellow gold cross with heart-shaped tips is light and airy. This handcrafted cross is centered with a round brilliant cut diamond that is pinwheeeled with four rectangular faceted step cut rubies for a combined gemstone weight of 0.08 carats. A collection of fourteen rose cut diamonds further enhance this cross for a total diamond weight of 0.27 carats. This is a handwrought ruby and filigree vintage cross in the 1930s style.
Item
CR-2224

$995.00

Edwardian Sapphire and Diamond Pin
Sapphire and diamond Edwardian brooches add a touch of femininity and a splash of color to your favorite 'little black dress.' This Edwardian antique pin's diamond-accented floral motif is particularly soft and romantic. The forty-four old style full and single cut diamonds that accentuate this Edwardian jewelry piece total 0.86 carats of diamond weight. Thirty triangular and rectangular calibre cut blue sapphires vividly edge this antique pin. The sapphires add 1.00 carat of gemstone weight to the pin. Circa 1920.
Item
PN-1553

$1885.00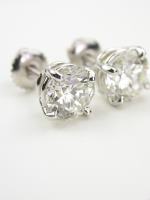 Vintage Style Diamond Earrings
WOW! With every slight turn of the head, over three carats of diamonds capture the light and set it to dance. Both diamonds in this pair of earrings are GIA certified and weigh 1.55 carats each for a total weight of 3.10 carats. The diamonds are set in 18k white gold studs which secure to the lobe via threaded posts. Details: 18k white gold. Round brilliant cut diamonds; 3.10 carats. Vintage style (New)
Item
EA-3568

$15300.00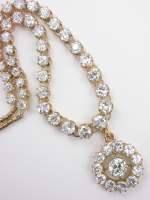 Victorian Antique Diamond Necklace
A stunning Victorian necklace features 51 Old European cut and old style full cut diamonds totaling 10.91 carats. The diamonds of this antique necklace are set in a hand-wrought Riviera drop design mounting. The classic design, with graduated diamonds, lays fluidly on the neck, and glitters with every graceful turn of your head. Details: Antique, Victorian. 14k Rose gold. Old European and Old Style full cut diamonds; 10.91 carats. Circa 1900.
Item
NK-3586

$41400.00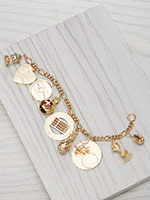 Vintage Charm Bracelet
Playful gold charms flutter from the links of this bracelet's figaro chain. In this vintage bracelet nine eyecatching charms dangle suspend from a yellow gold figaro link chain, adding whimsy to the wrist. A heart, a pineapple, two French sentiment discs, and a hinged fortune cookie are among the solid gold charms. The remaining four charms cast a further bewitching spell with their colorful accents: temple with blue glass beads; cowbell with red Swiss cross; duck with red enamel eyes; and Christmas disc with reindeer and bells featuring red and blue stones. Details: Vintage. Circa 1930s and later. 14k and 18k yellow gold. 63.42 grams.
Item
BR-2876

$2949.00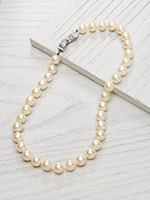 Vintage Pearl Necklace with Diamond Clasp
A wave of white gold and diamonds mesmerizingly undulates at the back of this vintage pearl necklace. This single strand of Akoya pearls adds classic sophistication to any outfit - day or night. It's the clasp, however, that takes this vintage necklace to a whole new level of elegance. Shaped like an ebbing and flowing wave, the 18k white gold clasp is engraved in a criss-crossing pattern. A trio of old style diamonds lend sparkle to the wave's crests and trough. Details: Vintage. Circa 1940. 18k white gold. Single cut diamonds; 0.10 carats. Akoya pearls.
Item
NK-1825

$1929.00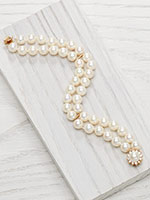 Vintage Pearl Bracelet
A shimmering star-orbited moon medallion secures a double string of Akoya pearls. This vintage bracelet surrounds the wrist in pearl sophistication. The saltwater Akoya pearls that string this bracelet are arranged in a double strand. They are joined with a 14k yellow gold and diamond box style clasp. This closure accent brings to mind a full moon encircled by a constellation of stars. Details: Vintage. Circa 1950 or later. 14k yellow gold. Full cut diamonds; 0.24 carats. Saltwater Akoya pearls.
Item
BR-3543

$1619.00