Vintage Engagement Rings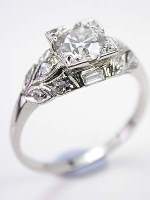 When Prince William proposed to Kate Middleton, he gave Kate his mother's engagement ring. This gesture lent private, personal meaning to the impending nuptials that would all-too-soon become a very public affair. Brides-to-be and their husbands-to-be who are seeking to lend that same nostalgic romance to their betrothals will find an unusual and unique selection of vintage engagement rings at Topazery.
Wondering about the advantages of buying a vintage engagement ring? Here are four excellent reasons: Why Buy Vintage?
What a Vintage Engagement Ring Says about You
Do you have your heart set on a vintage engagement ring? Have you been turning to classic Hollywood, instead of celebrity sites, for inspiration when Internet browsing for an engagement ring? Ever wonder what these tendencies say about you? Read on for insight about yourself if you happen to be a lover of vintage rings. Learn More &raquo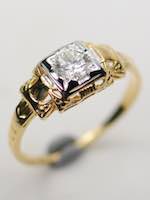 Classic Vintage Engagement Ring
A round solitaire diamond and understated metallic features in white and yellow gold make this vintage engagement ring a classic. The golden glow of this vintage engagement ring's band warmly contrasts with its round solitaire diamond. An integrated 18k white gold top plate adds to this striking effect. The mounting has a playful buckle appearance to it. Details: Vintage. Circa 1930. 18k yellow gold. Round diamond; 0.33 carats.
Item
RG-3629

$1250.00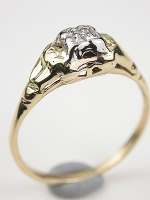 Vintage Diamond Engagement Ring
The two-tone design of this vintage engagement ring shows off its diamond to perfection. The band of this vintage ring is constructed of 14k yellow gold while the illusion top setting is done in 14k white gold. The round single cut diamond solitaire that is nestled in the center of this engagement ring weighs 0.03 carats. Circa 1960.
Item
RG-3451

$255.00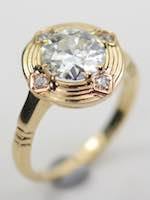 Vintage Engagement Ring with Old Cut Diamonds
Old style round cut diamond accents set the compass points for this vintage engagement ring's out-of-this-world diamond centerpiece. An old European cut diamond solitaire sits at the center of this vintage engagement ring's universe. Old style round brilliant cut diamonds mesmerizingly spin around its axis. A 14k yellow gold setting adds a warming glow. Details: Vintage. Circa 1930 or later. 14k yellow gold. Old European and round brilliant cut diamonds; 1.42 carats.
Item
RG-3634

$6950.00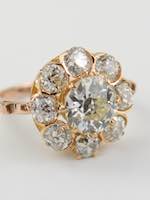 Vintage Diamond Cluster Engagement Ring
Old cut diamonds cluster around this vintage engagement ring like petals around a star flower. The floral arrangement of this vintage engagement ring's old cut diamonds gives the air of a summer garden party. Eight old mine cut diamonds encircle the centerpiece old European cut diamond, wrapping the finger in shimmering radiance. A crown setting at the bezel of the rose gold band adds to this vintage ring's fair-maiden look and feel. Details: Vintage. Circa 1930. 14k rose gold. Old mine and old European cut diamonds; 4.06 carats.
Item
RG-3637

$14590.00

1930s Vintage Diamond Ring
Like the Milky Way, this 1930s vintage diamond ring casts a mesmerizing spiral of star-powered radiance. The platinum band of this 1930s vintage engagement ring has a dome setting that is accentuated with pierced swirl work. Twenty-two old style single cut diamonds highlight the swirling. An old European cut diamond is bezel set in this vintage ring's mounting. Circa 1930.
Item
RG-2663

$3999.00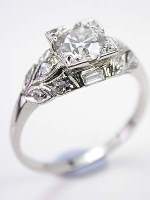 Vintage Diamond Engagement Ring
A classic style mounting glitters softly with 10 old style single cut diamonds which are bead set on the shoulders of this vintage engagement ring. In this vintage engagement ring, two baguette cut diamonds flank each side of the GIA certified 0.71 carat, J color, VS2 clarity round brilliant cut diamond. The hand wrought mounting is in 10% iridium platinum. She'll definitely say "Yes!" when you surprise her with this romantic vintage ring! Circa 1935.
Item
RG-3339

$5885.00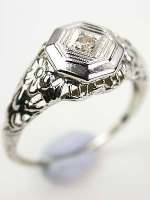 Vintage 1930s Engagement Ring
Amazing things come in small packages and this vintage engagement ring's diamond packs a tremendous amount of impact into its small size. The unique design of the mounting in this antique engagement ring helps the diamond pull off the illusion of a bigger stone. Fashioned in the shape of a hexagon, with layers of milgrain inside, the top setting holds a bead set diamond. The pierced floral and filigree band is lovely. Details: Vintage. Circa 1930 or later. 14k white gold. Single cut diamond; 0.03 carats.
Item
RG-3488

$400.00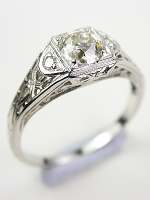 Vintage Engagement Ring with "XO" Motif
Romantic X-shaped kisses blow their way down the shoulders of this vintage engagement ring, but their kissing cousin, the hug, is not to be outdone. The kisses and hugs design of this vintage engagement ring has a collection of diamonds that accentuate this ring with an XO flair. Details: Vintage. Circa 1930. 18k white gold. Old European and single cut diamonds; 0.61 carats.
Item
RG-3503

$4889.00
Continued from the top . . .
"I value what is genuine and real." Within the wise pages of the children's book The Velveteen Rabbit, author Margery Williams writes of becoming real: "'It doesn't happen all at once,' said the Skin Horse. 'You become. It takes a long time. That's why it doesn't happen often to people who break easily, or have sharp edges, or who have to be carefully kept.' "Once you are Real you can't be ugly, except to people who don't understand." A vintage engagement ring has become all that it was intended to be. It's forever beautiful -- and so are you.


"I am a caretaker of history." You take great pride in the fact that you own a piece of posterity. As the owner of a vintage ring, you are passing a beautiful work of art down to the next generation, and you don't take this responsibility lightly. You are a guardian of the past and the future, and you know how precious of a duty this is.


"I hold sacred the traditions of the past." As the wearer of a vintage engagement ring, you are making a bold statement about yourself. You are telling the world that you have no desire to be caught up in all the modern-day trappings. You value what has come before and you see an engagement ring as a shaper and reflection of who you are at the core.


"I take interest in preserving the environment." Because it is essentially a recycled piece of jewelry, a vintage ring is an eco-conscious choice. Unlike new engagement rings, the making of which requires metal, stones and mining techniques that can negatively impact the earth, engagement rings of a vintage origin leave no additional mark on the environment.


"I know who I am." You don't take cues from what the media or the current advertising trends deem 'in.' You are your own trendsetter. You have your own personal sense of style and you know how to express your individuality in your own unique way.
If a vintage engagement ring speaks to you, perk up your ears and listen. Choosing one says a lot about you. And those who see you wearing the ring will get the not-so-secret message loud and clear.
Five Romantic Vintage Wedding Venues - and Vintage Rings to Go with Them
If you're not sure where you'd like to hold your wedding ceremony and reception, here are five romantic vintage wedding venues from around the world. Even if you prefer to stay close to home, these vintage wedding locales are sure to inspire you. And because no wedding would be complete, of course, without the perfect ring, we've paired each one of these romantic wedding venues with an antique or vintage ring from Topazery.
Castle Durrow Hotel in County Laois, Ireland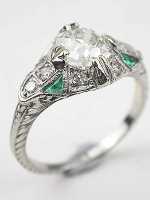 A perfect example of a romantic wedding venue is Castle Durrow Hotel in County Laois, Ireland. This stone structure embodies the country's history. Dating back to the 18th century (1712 - 1715 to be exact), Castle Durrow holds the distinction of being one of the few houses of its time for which precise building records survive. As a result, its lineage can be traced all the way back to the day it was built - during a period of high taste and high culture as its website points out. Even more striking is the fact that three centuries later, this castle still stands in close to its original condition.
Known far and wide as the Emerald Isle, Ireland is synonymous with the color green. The perfect pairing for a wedding at Castle Durrow then is a vintage wedding ring featuring emeralds. Topazery's Engagement Ring with Emerald Accents, circa 1925, provides just enough hint of the green gemstones to qualify as Irish and meet the ultra high standards of Castle Durrow's original owners.
Over the Vine Barn in Edgerton, Wisconsin, USA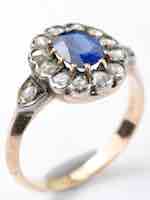 Rustic country and vintage charm abounds in the Over the Vine Barn in Edgerton, Wisconsin. With beautiful farm scenes stretching in every direction, the landscape surrounding this vintage wedding venue is as spectacular as the structure itself. Built in 1888, the wine barn is back splashed by lush vineyards. This construction year puts the barn in the Victorian antique era.
In terms of an antique ring, matching up nicely with this timeframe is Topazery's Victorian Antique Sapphire Engagement Ring. Circa 1875, this antique ring dates back just a few years prior to the Over the Vine Barn.
The Vineyards Surrounding Chateau Vaudois in Provence, France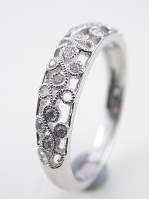 Nothing could be lovelier or more romantic for a vintage wedding venue than the vineyards surrounding Chateau Vaudois in Provence, France. Nestled in the Moorish hills, just outside of St. Tropez, these vineyards afford a bride and her guest stunning views of the Mediterranean Sea. Flooded with sunshine almost year round, this vintage wedding venue is full of bright light and soft ocean breezes.
A vintage ring with a vine pattern running through it is perfect for a vineyard wedding. Topazery's wedding band in the vintage style features open-work vines which twist their way down the shoulders of the ring. A collection of diamonds peeks out among the vine work.
The Victorian House in Santa Monica, California, USA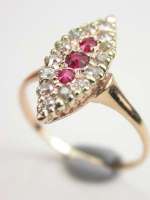 The Victorian House in Santa Monica, California boasts all the elements that made Victorian homes so breathtakingly romantic. Turrets, gables and lacy gingerbread trim are just some of the touches a Victorian house adds to a wedding venue. The Santa Monica Victorian House was built as a mansion in 1892, after which it remained in the hands of the same family for decades. In 1973, it was transported to Heritage Square. The white picket fence that surrounds it makes a beautiful backdrop for wedding photos.
Topazery's Victorian Ruby and Diamond Antique Ring hails from the same decade as The Victorian House. Featuring three ruby accents down its center, this antique ring is surrounded by its own white picket fence in the form of 14 European cut diamonds.
Chateau Elan Carriage House in Rothbury, Australia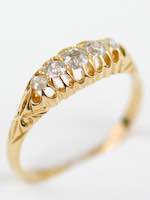 The Chateau Elan Carriage House in Rothbury, Australia provides brides with a spectacularly charming alternative to the typical church wedding. As its website describes, the Chateau Elan Carriage House is "brimming with character" and "was constructed from hand hewn sandstone blocks rescued from an 1834 Hunter Valley homestead."
With its hand wrought setting, Topazery's Antique Wedding Ring evokes the same character as the Australian carriage house does. Five old European cut diamonds streak across its center while an English hallmark and a George & Kiley engraving give a nod to this vintage wedding ring's Victorian past.
Celebrity Vintage Engagement Rings
Her choice in engagement ring says a lot about a woman, and if anyone understands what it means to make a statement with her jewelry it's a starlet. She's used to commanding attention everywhere she goes and she knows that a one-of-a-kind vintage engagement ring will have all eyes on her finger.
Who exactly are the celebrities who opt for vintage engagement rings? Here's a rundown of some of the most famous women who prefer vintage.
Penelope Cruz - This Hollywood super couple half, wife of Spanish sex symbol Javier Bardem, wears an engagement ring that has all kinds of vintage touches. Its centerpiece is a stunning oval blue sapphire that is surrounded by diamonds in a very vintage halo effect.
Scarlett Johansson - The second time just might be the charm for Johansson, whose North-South arranged engagement ring oozes with spectacular vintage touches. With a trio of bezel set diamonds streaming down its rectangular center and its band starlit with accent diamond, Scarlett's vintage engagement ring has a decidedly Art Deco flair to it.
Milla Jovovich - Having all eyes on her is just another day on the job for this Ukrainian-born actress and model. And her current vintage engagement ring ensures that the public's interest remains glued on her. She goes for the triple knockout punch with a gold engagement ring that features a threesome of vintage colored diamonds down its center: pink, white and yellow.
Mary Kate Olsen - When her much older French fiance proposed to the "Full House" twin, he chose a vintage engagement ring with a blue sapphire-encircled European cut diamond. Adding to the romance, he reportedly purchased the vintage engagement ring for Mary Kate at auction.
Emily Blunt - Hearts were crushed when "The Office" cutie John Krasinski asked for Blunt's hand in marriage. The vintage engagement ring he selected for his now wife was a platinum ring featuring a three-carat round diamond. Flanked by baguette cut diamonds, this vintage engagement ring has Edwardian touches.
And then there is another whole crop of starlets who draw their engagement ring inspiration from the past and wear vintage inspired engagement rings. Among them are:
Jessica Biel - Justin Timberlake picked out Biel's engagement inspired engagement ring without any prompting or hints from his actress girlfriend. Some of the vintage inspired touches this engagement ring embraces are a halo-set square diamond, two blue gemstone accents and an antiqued platinum band.
Natalie Portman - Portman, who won an Academy Award for her role in the movie "Black Swan" is certainly accustomed to the spotlight. It's a good thing too because her vintage inspired engagement ring exudes all kinds of showstopper appeal. The round diamond at its center is spun with a double diamond halo. In a nod to Portman's eco-consciousness and veganism, the band is made of recycled platinum and the diamonds are environmentally friendly.
Kristen Bell - The emerald cut champagne diamond that highlights Bell's vintage inspired engagement ring draws all kinds of inspiration from the world of vintage. The platinum band features rows of diamonds down the sides of the champagne diamond solitaire that spill over to its shoulders.
Salma Hayek - Hayek's vintage inspired engagement ring suits her exotic beauty to a T. An oval cut centerpiece diamond, a French-set platinum band and trillion cut accenting diamonds are just some of the ring's most striking vintage features.
Sandra Bullock - Although the two have since gone their separate ways, Jesse James proposed to Bullock with a "you and me" themed vintage inspired engagement ring. In a nod to the romantic past, the double arrangement of the ring's diamonds was an intertwined one.
How to Clean and Care for Your Vintage Engagement Ring
You love everything about your vintage engagement ring and you want to keep it exactly the way it looked the day you received it. You might worry that because of its age your vintage engagement ring won't stand up to the rigors of cleaning. And you'd be right in one regard. A vintage engagement ring does require some special tender loving care.
Read on for Topazery's Top 10 tips on how to clean and care for your vintage engagement ring the right (and not so right) way.
1. Have the right cleaning tools at your disposal. - Fortunately, it doesn't take a lot of fancy gadgets to care for your vintage engagement ring. You need warm water, mild soap and a soft-bristled toothbrush ... all things you probably already have in your cabinets. Use the soapy brush to scrub away any dirt or residue then rinse thoroughly. Any leftover soap will dull the stone and metal. Use a lint-free cloth - an eyeglass wipe works great - to completely dry your vintage engagement ring, especially if you're planning to put it away instead of wearing it. Never store your vintage engagement ring while it is still wet.
2. Find a professional jeweler you trust and invest in periodic cleanings with him/her. This partnership will not only keep your vintage engagement ring looking beautiful; it also gives the jeweler an opportunity to alert you to loose stones or damage that you might not notice until a stone is lost or the damage to the prongs or metal requires costly repairs.
3. By the same token, steer clear of the big box jewelry stores where engagement rings are mass-produced. While you might think the staff at these locations will handle your heirloom piece expertly, it's much more likely that they lack the knowledge to properly care for your vintage engagement ring.
4. Do NOT use an ultrasonic cleaner. Save your money. These modern-day contraptions are not made for vintage engagement rings and other vintage jewelry pieces. The vibrations they produce can dislodge the diamonds and gemstones from your vintage engagement ring, necessitating costly repairs.
5. Consult with a trusted jeweler regarding specific aspects of your vintage engagement ring. Certain gemstones like opals, pearls, coral and emeralds require special care, and trying to clean them the same way you would say a diamond could result in some unwanted side effects. Pearls for example can be permanently damaged by brushes.
6. Proper storage of your vintage engagement ring is essential. Never throw your vintage engagement ring in with other jewelry pieces. To avoid scratches and nicks, stow your vintage engagement ring in its own pouch or padded box and make sure the receptacle is padded or lined.
7. Do not allow cosmetics or household cleaning products to touch your vintage engagement ring. Lotions, hairspray, oils and everyday chemicals have the potential to damage your ring. Always remove your vintage engagement ring from your finger and store it in a safe place when applying beauty products and when cleaning your home. Even fine residue that lingers in the air can wreak havoc on your beloved vintage piece.
8. Perspiration is another big no-no when it comes to your vintage engagement ring. Always take your ring off before working out. Other situations in which it is best to go ringless include dish washing, floor scrubbing, vacuuming and other vigorous household chores or other strenous activities in or outdoors.
9. Never allow your vintage engagement ring to be exposed to the elements. Direct sunlight and the air from heating vents can pose problems. And under no circumstances should you leave your ring in a hot car. If you wouldn't expose your kid or your pet to it, you shouldn't expose your vintage engagement ring to it.
10. Don't forget about everyday contaminants like skin cells, hair, dust, dirt, soap scum and living flora. Even the most scrupulous ring wearer can't avoid the build-up of these things over time. Because all of them can get under stones and inside tiny crevasses, a good cleaning is necessary even when you think you've always kept your vintage engagement ring out of harm's way.
And for added peace of mind, talk with your insurer. Some homeowner's policies include riders that cover loss of and damage to your vintage engagement ring.