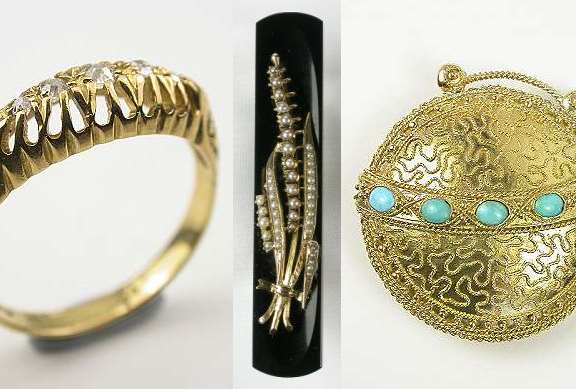 About Victorian Jewelry
The Victorian (c1836-1901) jewelry period follows the reign of Queen Victoria in Great Britain from 1836 to 1901. Queen Victoria's love for her husband and children inspired Victorian jewelry that reflected a romantic and sentimental outlook.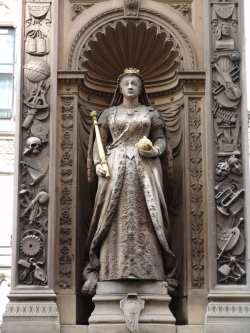 Victorian Jewelry Designs
Flowers, hearts, bows and birds inspired beautiful pieces of Victorian jewelry which showed the craftsmanship of the Victorian age. Serpent motifs were also popular in Victorian jewelry. Yellow gold and silver were the metals of choice as Victorian jewelry artisans did not learn to work with platinum until very late in the period. Gemstones were often used in Victorian jewelry and helped keep jewelry affordable for the mass market. Garnets, amethysts, corals, turquoise, and seed pearls were in style. Opals were increasingly popular as Queen Victoria adored them. Diamonds were discovered in South Africa in 1867 and became popular during the Victorian jewelry period. Human hair was also incorporated in jewelry during the Victorian period. This jewelry was given as a token of love and also worn as mourning jewelry.

Orders & More

Victorian Inspired Rose Gold Diamond Earrings

Diamonds trickle down the lobe in a pair of Victorian inspired earrings.

Item
EA-3506
$1929.00

Orders & More

Victorian Reproduction Cameo Earrings

Carved female Madonnas are backsplashed by coral-colored agate in these Victorian reproduction cameo earrings.

Item
EA-3464
$249.00

Orders & More

Victorian Swag and Floral Necklace

Delicate flowers and natural pearls create an enchanting garden design in this Victorian antique necklace.

Item
NK-3454
$2750.00

Orders & More

Victorian Antique Swallow Brooch

This Victorian antique brooch depicts a swallow soaring higher and higher towards the heavens.

Item
PN-3499
$2449.00

Orders & More

Antique Rose Gold and Diamond Earrings

Like a flower bud unfurling, these antique rose gold and diamond earrings are delicately dazzling.

Item
EA-3458
$599.00

Orders & More

Victorian Almandite Garnet Pendant

Pearls dance around an oval cabochon cut almondite garnet in this vintage pendant with tassels.

Item
PT-3044
$1429.00

Orders & More

Etruscan Revival Georgian Antique Brooch

Silken magnolia petals burst forth from their flaming foliage in this Etruscan Revival antique brooch.

Item
PN-3003
$599.00

Orders & More

Antique Sapphire and Diamond Bar Pin

Long and slender in design, this 18k yellow gold and platinum antique bar pin is simply spectacular.

Item
PN-2599
$2395.00

Orders & More

Victorian Ruby and Diamond Antique Pin

When a delicate finishing touch is what your outfit needs, this Victorian ruby and diamond antique bar pin will never disappoint.

Item
PN-1966
$649.00

Orders & More

Etruscan Revival Sapphire Antique Brooch

With its lovely wreath design, this Etruscan Revival antique pin is sure to draw attention.

Item
PN-1968
$595.00

Orders & More

Victorian Antique Crescent PIn

Fall over the moon in love with this Victorian crescent antique pin.

Item
PN-1878
$2240.00

Orders & More

Antique Victorian Onyx Mourning Brooch with Pearls

Cattails bursting with fluffy down give Victorian antique mourning brooches a pastoral flavor.

Item
PN-1379
$849.00

Orders & More

Victorian Antique Pin with Colorful Enameling

This Victorian antique pin's combination of French blue, dark blue, forest green, spring green, orange and pink enameling colorfully mesmerizes the eye.

Item
PN-1467
$385.00
---
---
ęCopyright 2001 - 2013
Topazery, LLC
Atlanta, GA, USA
&reg Topazery is a Registered Trademark
Cart

WELCOME!
Home
Join Newsletter
New Listings
How To Order
FAQs
Contact Us
Testimonials
Hassle Free Returns

JEWELRY STORES
All Rings
All Jewelry
Gifts Under $500

ENGAGEMENT RINGS
Thumbnails
Vintage Engagement Rings
Antique Engagement Rings
Antique Style Engagement Rings
Champagne Diamond Rings
Aquamarine Engagement Rings
Sapphire Engagement Rings
Filigree Engagement Rings

RINGS & MORE
Thumbnails
Antique Rings
Vintage Jewelry
Topazery Collection
Antique Style Rings
Sapphire Rings
Aquamarine Rings
Earrings
Necklaces
Brooches

WEDDING RINGS
Thumbnails
Antique Wedding Rings
Antique Style Wedding Rings

JEWELRY BY PERIOD
Thumbnails
Victorian Jewelry
Edwardian Jewelry
Art Deco Jewelry

EDUCATION
Gemstone History
Jewelry Periods
Antique Diamond Cuts
Evaluating Stones
Jewelry Library

INFORMATION
In the News
Privacy Policy
Legal Policy