About Ruby Engagement Rings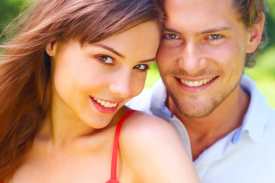 Thanks to their vibrant coloring, rubies always command attention! In Sanskrit, ruby means "King of the Gems" -- an appropriate name for a gemstone that always demands to be noticed. Mixed cut ovals, rounds, marquise and antique cushions are just some of the cuts you'll find represented among Topazery's ruby engagement ring array. Diamond accents add shimmering radiance while touches like lacy filigree work lend femininity to the finger.
Our Ruby Engagement Rings Collection
If you're searching for a new engagement ring with the look of a bygone era, then our antique style ruby engagement rings are perfect. If you prefer an antique, vintage, or estate ring with a bit of history, then our estate ruby engagement rings and antique ruby engagement rings will appeal to you. Victorian, Edwardian, Art Nouveau, Arts and Crafts, Art Deco, and Retro styles are represented in our ruby engagement ring collection. We also offer contemporary and modern ruby engagement ring classics. Delicate or bold, understated or stunning, simple or fancy.... at Topazery you'll find a spectacular ruby engagement ring to suit your personal style.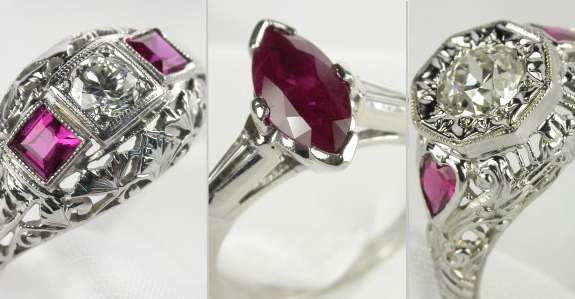 Orders & More

Ruby and Diamond Vintage Ring by Tiffany & Co.

Full cut diamonds play a game of flirty Ring around the Rosy in this vintage ring.

Item
RG-3532
$2499.00

Orders & More

Vintage Ruby Filigree Engagement Ring

In this vintage engagement ring, a ruby pushes its way through an 18k white gold lattice, as if it were summer's sole remaining rose.

Item
RG-3360
$1459.00

Orders & More

Heart Motif Ruby Engagement Ring

This heart motif antique style ruby engagement ring embodies the spirit of fire and ice.

Item
RG-3278
$2989.00

Orders & More

Marquise Cut Ruby Vintage Engagement Ring

Like fire and ice, this marquise cut ruby vintage engagement ring is dazzling.

Item
RG-2789
$3200.00

Orders & More

Ruby and Diamond Engagement Ring by Topazery

Like a meteor shower, this antique style ruby and diamond engagement ring stardusts the finger.

Item
RG-2482
$1599.00
---
---
©Copyright 2001 - 2013
Topazery, LLC
Atlanta, GA, USA
&reg Topazery is a Registered Trademark
Cart

WELCOME!
Home
Join Newsletter
New Listings
How To Order
FAQs
Contact Us
Testimonials
Hassle Free Returns

JEWELRY STORES
All Rings
All Jewelry
Gifts Under $500

ENGAGEMENT RINGS
Thumbnails
Vintage Engagement Rings
Antique Engagement Rings
Antique Style Engagement Rings
Diamond Engagement Rings
Champagne Diamond Rings
Aquamarine Engagement Rings
Sapphire Engagement Rings
Emerald Engagement Rings
Ruby Engagement Rings
Filigree Engagement Rings

RINGS & MORE
Thumbnails
Topazery Collection
Antique Rings
Antique Style Rings
Sapphire Rings
Emerald Rings
Ruby Rings
Aquamarine Rings
Pearl Rings
Filigree Rings
Cocktail Rings
Filigree Jewelry
Pearl Jewelry

WEDDING RINGS
Thumbnails
Antique Wedding Rings
Antique Style Wedding Rings
Gemstone Wedding Rings
Filigree Wedding Rings

JEWELRY BY PERIOD
Thumbnails
Victorian Jewelry
Art Nouveau Jewelry
Edwardian Jewelry
Art Deco Jewelry
Retro Jewelry

OTHER JEWELRY
Thumbnails
Bracelets
Crosses
Earrings
Necklaces
Pendants & Lockets
Pins & Brooches

RECENTLY SOLD
Recently Sold Jewelry

EDUCATION
Gemstone History
Jewelry Periods
Antique Diamond Cuts
Diamond Color Grades
Diamond Clarity Grades
Evaluating Gemstones
Jewelry Library

INFORMATION
About Us
In the News
Privacy Policy
Legal Policy