About Retro Jewelry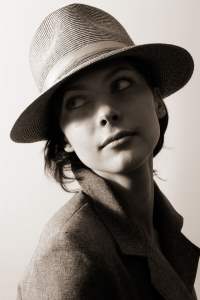 The Retro jewelry period spans the years between 1935 and 1950. This was war-time in Europe and America and women joined the work force to lend their support. Women's wardrobe fashion dictated a severe silhouette with tight fitting jackets and skirts so jewelry designs were the exact opposite with feminine motifs and soft curves.
Retro Jewelry Designs
Jewelry during the Retro Jewelry Period became bolder, brighter and more whimsical. Gold regained popularity during the Retro period as platinum was being used for the war effort and was not available to jewelry craftsman. It was during the Retro jewelry period that different colors of gold became popular -- yellow gold was combined with rose gold and green gold in striking combinations. In Retro jewelry, everything was bigger and bolder. Gemstones like aquamarines and citrines were fashioned in rectangular cuts and massive proportions. Hollywood glamor and glitz favored anything that was big, bold, colorful, and exciting. Cocktails rings were all the rage along with oversized bracelets, watches and rings. Colored gemstones were favorites along with synthetic rubies and sapphires.

Orders & More

Retro Ruby Wedding Band

Five rubies burst out of this Retro wedding band like shooting stars.

Item
RG-3449
$889.00

Orders & More

Retro Vintage Ring

Bold and sassy sums up the spirit of this Retro vintage engagement ring.

Item
RG-3154
$989.00

Orders & More

Classic Vintage Aquamarine Ring

This bold and classic vintage aquamarine cocktail ring demands to be noticed.

Item
RG-2785
$5600.00

Orders & More

1960s Starburst Ruby and Diamond Brooch

The festive shimmer of fireworks exploding midair is captured in this starburst ruby and diamond brooch.

Item
PN-2645
$599.00

Orders & More

Retro Modern Ruby Ring in Rose Gold

The iridescent curved appeal of a beachside conch shell comes to mind with this Retro Modern ruby ring in rose gold.

Item
RG-2281
$1129.00
---
---
ęCopyright 2001 - 2013
Topazery, LLC
Atlanta, GA, USA
&reg Topazery is a Registered Trademark
Cart

WELCOME!
Home
Join Newsletter
New Listings
How To Order
FAQs
Contact Us
Testimonials
Hassle Free Returns

JEWELRY STORES
All Rings
All Jewelry
Gifts Under $500

ENGAGEMENT RINGS
Thumbnails
Vintage Engagement Rings
Antique Engagement Rings
Antique Style Engagement Rings
Diamond Engagement Rings
Champagne Diamond Rings
Aquamarine Engagement Rings
Sapphire Engagement Rings
Emerald Engagement Rings
Ruby Engagement Rings
Filigree Engagement Rings

RINGS & MORE
Thumbnails
Topazery Collection
Antique Rings
Antique Style Rings
Sapphire Rings
Emerald Rings
Ruby Rings
Aquamarine Rings
Pearl Rings
Filigree Rings
Cocktail Rings
Filigree Jewelry
Pearl Jewelry

WEDDING RINGS
Thumbnails
Antique Wedding Rings
Antique Style Wedding Rings
Gemstone Wedding Rings
Filigree Wedding Rings

JEWELRY BY PERIOD
Thumbnails
Victorian Jewelry
Art Nouveau Jewelry
Edwardian Jewelry
Art Deco Jewelry
Retro Jewelry

OTHER JEWELRY
Thumbnails
Bracelets
Crosses
Earrings
Necklaces
Pendants & Lockets
Pins & Brooches

RECENTLY SOLD
Recently Sold Jewelry

EDUCATION
Gemstone History
Jewelry Periods
Antique Diamond Cuts
Diamond Color Grades
Diamond Clarity Grades
Evaluating Gemstones
Jewelry Library

INFORMATION
About Us
In the News
Privacy Policy
Legal Policy