About Emerald Engagement Rings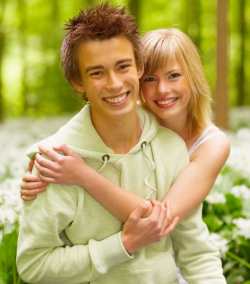 The soft green color of emerald is a popular choice for a gemstone engagement ring. At Topazery, you'll find an elegant and romantic selection of emerald engagement rings. Our emerald engagement ring collection includes emeralds accented with diamonds and other gemstones set in spectacular mountings as well as solitaire emeralds that are dazzling alone. Whether your precious metal preference is platinum, yellow gold, or white gold, Topazery offers a variety of choices for a special emerald engagement ring. As you browse our emerald engagement rings, you'll understand why emeralds have exited the imagination for centuries.
Our Emerald Engagement Rings Collection
If you're searching for a new engagement ring with the look of a bygone era, then our antique style emerald engagement rings are perfect. If you prefer an antique, vintage, or estate ring with a bit of history, then our estate emerald engagement rings and antique emerald engagement rings will appeal to you. Victorian, Edwardian, Art Nouveau, Arts and Crafts, Art Deco, and Retro styles are represented in our emerald engagement ring collection. We also offer contemporary and modern emerald engagement ring classics. Delicate or bold, understated or stunning, simple or fancy.... at Topazery you'll find a spectacular emerald engagement ring to suit your personal style.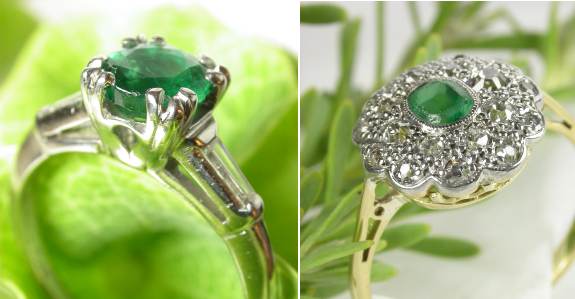 Orders & More

Antique Emerald Ring with Scalloped Design

Full cut diamonds encircle a trio of emeralds in this antique ring.

Item
RG-3514
$2779.00

Orders & More

Art Deco Antique Engagement Ring

Antique rings like this one are made for romantic proposals in faraway places.

Item
RG-3414
$10200.00

Orders & More

Emerald and Baguette Cut Diamond Engagement Ring

This dramatic emerald and diamond engagement ring is draped in festive streamers.

Item
RG-1739d
$2339.00

Orders & More

Filigree Antique Style Engagement Ring

A magnificent mounting of filigree surrounds a green emerald in this antique style engagement ring.

Item
RG-3175b
$3449.00
---
---
ęCopyright 2001 - 2013
Topazery, LLC
Atlanta, GA, USA
&reg Topazery is a Registered Trademark
Cart

WELCOME!
Home
Join Newsletter
New Listings
How To Order
FAQs
Contact Us
Testimonials
Hassle Free Returns

JEWELRY STORES
All Rings
All Jewelry
Gifts Under $500

ENGAGEMENT RINGS
Thumbnails
Vintage Engagement Rings
Antique Engagement Rings
Antique Style Engagement Rings
Diamond Engagement Rings
Champagne Diamond Rings
Aquamarine Engagement Rings
Sapphire Engagement Rings
Emerald Engagement Rings
Ruby Engagement Rings
Filigree Engagement Rings

RINGS & MORE
Thumbnails
Topazery Collection
Antique Rings
Antique Style Rings
Sapphire Rings
Emerald Rings
Ruby Rings
Aquamarine Rings
Pearl Rings
Filigree Rings
Cocktail Rings
Filigree Jewelry
Pearl Jewelry

WEDDING RINGS
Thumbnails
Antique Wedding Rings
Antique Style Wedding Rings
Gemstone Wedding Rings
Filigree Wedding Rings

JEWELRY BY PERIOD
Thumbnails
Victorian Jewelry
Art Nouveau Jewelry
Edwardian Jewelry
Art Deco Jewelry
Retro Jewelry

OTHER JEWELRY
Thumbnails
Bracelets
Crosses
Earrings
Necklaces
Pendants & Lockets
Pins & Brooches

RECENTLY SOLD
Recently Sold Jewelry

EDUCATION
Gemstone History
Jewelry Periods
Antique Diamond Cuts
Diamond Color Grades
Diamond Clarity Grades
Evaluating Gemstones
Jewelry Library

INFORMATION
About Us
In the News
Privacy Policy
Legal Policy