About Antique Diamond Engagement Rings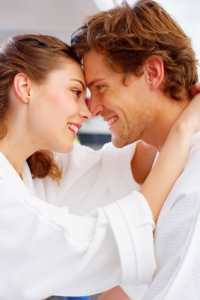 You've met the woman of your dreams and you're ready to start a new life together with her. She's classy and elegant. Her tastes are exquisite and discriminating. You're just a little bit nervous about surprising her with the perfect diamond engagement ring. There's no need to worry because you've come to the right place. A Topazery diamond engagement ring will win her heart! Our diamond engagement rings are never ordinary. They have been carefully chosen for beauty, quality and craftsmanship. You'll love our one-of-a-kind diamond engagement rings which we've searched the world to find.
Our Antique Diamond Engagement Rings Collection
Perhaps you'll choose a diamond engagement ring with an classic antique motif or a delicate filigree design. Or, if you prefer an antique ring with a bit of history, a period piece is an appropriate choice. Period rings from the Victorian, Edwardian, Art Nouveau, Art Deco, and Retro jewelry eras are all represented in our antique diamond engagement rings collection.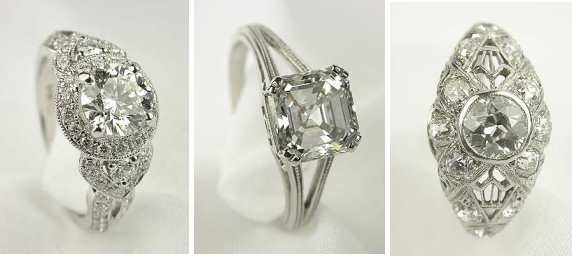 When you browse Topazery's hand-picked selection of antique diamond engagement rings, you'll find such exciting details as baguettes, filigrees, bypasses and solitaires in traditional, non-traditional, and classic designs. We also carry unusual wedding sets and bridal sets for perfectly matched diamond engagement ring and diamond wedding band pairs. Whether she loves petite and simple or bold and fancy, you'll find a unique antique diamond engagement ring to suit her personal style.

Orders & More

Antique Style Filigree and Diamond Engagement Ring

Antique style diamond engagement rings like this one are a symbol of your endless love for each other.

Item
RG-3121i
$6429.00

Orders & More

Antique Style Edwardian Diamond Engagement Ring

With an intriquing ambiance, this antique style Edwardian filigree diamond engagement ring is as romantic as a full moon rising over Paris's Eiffel Tower.

Item
RG-3345d
$3695.00

Orders & More

Edwardian Style Rose Cut Diamond Engagement Ring

Engagements should be announced with romantic diamond rings like this one.

Item
RG-2956g
$2189.00

Orders & More

Vintage Filigree Engagement Ring

A trellis design filigree mounting in 14k white gold teams up with a round brilliant cut diamond in this vintage engagement ring. Curlicues accent the shoulders of this sophisticated filigree vintage ring. Circa 1930.

Item
RG-3489
SOLD

Orders & More

Art Deco Antique Engagement Ring

Rising majestically upwards, a pierced and engraved Art Deco antique ring holds a bead set diamond in a hexagonal top plate.

Item
RG-3490
$449.00

Orders & More

Dramatic Diamond Engagement Ring

This dramatic diamond engagement ring will always remind her of the exciting moment when she whispered "Yes!"

Item
RG-1739f
$2895.00

Orders & More

Champagne Diamond Engagement Ring

Infinity symbols dance and flirt with diamonds in this filigree and champagne diamond antique style engagement ring.

Item
RG-2814aq
$2159.00

Orders & More

Antique Filigree Diamond Engagement Ring

A domed topsetting culminates in a hexagonal set old mine cut diamond in this antique filigree engagement ring.

Item
RG-3487
$799.00

Orders & More

Antique Filigree Engagement Ring

This antique diamond engagement ring has a pierced filigree design that wraps the underbezel in leaves and vines.

Item
RG-3374
$4999.00

Orders & More

Art Deco Antique Engagement Ring

Curlicues and beads wrap the bezel and shoulders of romantic Art Deco antique diamond engagement rings like this one.

Item
RG-3431
$2150.00

Orders & More

Vintage Engagement Ring with Illusion Setting

An illusion setting lends prominence to the diamonds in this vintage engagement ring.

Item
RG-3461
$1069.00

Orders & More

1920's Antique Diamond Engagement Ring

This 1920's antique engagement ring is set in an architecturally stunning pierced filigree mounting in a curling sprig design.

Item
RG-3428
$6775.00

Orders & More

1920s Antique Diamond Engagement Ring

Charming old world details come together to make this pierced and engraved antique engagement ring a visually spectacular one.

Item
RG-3429
$6559.00

Orders & More

Vintage Diamond Engagement Ring

The two-tone design of this vintage engagement ring shows off its diamond to perfection.

Item
RG-3451
$255.00

Orders & More

Art Deco Antique Engagement Ring

This Art Deco antique engagement ring's pierced mounting is a genuine attention grabber. It showcases a flirty Art Deco combination of leaves and swirls.

Item
RG-3468
$549.00

Orders & More

Filigree and Diamond Engagement Ring

Basketweave piercing, open-weave hearts and feathery fronds highlight the 18k white gold band of this antique engagement ring.

Item
RG-3393
$819.00

Orders & More

Edwardian Antique Filigree Engagement Ring

An elaborate platinum filigree mounting holds an old European cut diamond in this late Edwardian antique ring.

Item
RG-3413
$6999.00

Orders & More

Art Deco Antique Engagement Ring

Antique rings like this one are made for romantic proposals in faraway places.

Item
RG-3414
$10200.00

Orders & More

Old European Cut Diamond Antique Edwardian Ring

Delicate flowers and sweeping curls and loops soften this Edwardian ring's edges.

Item
RG-3421
$1199.00

Orders & More

Pierced Filigree Engagement Ring

A fancy brown champagne diamond is set in a pierced and engraved filigree mounting in this antique style ring.

Item
RG-1747u
$2895.00

Orders & More

Filigree Engagement Ring with Fancy Diamond

A champagne diamond provides the razzle dazzle for this antique style filigree engagement ring.

Item
RG-2802s
$3339.00

Orders & More

Vintage Platinum and Diamond Filigree Engagement Ring

This vintage 1930's diamond engagement ring in platinum features a double 4 prong setting with a pierced and scroll design.

Item
RG-3412
$4800.00

Orders & More

1920s Antique Diamond Filigree Engagement Ring

Intriguing cutwork and a two-tone mounting set this 1920s antique diamond filigree engagement ring apart.

Item
RG-3379
$1339.00

Orders & More

1930s Vintage Engagement Ring with Scroll Design

This vintage engagement ring with scroll design boasts an attention-getting domed top.

Item
RG-3380
$699.00

Orders & More

Floral and Filigree Antique Engagement Ring

Lovely apple blossoms dapple the sides of this floral and filigree antique engagement ring.

Item
RG-3391
$1729.00
---
---
ęCopyright 2001 - 2013
Topazery, LLC
Atlanta, GA, USA
&reg Topazery is a Registered Trademark
Cart

WELCOME!
Home
Join Newsletter
New Listings
How To Order
FAQs
Contact Us
Testimonials
Hassle Free Returns

JEWELRY STORES
All Rings
All Jewelry
Gifts Under $500

ENGAGEMENT RINGS
Thumbnails
Vintage Engagement Rings
Antique Engagement Rings
Antique Style Engagement Rings
Diamond Engagement Rings
Champagne Diamond Rings
Aquamarine Engagement Rings
Sapphire Engagement Rings
Emerald Engagement Rings
Ruby Engagement Rings
Filigree Engagement Rings

RINGS & MORE
Thumbnails
Topazery Collection
Antique Rings
Antique Style Rings
Sapphire Rings
Emerald Rings
Ruby Rings
Aquamarine Rings
Pearl Rings
Filigree Rings
Cocktail Rings
Filigree Jewelry
Pearl Jewelry

WEDDING RINGS
Thumbnails
Antique Wedding Rings
Antique Style Wedding Rings
Gemstone Wedding Rings
Filigree Wedding Rings

JEWELRY BY PERIOD
Thumbnails
Victorian Jewelry
Art Nouveau Jewelry
Edwardian Jewelry
Art Deco Jewelry
Retro Jewelry

OTHER JEWELRY
Thumbnails
Bracelets
Crosses
Earrings
Necklaces
Pendants & Lockets
Pins & Brooches

RECENTLY SOLD
Recently Sold Jewelry

EDUCATION
Gemstone History
Jewelry Periods
Antique Diamond Cuts
Diamond Color Grades
Diamond Clarity Grades
Evaluating Gemstones
Jewelry Library

INFORMATION
About Us
In the News
Privacy Policy
Legal Policy