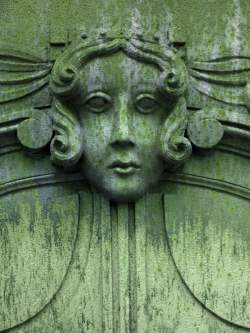 About Art Nouveau Jewelry
The Art Nouveau jewelry period began circa 1890 and ended around 1919. This period represents the turn of the century and the coming of the "modern age".
Art Nouveau Jewelry Designs
In Art Nouveau jewelry, the feminine form was highly celebrated, as were soft curves, sinuous lines, and pale colors. The representation of the female head with long flowing hair is prevalent during the Art Nouveau period. Nature motifs also remained strong. Butterflies, dragonflies, snakes, poppies, orchids, irises and water lilies prevailed in jewelry design. Jewelry which was created during the Art Nouveau period embodied art for the sake of art, as well as a dramatic trend in fashion. Free flowing asymmetrical lines were important and emphasized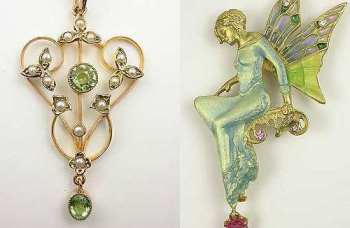 the designers innovative skills. Because materials were not as important as design and craftsmanship, a number of varied gemstones were popular. Amber, opals, moonstones, citrines, and peridots were used along with other interesting materials like horn, copper, tortoise-shell, ivory, carved glass, shells, pearls, and gemstones cut in cabachon.

Orders & More

Art Nouveau Antique Flower Brooch

This antique Art Nouveau pin was made by Hedges and Company of Newark, N.J.

Item
PN-3456
$789.00
---
---
ęCopyright 2001 - 2013
Topazery, LLC
Atlanta, GA, USA
&reg Topazery is a Registered Trademark
Cart

WELCOME!
Home
Join Newsletter
New Listings
How To Order
FAQs
Contact Us
Testimonials
Hassle Free Returns

JEWELRY STORES
All Rings
All Jewelry
Gifts Under $500

ENGAGEMENT RINGS
Thumbnails
Vintage Engagement Rings
Antique Engagement Rings
Antique Style Engagement Rings
Diamond Engagement Rings
Champagne Diamond Rings
Aquamarine Engagement Rings
Sapphire Engagement Rings
Emerald Engagement Rings
Ruby Engagement Rings
Filigree Engagement Rings

RINGS & MORE
Thumbnails
Topazery Collection
Vintage Jewelry
Antique Rings
Antique Style Rings
Sapphire Rings
Emerald Rings
Ruby Rings
Aquamarine Rings
Pearl Rings
Filigree Rings
Cocktail Rings
Filigree Jewelry
Pearl Jewelry

WEDDING RINGS
Thumbnails
Antique Wedding Rings
Antique Style Wedding Rings
Gemstone Wedding Rings
Filigree Wedding Rings

JEWELRY BY PERIOD
Thumbnails
Victorian Jewelry
Art Nouveau Jewelry
Edwardian Jewelry
Art Deco Jewelry
Retro Jewelry

OTHER JEWELRY
Thumbnails
Bracelets
Crosses
Earrings
Necklaces
Pendants & Lockets
Pins & Brooches

RECENTLY SOLD
Recently Sold Jewelry

EDUCATION
Gemstone History
Jewelry Periods
Antique Diamond Cuts
Evaluating Stones
Jewelry Library

INFORMATION
In the News
Privacy Policy
Legal Policy