Art Deco Jewelry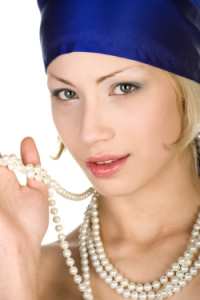 The Art Deco jewelry period, which began in 1920 and ended around 1935, produced dazzling jewelry which was in sharp contrast to the jewelry of the previous periods.
About Art Deco Jewelry
With Art Deco jewelry, the emphasis shifted from soft colors and flowing lines to bold, bright colors and straight lines. Pearls and long earrings were popular, along with diamond watches, beads, and cocktail rings. Women cut their long locks and began wearing their hair short and boyish during the Art Deco jewelry period. This was the era of Jazz and flappers and Art Deco jewelry complimented the flamboyant and playful attitude of the day. Egyptian influences were strong and motifs like the falcon, sphinx and falcon were popular. New geometric cuts for gems went hand-in-hand with the symmetry and streamlined look of Art Deco designs. Emeralds, sapphires and rubies became the gems of choice in Art Deco rings and other jewelry pieces. Synthetic gemstones were popular and were often used instead of the more expensive natural gems.

Orders & More

Art Deco Antique Emerald and Diamond Brooch

A cushion cut emerald is surrounded by old European cut diamonds in this timeless antique Art Deco brooch.

Item
PN-3094
$1375.00

Orders & More

Art Deco Filigree Sapphire Bracelet

The airy daintiness of Queen Anne's Lace encircles the wrist in this Art Deco antique bracelet.

Item
BR-2033
$889.00

Orders & More

Art Deco Pearl Drop Antique Earrings

Pearls appear suspended in platinum and diamond horsehoes that drop from streams of diamonds.

Item
EA-862
$2129.00

Orders & More

Art Deco Onyx Antique Earrings

The teardrop black onyxes that drip from these Art Deco earrings add dramatic impact.

Item
EA-829
$2599.00
---
---
ęCopyright 2001 - 2013
Topazery, LLC
Atlanta, GA, USA
&reg Topazery is a Registered Trademark
Cart

WELCOME!
Home
Join Newsletter
New Listings
How To Order
FAQs
Contact Us
Testimonials
Hassle Free Returns

JEWELRY STORES
All Rings
All Jewelry
Gifts Under $500

ENGAGEMENT RINGS
Thumbnails
Vintage Engagement Rings
Antique Engagement Rings
Antique Style Engagement Rings
Champagne Diamond Rings
Aquamarine Engagement Rings
Sapphire Engagement Rings

RINGS & MORE
Thumbnails
Antique Rings
Vintage Jewelry
Topazery Collection
Antique Style Rings
Sapphire Rings
Aquamarine Rings
Filigree Rings
Earrings
Necklaces
Brooches

WEDDING RINGS
Thumbnails
Antique Wedding Rings
Antique Style Wedding Rings

JEWELRY BY PERIOD
Thumbnails
Victorian Jewelry
Edwardian Jewelry
Art Deco Jewelry

EDUCATION
Gemstone History
Jewelry Periods
Antique Diamond Cuts
Evaluating Stones
Jewelry Library

INFORMATION
In the News
Privacy Policy
Legal Policy