Art Deco Jewelry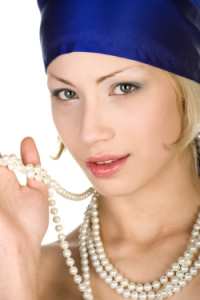 The Art Deco jewelry period, which began in 1920 and ended around 1935, produced dazzling jewelry which was in sharp contrast to the jewelry of the previous periods. With Art Deco jewelry, the emphasis shifted from soft colors and flowing lines to bold, bright colors and straight lines. Pearls and long earrings were popular, along with diamond watches, beads, and cocktail rings. Women cut their long locks and began wearing their hair short and boyish during the Art Deco jewelry period. This was the era of Jazz and flappers and Art Deco jewelry complimented the flamboyant and playful attitude of the day. Egyptian influences were strong and motifs like the falcon, sphinx and falcon were popular. New geometric cuts for gems went hand-in-hand with the symmetry and streamlined look of Art Deco designs. Emeralds, sapphires and rubies became the gems of choice in Art Deco rings and other jewelry pieces. Synthetic gemstones were popular and were often used instead of the more expensive natural gems.
Read more >>
Art Deco Antique Emerald and Diamond Brooch
A cushion cut emerald is surrounded by old European cut diamonds in this timeless antique Art Deco jewelry brooch.
Item
PN-3094
$1375.00
Asscher Cut Diamond Antique Engagement Ring
The Art Deco influence is evident in this engagement ring. The elegantly simple geometric design showcases the solitaire Asscher diamond to perfection.
Item
RG-1081
SOLD
Art Deco Filigree Sapphire Bracelet
The airy daintiness of Queen Anne's Lace encircles the wrist in this Art Deco jewelry antique bracelet.
Item
BR-2033
$889.00
Antique Art Deco Filigree Brooch
This antique Art Deco jewelry brooch will remind you of those romantic, lacy tablecloths that adorned Grandmother's dinner table.
Item
PN-2429
$1449.00
Art Deco Jewelry (continued from above)
The Great Gatsby Making 1920s Jewelry and Accessories All the Rage All Over Again
Can't get enough of The Great Gatsby's Roaring Twenties glitz and glamour? You're in luck. The blockbuster film starring Leonardo DiCaprio is profoundly influencing what's hot in jewelry and fashion.
The 1920s might seem like ancient history, but when it comes to current trends, what was the height of fashion nearly a century ago is suddenly in style all over again. The latest Hollywood incarnation of F. Scott Fitzgerald's classic novel The Great Gatsby has turned the fashionable hands of time back to yesteryear. And the clock has stopped smack dab in the era when glitz, glamour and excess reigned supreme. The mania over that movie is good news for jewelry lovers who can't get enough of the Roaring Twenties. Inspired by that cultural fixation, retailers are responding to demand by launching "collections to help consumers to live it up West Egg style," CNBC recently reported. Two such lines, in fact, are a direct result of collaboration with the film's costume designer. As a result, the latest retail offerings from "high-end jewelry designer Tiffany and [menswear brand] Brooks Brothers" are exact Jazz Age replicas of the items the film's actresses and actors are outfitted in.
Indeed, shoppers strolling through today's trendiest boutiques might wonder if they've been taken on a time machine joyride. The prominent showcasing of such items as regatta blazers, loafers and cufflinks raided from Jay Gatsby's closet to Art Deco tasseled pendant necklaces and bejeweled diamond-and-pearl headpieces from Daisy Buchanan's jewelry wardrobe will magically transport them ninety years into the past.
Of course, anyone can own a 1920s-inspired article of clothing or piece of jewelry, but historical purists aren't going to settle for replicas. In interpreting the Roaring Twenties trend, they're going to want to get their hands on the real deal. Antique jewelry boutiques and vintage clothing stores can provide them with the genuine Art Deco items they're craving.