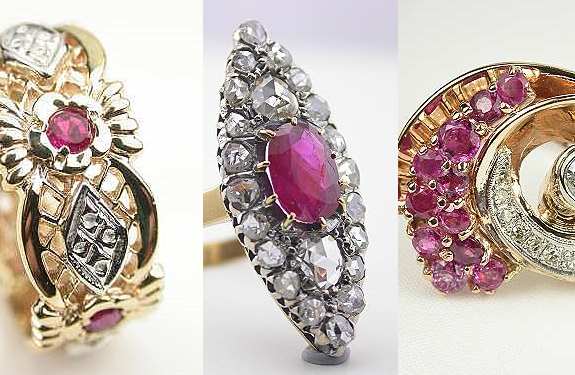 Our Antique Ruby Rings
In this ruby rings gallery, you'll find a firey selection of antique, vintage, estate, and antique style ruby rings. Our selection is ever changing and includes ruby engagement rings, eternity bands, wedding and cocktail rings. We especially love to find unusual filigree rings with rubies, diamonds and other exciting details. We offer one of the most unusual selections of antique ruby rings on the web. Our ruby rings collection spans the years from the 1800s to the present and includes the Victorian, Edwardian, Art Deco, Retro, and Art Nouveau jewelry periods. We hope you'll stop by often to see what's new and to share in the beauty and passion of antique ruby rings!
About Ruby rings
Ruby... when you say the word you can visualize the colorful emotional images which this gemstone invokes: fiery hearts, passion, romance, blood, and power. It's no wonder that people from all walks of life -- from kings to paupers -- have coveted antique ruby rings.
Ruby's coveted red color ranges from medium red to dark orangey red to purplish red. The reddest rubies most likely convinced ancient peoples of ruby's medicinal powers. Thirteenth century medical literature from India tells us that a ruby could cure digestive disorders. Warriors in Burma put rubies under their skin to protect them in battle. Other ancient cultures felt that rubies brought peace and prosperity. If you wore an antique ruby ring it would bring health, wealth, wisdom, and love. Some even believed that if you wore an antique ruby ring or ruby brooch on the left side that you would have a magical ability to live among your enemies in peace.

Orders & More

Ruby and Diamond Wedding Ring

Rubies and diamonds dance around her finger like a ribbon in this delightful wedding ring. It features a contemporary "pinched" design mounting in 18k white gold. This antique style wedding ring is new.

Item
RG-3579
$1449.00

Orders & More

Vintage Ruby Filigree Engagement Ring

In this vintage engagement ring, a ruby pushes its way through an 18k white gold lattice, as if it were summer's sole remaining rose.

Item
RG-3360
$1459.00

Orders & More

Retro Ruby Wedding Band

Five rubies burst out of this Retro wedding band like shooting stars.

Item
RG-3449
$889.00

Orders & More

Victorian Ruby and Diamond Cocktail Ring

A trio of round rubies in this Victorian antique ring threads down the center of a marquise shaped diamond display adding a brilliant stream of color.

Item
RG-3450
$899.00

Orders & More

Heart Motif Ruby Engagement Ring

This heart motif antique style ruby engagement ring embodies the spirit of fire and ice.

Item
RG-3278
$2989.00

Orders & More

Marquise Cut Ruby Vintage Engagement Ring

Like fire and ice, this marquise cut ruby vintage engagement ring is dazzling.

Item
RG-2789
$3200.00

Orders & More

Victorian Antique Ruby Ring from France

Bearing a French hallmark, the band of this Victorian ruby dinner ring is made of 18k yellow gold.

Item
RG-3038
$2559.00

Orders & More

Square Cut Ruby Eternity Band

Like a garland of roses, this square cut ruby eternity band encircles the finger in brilliant color.

Item
RG-3061
$685.00

Orders & More

Ruby and Diamond Engagement Ring by Topazery

Like a meteor shower, this antique style ruby and diamond engagement ring stardusts the finger.

Item
RG-2482
$1599.00

Orders & More

Retro Modern Ruby Ring in Rose Gold

The iridescent curved appeal of a beachside conch shell comes to mind with this Retro Modern ruby ring in rose gold.

Item
RG-2281
$1129.00
---
---
ęCopyright 2001 - 2013
Topazery, LLC
Atlanta, GA, USA
&reg Topazery is a Registered Trademark
Cart

WELCOME!
Home
Join Newsletter
New Listings
How To Order
FAQs
Contact Us
Testimonials
Hassle Free Returns

JEWELRY STORES
All Rings
All Jewelry
Gifts Under $500

ENGAGEMENT RINGS
Thumbnails
Vintage Engagement Rings
Antique Engagement Rings
Antique Style Engagement Rings
Diamond Engagement Rings
Champagne Diamond Rings
Aquamarine Engagement Rings
Sapphire Engagement Rings
Emerald Engagement Rings
Ruby Engagement Rings
Filigree Engagement Rings

RINGS & MORE
Thumbnails
Topazery Collection
Antique Rings
Antique Style Rings
Sapphire Rings
Emerald Rings
Ruby Rings
Aquamarine Rings
Pearl Rings
Filigree Rings
Cocktail Rings
Filigree Jewelry
Pearl Jewelry

WEDDING RINGS
Thumbnails
Antique Wedding Rings
Antique Style Wedding Rings
Gemstone Wedding Rings
Filigree Wedding Rings

JEWELRY BY PERIOD
Thumbnails
Victorian Jewelry
Art Nouveau Jewelry
Edwardian Jewelry
Art Deco Jewelry
Retro Jewelry

OTHER JEWELRY
Thumbnails
Bracelets
Crosses
Earrings
Necklaces
Pendants & Lockets
Pins & Brooches

RECENTLY SOLD
Recently Sold Jewelry

EDUCATION
Gemstone History
Jewelry Periods
Antique Diamond Cuts
Diamond Color Grades
Diamond Clarity Grades
Evaluating Gemstones
Jewelry Library

INFORMATION
About Us
In the News
Privacy Policy
Legal Policy