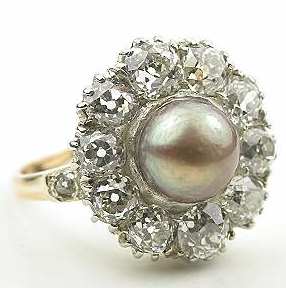 About Pearl Rings
Topazery's collection of pearl rings, with their creamy satin texture and their elegant, natural beauty, evoke the innocence and simplicity of days gone by. The ancient Greeks and Romans believed that pearls were conceived inside of oysters after a drop of rain or dew penetrated oyster's shell. These cultures also believed that pearls would promote marital bliss and prevent newlywed women from crying. What better way to ensure a lifetime of happiness than with a pearl ring from Topazery's stunning collection?! You'll find antique pearl rings, estate and vintage pearl rings and antique style pearl rings in this gallery.
Pearl Engagement Rings
The official birthstone of June, a pearl engagement ring is perfect for a spring or summertime bride. Known as the "stone of sincerity," pearls are thought to promote faith, charity, innocence, integrity, truth and loyalty. What better way to show your faithfulness and devotion for all eternity than to ask for her hand in marriage with a Topazery pearl engagement ring?! Pearl engagement rings show her that she's that very special woman with whom you've chosen to spend the rest of your life.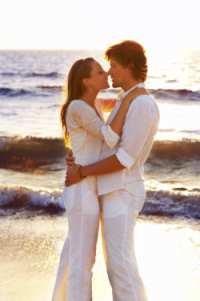 Our Antique Pearl Rings Collection
When you browse our collection of antique pearl rings, estate and vintage pearl rings and antique style pearl rings, you'll find accent gemstones which complement and enhance the pearls. Diamonds, of course, are also represented. In their glimmering radiance, diamonds lend a touch of sparkle to any pearl ring. The pearls which adorn our rings range in colors from milky white to creamy off-white to pale yellow and rose. You'll find pearl ring settings in your choice of metals -- platinum, yellow gold or white gold are all available. Symbols of purity, faith, sincerity, truth and loyalty, pearl rings have been used to solidify engagements and love relationships. An antique pearl ring from our fine selection will make a unique engagement or promise ring beautiful enough to please any princess.

Orders & More

Pearl and Diamond Ring

In this vintage ring, a cultured natural pearl embraces an old style full cut diamond in a recreation of Rodin's romantic sculpture "The Kiss."

Item
RG-3518
$899.00

Orders & More

Vintage Pearl Engagement Ring

May your marriage be as harmonious as this classic 1950s vintage pearl engagement ring.

Item
RG-2230
$1489.00
---
---
ęCopyright 2001 - 2013
Topazery, LLC
Atlanta, GA, USA
&reg Topazery is a Registered Trademark
Cart

WELCOME!
Home
Join Newsletter
New Listings
How To Order
FAQs
Contact Us
Testimonials
Hassle Free Returns

JEWELRY STORES
All Rings
All Jewelry
Gifts Under $500

ENGAGEMENT RINGS
Thumbnails
Vintage Engagement Rings
Antique Engagement Rings
Antique Style Engagement Rings
Diamond Engagement Rings
Champagne Diamond Rings
Aquamarine Engagement Rings
Sapphire Engagement Rings
Emerald Engagement Rings
Ruby Engagement Rings
Filigree Engagement Rings

RINGS & MORE
Thumbnails
Topazery Collection
Antique Rings
Antique Style Rings
Sapphire Rings
Emerald Rings
Ruby Rings
Aquamarine Rings
Pearl Rings
Filigree Rings
Cocktail Rings
Filigree Jewelry
Pearl Jewelry

WEDDING RINGS
Thumbnails
Antique Wedding Rings
Antique Style Wedding Rings
Gemstone Wedding Rings
Filigree Wedding Rings

JEWELRY BY PERIOD
Thumbnails
Victorian Jewelry
Art Nouveau Jewelry
Edwardian Jewelry
Art Deco Jewelry
Retro Jewelry

OTHER JEWELRY
Thumbnails
Bracelets
Crosses
Earrings
Necklaces
Pendants & Lockets
Pins & Brooches

RECENTLY SOLD
Recently Sold Jewelry

EDUCATION
Gemstone History
Jewelry Periods
Antique Diamond Cuts
Diamond Color Grades
Diamond Clarity Grades
Evaluating Gemstones
Jewelry Library

INFORMATION
About Us
In the News
Privacy Policy
Legal Policy