About Antique Necklaces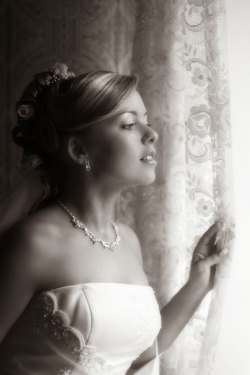 Necklaces date back to 3,000 B.C. in Egypt, where gold was fabricated into beautiful wide, heavy collars which were worn around the neck. The trend has continued for ages, with more delicate necklaces eventually replacing the heavy collars. In the Victorian era, women often wore their necklaces in multiples and necklaces were often enhanced with brooches. Popular necklace designs included rivieres, fringes, dog collars, sautoirs, lavalieres, chokers, and pendants. The Edwardian period translated platinum and diamonds into lacy necklaces while the Art Deco period favored geometric and boldly designed necklaces.
Our Antique Necklace Collection
Topazery's necklace collection contains antique necklaces representing every jewelry period and trend. We carry a stunning selection of necklaces enhanced with filigree, diamonds, pearls, sapphires, rubies, emeralds and other gemstones. Our antique and estate necklaces range in style from flashy and showy to delicate and feminine and everything in between. We carry the much sought-after antique Y-necklace. No matter her personal jewelry style, a Topazery necklace is sure to delight.

Orders & More

Antique Pearl Necklace with Diamond Clasp

The diamond-accented clasp in this antique pearl necklace is dainty and elegant.

Item
NK-3522
$2259.00

Orders & More

Arts and Crafts Antique Pendant Necklace

In this enchanting Arts and Crafts antique necklace, a green-gold-accented evening primrose flirts with pearls.

Item
NK-3502
$779.00

Orders & More

Victorian Swag and Floral Necklace

Delicate flowers and natural pearls create an enchanting garden design in this Victorian antique necklace.

Item
NK-3454
$2750.00

Orders & More

Filigree Antique Pendant Necklace

Pearls and diamonds flirt with filigree in this antique pendant necklace.

Item
NK-3455
$800.00

Orders & More

Filigree Pendant Necklace

Scarlett O'Hara might have adorned the gates of her beloved Tara with the same ornamental design that is found in this sterling silver filigree pendant.

Item
PT-3524
$149.00

Orders & More

1930s Filigree Antique Pendant

A trio of diamonds cascade down the neckline in this 1930s filigree antique pendant.

Item
NK-2881
$895.00

Orders & More

Antique Style Victorian Filigree Pendant

If Cupid's arrows were as romantic as this antique style Victorian filigree pendant, they'd never miss their mark.

Item
PT-2114
$799.00

Orders & More

Double Strand Antique Pearl and Diamond Necklace

A diamond-studded clasp lends an unexpected splash of radiance to this classic double strand antique pearl necklace with diamond clasp.

Item
NK-844
$3999.00
---
---
ęCopyright 2001 - 2013
Topazery, LLC
Atlanta, GA, USA
&reg Topazery is a Registered Trademark
Cart

WELCOME!
Home
Join Newsletter
New Listings
How To Order
FAQs
Contact Us
Testimonials
Hassle Free Returns

JEWELRY STORES
All Rings
All Jewelry
Gifts Under $500

ENGAGEMENT RINGS
Thumbnails
Vintage Engagement Rings
Antique Engagement Rings
Antique Style Engagement Rings
Diamond Engagement Rings
Champagne Diamond Rings
Aquamarine Engagement Rings
Sapphire Engagement Rings
Emerald Engagement Rings
Ruby Engagement Rings
Filigree Engagement Rings

RINGS & MORE
Thumbnails
Topazery Collection
Antique Rings
Antique Style Rings
Sapphire Rings
Emerald Rings
Ruby Rings
Aquamarine Rings
Pearl Rings
Filigree Rings
Cocktail Rings
Filigree Jewelry
Pearl Jewelry

WEDDING RINGS
Thumbnails
Antique Wedding Rings
Antique Style Wedding Rings
Gemstone Wedding Rings
Filigree Wedding Rings

JEWELRY BY PERIOD
Thumbnails
Victorian Jewelry
Art Nouveau Jewelry
Edwardian Jewelry
Art Deco Jewelry
Retro Jewelry

OTHER JEWELRY
Thumbnails
Bracelets
Crosses
Earrings
Necklaces
Pendants & Lockets
Pins & Brooches

RECENTLY SOLD
Recently Sold Jewelry

EDUCATION
Gemstone History
Jewelry Periods
Antique Diamond Cuts
Diamond Color Grades
Diamond Clarity Grades
Evaluating Gemstones
Jewelry Library

INFORMATION
About Us
In the News
Privacy Policy
Legal Policy