Antique and Vintage Jewelry Library p5

Antique Carved Wedding Ring
This antique carved wedding ring brings to mind Native American themes with its collection of feathery accents, long-stemmed bows and targeted bull's-eyes. The 18k white gold band of this antique wedding ring is rimmed with milgraining. Circa 1940. SOLD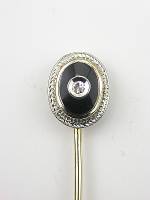 Black Onyx and Diamond Antique Stick Pin
A classic stick pin perks up a lapel or collar with black onyx and a single cut diamond. This 14k yellow gold stick pin culminates in an oval table cut onyx. This striking gemstone is centered with a single cut diamond. A rhodium-finished border that is carved in a wheat pattern encircles the onyx. Antique stick pins like this one give your tailored pieces a dramatic touch. Circa 1930s or later. SOLD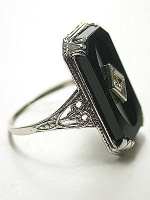 Antique Filigree and Onyx Dinner Ring
A delicate filigree mounting contrasts with the bold lines of black onyx in this antique cocktail ring. The slim 14k white gold band of this dramatic dinner ring has a heart and key design at the shoulders. The elongated mounting of this antique dinner ring holds an octagonal tablet cut black onyx in its scalloped prongs. This 3.0-carat gemstone is centerpieced with a diamond-studded lozenge. The round single cut diamond nestled inside weighs 0.01 carats. Circa 1920. SOLD

Antique Pearl Earrings with Spray Design
Add a splash of lily-of-the-valley loveliness to your ear lobes with these antique pearl and diamond earrings. The 14k white gold leaf elements of these antique pearl earrings are accentuated with sixteen round single cut diamonds for a total diamond weight of 0.30 carats. The spray motif blossoms of these antique earrings are fashioned of six cream white spherical pearls with a shimmering silver and rose tint. Circa 1950 or later. SOLD

Vintage Retro Pearl Engagement Ring
A silvery white pearl emerges from the 14k white gold band of this vintage Retro pearl engagement ring. A collection of ten round full cut diamonds surround the pearl like crystalline water. The combined weight of the diamonds in this vintage pearl ring is 0.50 carats. Circa 1950s or later. SOLD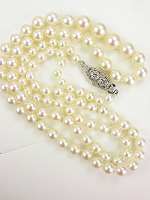 Antique Pearl Necklace with Filigree Diamond Clasp
A rhombus-shaped navette secures this antique pearl necklace. The elegant pierced filigree clasp is accentuated with a pair of diamonds that are bezel set at the center. A collection of 96 Akoya pearls encircle the neck in creamy luster. This antique pearl necklace brings to mind the timeless beauty of Audrey Hepburn.
Details: Vintage. Circa 1930. Trademark S. 18k white gold. Full cut diamonds; 0.14 carats. Round Akoya pearls. SOLD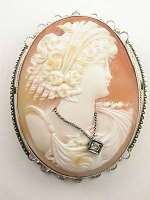 Large Antique Cameo Brooch and Pendant
This antique shell cameo features the right profile of a beautiful woman wearing a delicate dress which appears tied at the shoulders. She has long curly locks. She is wearing flowers in her hair and a diamond necklace. The cameo is encircled with an intricate twisted gold frame that is decorated with flowers, beads and milgraining. The brooch is in excellent condition and may be worn as a pendant or brooch. Cameos are believed to bring good fortune to the wearer! Circa 1910 SOLD
Art Deco Antique Engagement Ring
Triangular scissor cut blue sapphires lend a colorful and unexpected accent to this Art Deco engagement ring's transitional cut diamond. This diamond solitaire is octagonally set and is flanked top, bottom and sides with four round single cut diamonds. The platinum band's swirling wave and leafy frond accents complete the design.
Details: Platinum. Round transitional brilliant cut diamond; 0.65 carats. Round single cut diamond; 0.12 carats. Triangular scissor cut sapphire; 0.20 carats. Circa 1920s or later. SOLD