Antique Jewelry Library p3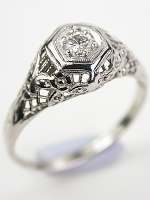 Vintage Floral and Filigree Engagement Ring
The birdcage design of this floral and filigree vintage engagement ring's shank gives a touch of classical whimsy to the finger. A round diamond soars out from the center of the domed mounting like a peaceful dove breaking free from its confines and taking flight. The diamond is hexagonally set and trimmed in millgrain.
Details: Vintage. Circa 1930. 14k white gold. Round brilliant cut diamonds; 0.13 carats. Ring Size 6.0 . SOLD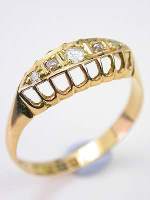 Victorian Antique Wedding Ring
Five old mine cut diamonds are suspended by a bridge of 18k rose gold in this Victorian antique wedding ring. The five diamonds total 0.10 carats and are separated by gold bars. This antique wedding ring is circa 1880. Ring size 6.75. SOLD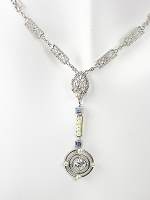 Edwardian Filigree Antique Necklace
Pearls and sapphires are delicately suspended from a lacey chain of filigree in this Edwardian antique necklace. Accented with ten cream colored pearls, this antique necklace's dream catcher pendant dips to a Y to draw attention to the decolletage. A pair of square faceted step cut blue sapphires adds an understated touch of color to this antique necklace. This light and airy Edwardian filigree necklace has a platinum pendant and 14k white gold figaro cable link chain with filigree panels. Circa 1910. SOLD

Edwardian Sapphire and Diamond Antique Bracelet
Add an elegant touch to your wrist with this dreamy Edwardian bracelet. The 14k yellow gold bangle is clad in platinum at the top. Here, the metallic elements come together in an hourglass design. A collection of 32 old European, old style single and rose cut diamonds add 0.69 carats of shimmer. In the center of this Edwardian bracelet is an oval faceted mixed cut blue sapphire that weighs 0.64 carats. Circa 1915 or later. SOLD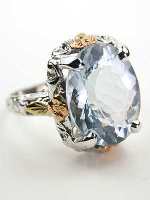 Antique Aquamarine Cocktail Ring
The oval aquamarine that highlights this vintage cocktail ring floats on the finger like a miniature sea. The band is accented with rose and green gold flowers and leaves which appear to hold the blue liquid afloat. Details: Antique. Circa 1925 to 1935. Trademark RB&R. 18k white gold. Oval aquamarine, 4.36 carats. Size 4.25 full. SOLD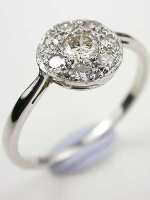 Vintage Diamond Engagement Ring
A galaxy of diamonds swirls around this vintage engagement ring. Seven stones spiral around the center diamond, sending non-stop radiance spinning around the finger. A polished platinum band provides a tonal backsplash for the celestrial inspired display. Details: Vintage. Circa 1950s or later. Platinum. Round brilliant and single cut diamonds, 0.39 carats. Size 7.5. SOLD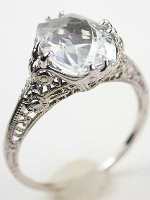 Vintage Filigree Aquamarine Engagment Ring
An aquamarine mesmerizes like a liquid pool in this vintage engagement ring. Barrel faceted mixed cut in shape, the aquamarine is set in an elaborate filigree mounting. A close look at the fancy filigree band reveals an explosion of flower blossoms, butterflies, curlicues and milgrain trim. Details: Antique. Circa 1930. 14k white gold. Aquamarine, 1.99 carats. Size 6.75. SOLD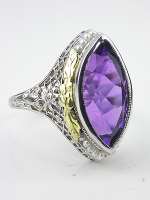 Amethyst Cocktail Ring with Floral and Leaf Motif
This bold and exuberant amethyst cocktail ring draws one's attention like a bright summer garden. The 14k white gold band is pierced in a floral and leaf motif. Green gold accents along the shoulders flirt with silver white pearls, which are strung on wire at each end of the mounting. Rising boldly above all of this detail is a 5.36 carat marquise shaped amethyst. Circa 1930. Size 8.5. SOLD
Antique Cocktail Ring with Romantic Bow Motif
Tie up her heart forever with this antique cocktail ring with a diamond bow motif. The focal point of this antique ring is a romantic pear cut pink tourmaline weighing 1.70 carats. Adding a whimsical touch is a bow-arranged collection of fifteen round single cut diamonds from which the tourmaline suspends. These diamond accents total 0.20 carats. An 18k yellow gold mounting with a white gold top provides the backdrop for this antique dinner ring. Circa 1920 or later. Size 5.0. SOLD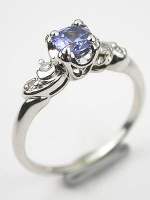 Blue Sapphire Engagement Ring
A round blue sapphire shines like a beacon in the stormy night against this engagement ring's 18k white gold "wave" design. Tucked amongst the swirling caps of these frolicsome waves are four round single cut diamonds that spill diagonally down the shoulders of the band. Details: 18k white gold. Single cut diamond; 0.08 carats; Sapphire; 0.42 carats. Circa 1950s or later. Ring size 6.5. SOLD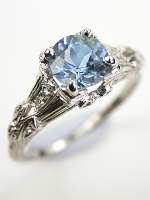 Platinum Aquamarine Antique Edwardian Ring
An alluring aquamarine steals the show -- and her heart -- in this platinum antique Edwardian ring. The slim band is etched in a chevron pattern around the back before transforming into fancy piercing at the shoulders. Old style diamonds add shimmer throughout the romantic setting.
Details: Antique, Edwardian. Circa 1925. Platinum. Old style single cut diamonds; 0.09 carats. Round cut aquamarine; 0.82 carats. Ring Size 6.75 . SOLD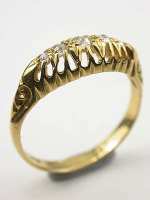 Late Victorian Diamond Wedding Ring
A delicate web of gold holds five old mine cut diamonds in this antique Victorian wedding ring. Hailing from the late Victorian era, this wedding ring is made of 18k yellow gold. Five old mine cut diamonds parade across the looping open-weave top. Ranging in color from H to I, these SI1-clarity diamonds total 0.10 carats. The shoulders of the antique band are carved with fleur de lis daggers. Circa 1900. Size 6.0. SOLD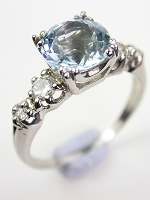 Vintage Platinum Aquamarine Engagement Ring
The aquamarine that highlights this vintage engagement ring shimmers like the sea. SOLD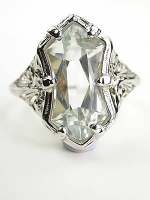 Vintage Pierced Filigree Cocktail Ring
Like a carnival fun-house mirror, this vintage cocktail ring's aquamarine captivates at every twist and turn. The gemstone's unique shape, with curved sides, attracts immediate attention.The mounting has a pierced floral and filigree design on the shoulders.
Details: Vintage. Circa 1930. Trademark star in a hexagon.14k white gold. Hexagonal cut aquamarine; 3.85 carats. Ring Size 6.5 . SOLD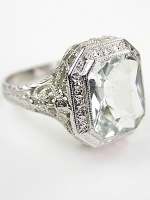 1930s Floral and Aquamarine Ring
As a child you may have lifted the lid on grandma's jewelry box, only to see your own joyous reflection staring back at you from the lid underneath. This vintage 1930s floral ring recaptures that youthful exuberance with an aquamarine so crystalline it reflects the light like a mirror. The greenish blue gemstone is set in a pierced floral mounting.
Details: Vintage. Circa 1930. Trademark OB. 14k white gold. Rectangular aquamarine; 2.81 carats. Ring Size 6.5. SOLD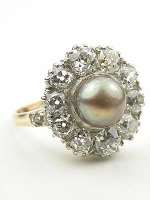 Antique Pearl Ring
Old mine cut diamonds create a dazzling halo around a 6.8mm Akoya pearl in this antique pearl ring. This antique engagement ring's shimmering top is accentuated with ten old mine cut diamonds. Two additional rose cut diamonds dapple the shoulders of the hand-wrought 18k yellow gold band. These twelve diamonds total 2.54 carats. The centerpiece Akoya pearl that is peg set amidst all this diamond radiance is slightly greenish brown with orange and rose overtones. This antique pearl ring is circa 1920. Size 5.75. SOLD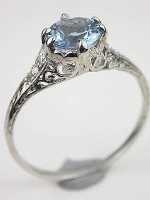 Antique Aquamarine Engagement Ring
An outstanding aquamarine and a floral and filigree setting make this antique Edwardian engagement ring irresistible. You'll love how the flowery spray ascends up the pierced mounting to cup the centerpiece 0.88-carat round aquamarine. Four old European cut bead set diamonds highlight the shoulders, lending 0.14 diamond carats to this antique engagement ring. A platinum setting is the finishing touch to this Edwardian ring. Circa 1910. Size 7.50. SOLD

Antique Art Deco Filigree Wedding Ring
A wavy filigree design graces this unusual antique Art Deco wedding ring. The platinum band of this antique Art Deco ring is accented with 12 round single cut diamonds which sparkle amidst the swirling filigree pattern. These VS-SI2 clarity, H-I-colored diamonds total approximately 0.33 carats. This antique wedding rings's unusual design pays tribute to the artistic jewelry craftsman of the Art Deco period. Circa 1920s. Size 8.5 full. SOLD

Classic Platinum Filigree Antique Wedding Ring
Classic antique platinum wedding rings like this one rim the finger in entrancing beauty. You'll love the filigree work that surrounds this antique wedding ring's platinum band. Each of the twelve geometric designs is centered with a round single cut diamond for a total diamond weight of 0.26 carats. Circa 1950s or later. Size 6.75. SOLD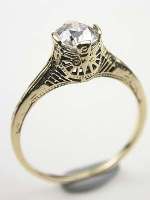 1920s Old European Cut Diamond Engagement Ring
A yellow gold filigree mounting adds warmth to this charming old European cut diamond ring. The slim and sleek construction of the 14k yellow gold band allows the full brilliance of the showcase diamond to shine. Cradled inside a pierced top setting, the old European cut diamond that highlights this Edwardian engagement ring is H in color and SI1 in clarity. It weighs 0.70 carats and is GIA certified. Circa 1920. Size 6.50. SOLD