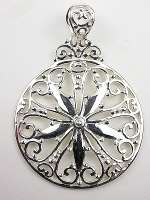 Scroll down for pictures and details
Vintage Style Necklace
Inspired by the antique pattern on a Southern gate, this vintage style pendant combines a five-petal flower with interlocking curlicues in a sundial arrangement. An 18 inch sterling silver chain with lobster clasp is included. This is a new sterling silver pendant necklace in the vintage style.
Vintage Style
Item PT-3524
$149.00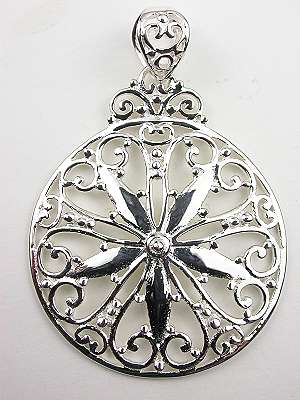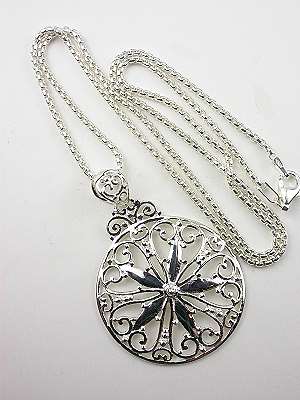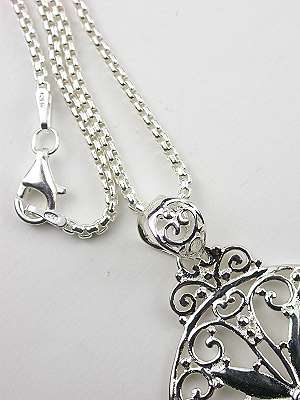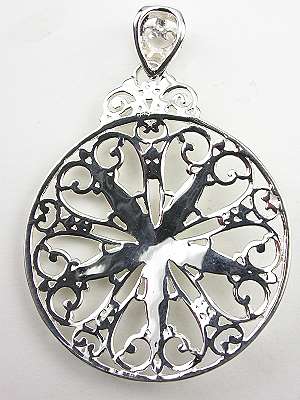 | | |
| --- | --- |
| Item # | pt3524 |
| Metal | Sterling Silver |
| Special characteristics | The filigree pattern in this pendant was inspired by the antique ornamental design of a handwrought Southern gate. |
| Condition | New |
| Length (without bail) | 35 mm [1.36 in] |
| Width | 30 mm [1.17 in] |
| If chain is included, length, metal, other details | 18 inch sterling silver chain with lobster clasp |
---
Click HERE for Important Jewelry Information.
Information about the following topics -- Jewelry Care, Repairs and Insurance, Custom Requests, Jewelry Condition, Gem Treatments, Diamond Grading Reports, Jewelry Classifications, and Warranty -- is available by clicking HERE.

International fees
An order shipped outside the USA includes these non-refundable fees:
$ 45.00 -- FEDEX Priority shipping with insurance
$ 12.71 -- Special processing fee
$ TBD -- Customs duties and fees
FEDEX will send you a separate invoice for customs duties and fees after your purchase has been delivered. Please contact your local customs office regarding the amount of these charges as they are not insignificant.
---
© Copyright 2001 - 2015
Topazery, LLC
Atlanta, GA, USA
® Topazery is a Registered Trademark