Antique Art Deco Filigree Brooch, PN-2429

Scroll down for pictures and details
Antique Art Deco Filigree Brooch
Made of 14k white gold, the delicate filigree work of this Art Deco antique brooch lends a dainty touch to your outfit. Four square set old style full cut diamonds accent the filigreeing for a total diamond weight of 0.28 carats. Four triangular step cut blue sapphires pinpoint the corners of this Art Deco jewelry piece lending a gemstone weight of 0.16 carats. Circa 1920
Art Deco Jewelry
Item PN-2429
$1449.00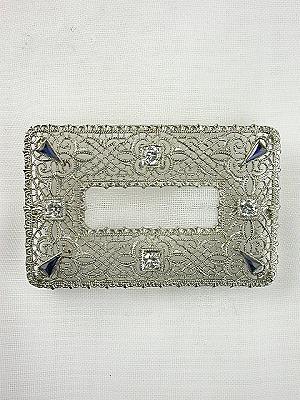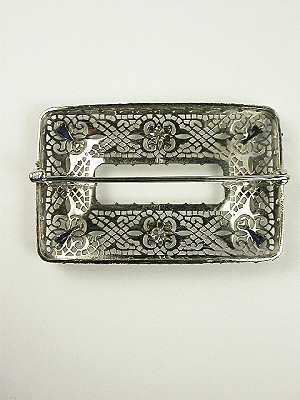 | | |
| --- | --- |
| Item # | pn2429 |
| Metal | 14 karat white gold |
| Circa | 1920 |
| Weight in grams | 4.84 |
| Period or Style | filigree |
| Condition | Excellent |
| Diamond cut or shape | old style full cut |
| Diamond carat weight | 0.28 |
| Diamond mm measurements | 2.7 |
| Diamond color | G to I |
| Diamond clarity | VS2 to SI2 |
| Diamond # of stones | 4 |
| All Diamonds, total ct. wt. | 0.28 |
| Gemstone name | Synthetic Corundum (Sapphire) |
| Gemstone cut or shape | Triangular step cut |
| Gemstone carat weight | 0.16 |
| Gemstone mm measurements | 3.6 x 2.0 |
| Gemstone clarity | N/A |
| Gemstone hue | very slightly violetish blue |
| Gemstone tone | 5-Medium |
| Gemstone saturation | 4-Moderately Strong |
| Gemstone # of stones | 4 |
| All Gemstones, total ct. wt. | 0.16 |
| Length | 39 mm [1.52 in] |
| Width of widest point | 25 mm [0.97 in] |
---
Click HERE for Important Jewelry Information.
Information about the following topics -- Jewelry Care, Repairs and Insurance, Custom Requests, Jewelry Condition, Gem Treatments, Diamond Grading Reports, Jewelry Classifications, and Warranty -- is available by clicking HERE.

International fees
An order shipped outside the USA includes these non-refundable fees:
$ 55.00 -- FEDEX Priority shipping with insurance
$ 58.22 -- Special processing fee
$ TBD -- Customs duties and fees
FEDEX will send you a separate invoice for customs duties and fees after your purchase has been delivered. Please contact your local customs office regarding the amount of these charges as they are not insignificant.