Filigree Rings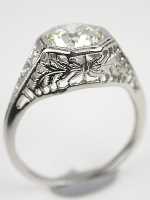 Filigree refers to any delicate and intricate ornamentation in gold, silver, or platinum. Ancient jewelry craftsman first introduced filigree in the 3rd century, when the Greeks practiced this fine jewelry art form. Topazery's fine selection of antique filigree rings brings back the romanticism of old-world filigree designs and craftsmanship.
Filigree lends detailed interest and visual intrigue to a ring's setting. If she adores intricate floral, lacy or geometric styling, she'll be enchanted with an antique filigree ring or engagement ring. We have a beautiful selection of filigree rings which have geometric cutwork as well as delicate carvings of flowers, leaves, birds, bows and hearts. She'll find rings with an airy, feminine look or with bold, angular styles.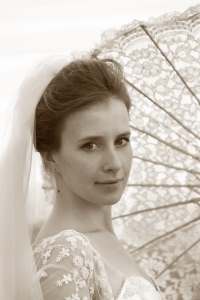 Getting Engaged with an Antique Filigree Ring
She's feminine and fun. She loves lace, anything antique, and hats. She stole your heart the moment you met her. You're looking for a antique filigree ring that perfectly expresses her delicate, classic style. Topazery's selection of antique filigree rings takes elegance and sophistication to a whole new level with intricate patterns and fancy cutwork. Airy, lacy and feminine, an engagement ring selected from our collection is sure to make her feel like a princess!
Our Antique Filigree Rings Collection
As you browse Topazery's collection of filigree rings, you'll find Art Deco filigree rings and Edwardian filigree rings. Diamonds, sapphires, emeralds, rubies and aquamarines are just some of the stones that enhance our filigree rings. Finally, our gallery of antique filigree rings includes filigree engagement rings, filigree dinner rings and filigree cocktail rings to suit any special occasion.

Orders & More

Edwardian Antique Filigree Cocktail Ring

In this playful Edwardian cocktail ring, two bezel set gemstones -- a greenish blue aquamarine and a pastel blue green quartz -- are framed by diamonds.

Item
RG-3511
$4849.00

Orders & More

Antique Filigree Diamond Engagement Ring

A domed topsetting culminates in a hexagonal set old mine cut diamond in this antique filigree engagement ring.

Item
RG-3487
$799.00

Orders & More

Filigree Antique Engagement Ring

This antique diamond engagement ring has a pierced filigree design that wraps the underbezel in leaves and vines.

Item
RG-3374
$4999.00

Orders & More

Filigree and Diamond Engagement Ring

Basketweave piercing, open-weave hearts and feathery fronds highlight the 18k white gold band of this antique engagement ring.

Item
RG-3393
$819.00

Orders & More

Three Stone Antique Diamond Engagement Ring

Delicate carvings and delightful shimmer soften up angular edges in this three stone antique diamond engagement ring.

Item
RG-3008
$3300.00

Orders & More

Art Deco Cocktail Antique Rings

An Art Deco antique diamond dinner ring demands attention with its hand wrought mounting and elongated filigree design.

Item
RG-3325
$2359.00

Orders & More

1920 Edwardian Antique Diamond Engagement Ring

This enchanting Edwardian ring plays with geometry and subtlety.

Item
RG-2662
$3450.00

Orders & More

Art Deco Antique Diamond Filigree Engagment Ring

Like delicate butterfly wings, this Art Deco antique filigree engagement ring flutters around the finger.

Item
RG-3058
$5999.00

Orders & More

Art Deco Antique Filigree Dinner Ring

The 18k white gold setting of this Art Deco antique filigree dinner ring is fashioned in a North-South design.

Item
RG-3007
$1850.00

Orders & More

Old European Cut Diamond Engagement Ring

In this engagement ring, circa 1925, an EGL certified old European cut diamond is set in a hand engraved delicate band of white gold.

Item
RG-2610
$3555.00

Orders & More

Old European Cut Diamond Antique Ring

Secure the key to her heart for eternity with this old European cut diamond 3 stone ring.

Item
RG-2219
$1895.00
---
---
ęCopyright 2001 - 2014
Topazery, LLC
Atlanta, GA, USA
&reg Topazery is a Registered Trademark
Cart

WELCOME!
Home
Join Newsletter
New Listings
How To Order
FAQs
Contact Us
Testimonials
Hassle Free Returns

JEWELRY STORES
All Rings
All Jewelry
Gifts Under $500

ENGAGEMENT RINGS & MORE
Thumbnails
Vintage Engagement Rings
Antique Engagement Rings
Antique Style Engagement Rings
Champagne Diamond Rings
Aquamarine Engagement Rings
Sapphire Engagement Rings
Antique Rings
Filigree Rings

WEDDING RINGS
Thumbnails
Antique Wedding Rings
Antique Style Wedding Rings

PERIOD JEWELRY
Thumbnails
Vintage Jewelry and Rings
Victorian Jewelry
Edwardian Jewelry
Art Deco Jewelry

EDUCATION
Gemstone History
Jewelry Periods
Antique Diamond Cuts
Evaluating Stones
Jewelry Library

INFORMATION
In the News
Site Map
Jewelry Details
Privacy Policy
Legal Policy