About Antique Bracelets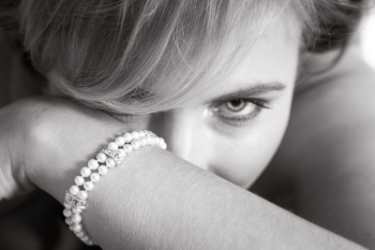 In Victorian times, bracelets were often worn in pairs while in Edwardian times they were worn in multiples. In the Art Nouveau era, scarab bracelets carved with animals, insects and sea creatures became all the rage. Antique bracelets, however, date all the way back to the ancient Romans, who favored engraved bangles, gem-set bracelets, hollow gold bead bracelets and twisted coil bracelets.
Our Antique Bracelet Collection
As you browse our assortment of antique bracelets, you'll find pearl bracelets, Art Deco bracelets and diamond bracelets. You'll also discover bracelets enhanced with a multitude of gemstones, including rubies and sapphires. As for settings, filigree, white gold, yellow gold and platinum are all represented. No matter your recipient's age, jewelry preference or favored gemstone, you'll find a Topazery bracelet to suit her personal style.

Orders & More

Vintage Child's Bracelet

Vintage bracelets like this one make charming, one-of-a-kind gifts for little girls.

Item
BR-584
$629.00

Orders & More

Filigree Sapphire and Diamond Vintage Bracelet

Angelic arcs of diamond brilliance radiate from the center of this hand-wrought vintage bracelet.

Item
BR-3504
$3829.00

Orders & More

Antique Maple Leaf Bracelet

Maple leaves dance around her wrist in this charming antique bracelet.

Item
BR-3459
$3689.00

Orders & More

Art Deco Filigree and Ruby Bracelet

A pair of marquise rubies floats romantically down the center of this Art Deco filigree bracelet.

Item
BR-3328
$1650.00

Orders & More

Victorian Inspired Yellow Gold Vintage Bracelet

Metallic fringe and a decorative fleur de lis lend graceful charm to this Victorian inspired vintage bracelet.

Item
BR-3329
$819.00

Orders & More

Filigree and Diamond Estate Bracelet

In estate bracelets like this one, white and yellow gold filigree wraps the wrist with lacey stars.

Item
BR-3098
$999.00

Orders & More

Antique Pearl and Diamond Bracelet

This antique pearl and diamond bracelet in 14k yellow gold wraps the wrist in classic elegance.

Item
BR-3189
$1529.00

Orders & More

Art Deco Style Filigree Bracelet

Diamonds and sapphires create a delicate pattern of lace for the wrist in this 14k white gold Art Deco style bracelet.

Item
BR-2713
$1195.00

Orders & More

Filigree and Diamond Bracelet

The brilliant fireworks of an exploding star captivate the eye in this filigree and diamond bracelet.

Item
BR-2297
$1229.00

Orders & More

Art Deco Filigree Sapphire Bracelet

The airy daintiness of Queen Anne's Lace encircles the wrist in this Art Deco antique bracelet.

Item
BR-2033
$889.00

Orders & More

Orange Blossom Bangle Bracelet

The captivating natural beauty of orange blossoms in spring is captured in this antique style bangle bracelet.

Item
BR-2453
$619.00
---
---
ęCopyright 2001 - 2013
Topazery, LLC
Atlanta, GA, USA
&reg Topazery is a Registered Trademark
Cart

WELCOME!
Home
Join Newsletter
New Listings
How To Order
FAQs
Contact Us
Testimonials
Hassle Free Returns

JEWELRY STORES
All Rings
All Jewelry
Gifts Under $500

ENGAGEMENT RINGS
Thumbnails
Vintage Engagement Rings
Antique Engagement Rings
Antique Style Engagement Rings
Diamond Engagement Rings
Champagne Diamond Rings
Aquamarine Engagement Rings
Sapphire Engagement Rings
Emerald Engagement Rings
Ruby Engagement Rings
Filigree Engagement Rings

RINGS & MORE
Thumbnails
Topazery Collection
Antique Rings
Antique Style Rings
Sapphire Rings
Emerald Rings
Ruby Rings
Aquamarine Rings
Pearl Rings
Filigree Rings
Cocktail Rings
Filigree Jewelry
Pearl Jewelry

WEDDING RINGS
Thumbnails
Antique Wedding Rings
Antique Style Wedding Rings
Gemstone Wedding Rings
Filigree Wedding Rings

JEWELRY BY PERIOD
Thumbnails
Victorian Jewelry
Art Nouveau Jewelry
Edwardian Jewelry
Art Deco Jewelry
Retro Jewelry

OTHER JEWELRY
Thumbnails
Bracelets
Crosses
Earrings
Necklaces
Pendants & Lockets
Pins & Brooches

RECENTLY SOLD
Recently Sold Jewelry

EDUCATION
Gemstone History
Jewelry Periods
Antique Diamond Cuts
Diamond Color Grades
Diamond Clarity Grades
Evaluating Gemstones
Jewelry Library

INFORMATION
About Us
In the News
Privacy Policy
Legal Policy